News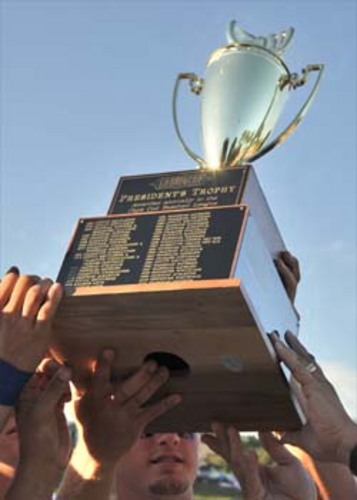 08/06/2013 3:08 PM
Article By:
CHATHAM, Mass. – The Chatham Anglers sat in the driver's seat of the Cape Cod Baseball League's Eastern Division for nearly the entire season, but it was not until the final game Sunday night that the Anglers clinched the President's Trophy.
Each year this much coveted trophy is given to the team that literally racks up the most points. And this year it is the Anglers, who finished the regular season 26-17-1 for a total of 53 points.
"Winning the President's Trophy is a true representation of the best team throughout the grueling season," said Cape League Commissioner Paul Galop, who presented the President's Trophy and Eastern Division Championship bowl during pregame ceremonies at Veterans Field on Tuesday night. "It's an extremely valuable award to franchises, as it's emblematic of the excellence and superiority all summer long. (The Anglers) proved they were worthy winners as they sat atop the Eastern Division and league overall for virtually the entire season. The Anglers had a great summer and deserved every bit of this cherished trophy!"
This is the second year the Cape League has recognized the team with most points at the end of the regular season. With so much emphasis on the championship series and overall winner, the Executive Committee felt it was important to identify and recognize the team that had the best record for the entire nine-week season.
The last day of the season was hindered by torrential downpours and vivid flashes of lightning seen for nearly an hour. Both games involving Chatham and Hyannis experienced long delays, waiting for the weather to blow over and the fields to dry.
Each game eventually resumed, and although Chatham lost that final game on that final night, so did the Hyannis Harbor Hawks. A win for the Hawks would have given the trophy to Hyannis. Like many awards in baseball, it all came down to the final day of the season.
"The President's Trophy exemplifies the team's efforts over the long haul of a schedule against the very best college baseball players in the country," said Chatham field manager John Schiffner, who received the trophy at Veterans Field on Tuesday prior to the first playoff game.
In addition to winning the President's Trophy, Chatham also captured the Eastern Division Championship Bowl, presented to the best team in the East.