News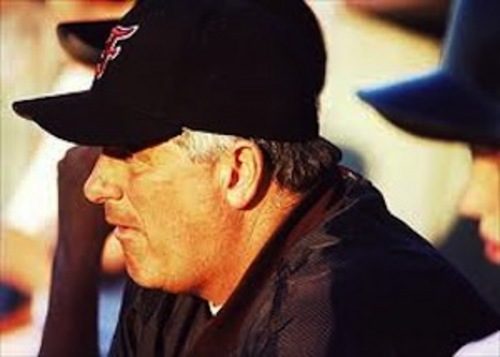 08/07/2013 5:56 AM
Article By:
He's had a significant impact on the game of baseball for at least two decades, and he's one of the longest tenured managers in the Cape Cod Baseball League.
His numerous accolades include the Mike Curran Award in 2004, as the best coach in the Cape League, and he is being inducted into the Maine Baseball Hall of Fame later this month for his contributions to Augusta's Cony High School program.
Falmouth manager Jeff Trundy has made significant relationships with those with whom he's played, coached and worked, making him one of the most beloved coaches on the Cape and in baseball.
But that formidable part of his career nearly came to a close this past winter, before those who knew him and trusted in him refused to let it happen.
This story all starts 19 years ago, when Trundy's good friend and former Kettleers manager, Mike Coutts, asked him to join Cotuit as an assistant coach. "I really thought it was a great opportunity and it would be a lot of fun," Trundy said of the offer. "Certainly it's proven to be. In many ways it seems like yesterday when I first got down here, but it's been very, very enjoyable."
Before coming to the Cape, Trundy was a captain and baseball star at the University of New Hampshire. He also served as assistant coach at the University of Colorado. Now he works at Gunnery Prep School in Connecticut as the baseball manager. He has even served as a part-time scout for the Toronto Blue Jays.
In this, his 15th season as the Commodores' manager, Trundy led Falmouth to an impressive 26-18 record, tying Hyannis for first place in the Western Division. (The Harbor Hawks won the tiebreaker for first place via a better head-to-head record.) The Commodores led the league in multiple batting categories throughout the season.
"I feel very fortunate to have a bunch of kids who are great to be around," Trundy said about midway into the season. "I think they're learning the importance of being a teammate even in the summer setting, and I think they understand that being a teammate provides them with more fun, (and) improves their performance."
The Commodores dominated the offensive statistics all season. By the end, the league's top two hitters were Commodores, with Kevin Newman finishing first (.375) and Kevin Cron second (.350). Casey Gillaspie led the way in home runs (8), with teammate Rhys Hoskins tying for second (7) and Dylan Davis tying for fourth (6). And Falmouth took the top three spots in RBIs, with Hoskins first (37), Davis second (34) and Cron third (32). Gillaspie was sixth in RBIs with 27.
But it wasn't easy for Falmouth or Trundy in recent years. Going into this postseason, the Commodores hadn't won a championship since 1980. That's a Cape League-record 32 years without the Arnold Mycock Trophy.
"There's not a guy down here that doesn't want to win," said Trundy. "I would like nothing more than to be a part of that and to be able to provide our fans and community with that."
Despite the drought, Trundy is thankful for the opportunity. "I've found Falmouth to be an extremely friendly town and a friendly community," he said. "We're very fortunate to have a lot of people who are diehard fans, who come and support the team regardless of what the game's outcome is."
And the feeling is mutual, as was obvious this past offseason, when Trundy was no longer the team manager – at least for a couple of weeks. After his contract was not renewed, the fans and alumni came to his rescue.
"At first it was quite a shock and it was something that was difficult beyond words," Trundy said of his termination. "Through it all, it really did come back to thinking about all the people I've been able to enjoy down here. That was difficult to ... comprehend, (the prospect of) not being able to come back to that."
But he wasn't gone for long, and in about two weeks' time, the veteran coach was reinstated, in the wake of the resignation of Falmouth's former president and general manager.
"We've gotten a group of people on our committee where their priority is the guys," said Trundy of the new executive committee members, notably President Steve Kostas and General Manager Eric Zmuda. "They're doing everything to make this experience a positive one for the players and at the same time giving them an opportunity to showcase their skills and hopefully advance their careers."
While he appreciates the new executive board, Trundy doesn't want to forget his coaching staff. "Those guys are close friends and great coaches," he said. "When I'm able to come here every day and work with people like that who mean the world to me, it's pretty special."
Trundy's peers have kind words for him as well. Zmuda said the head coach has a way of relating to players on a level that's not often seen. "He has the ability to be able to talk to a player," Zmuda said, "and reach down to them at a level where they understand that he wants to be of assistance, not as a commanding figure but someone who really wants to see them excel."
And his players agree.
"He picks you up a lot," said outfielder Davis of Oregon State, who was leading the league in both home runs and RBIs in early July, despite starting his Cape season two weeks after most other players. "It starts with Trundy as a person. He really instills his mentality with the whole team and the coaching staff, and that's why I think he's had success here as long as he has."
Trundy said his focus has changed throughout his many years coaching Falmouth. He now understands the importance and significance of relationships with people he's met. "This league is about the people, it's certainly about the players, but it's also about all of the friendships I've made in the time that I've been here," he said. "There are so many ... people who have been a part of my life since I've been down here. I am just extremely thankful beyond words at being able to work for them and the atmosphere that's been created, the vibe that's down here each and every night."