News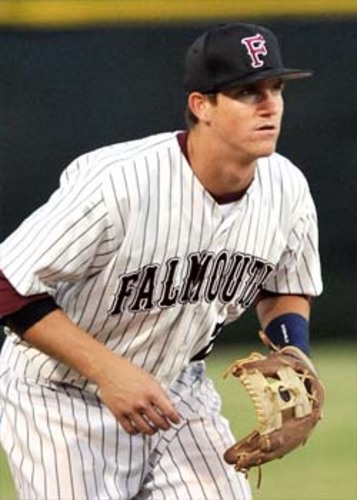 08/08/2013 7:42 PM
Article By:
FALMOUTH, Mass. – Kevin Newman (Arizona) and Dylan Davis (Oregon State) each made an entry into the Cape Cod Baseball League record books in the Falmouth Commodores' 18-3 win over Bourne on Aug. 2.
Newman tied the game record for most hits with his 6-for-6 performance. He is the fourth player to record a six-hit game and the first since Bourne's Jordan Henry (Mississippi) on July 1, 2008, against Wareham.
Though Newman is the first Falmouth player to get six hits in a game, it marks the third time the feat was accomplished at Guv Fuller Field. The first two players to achieve six hits both did it against the Commodores. The first was Yarmouth-Dennis' Joe Olker (Illinois), who did it on July 4, 1982. Olker had a record-tying three home runs and a record 17 total bases in his game.
Wareham's Joe Jordan (Oklahoma) joined the hit parade on July 10, 1983, with a 6-for-7 game. Newman and Olker were each 6-for-6 while Jordan and Henry went 6-for-7. Newman's five runs fell just one short of the league record (6, Tim Giles, UNC; Orleans at Hyannis, July 3, 1995) and equaled the Falmouth record held by Steve Lombardozzi (Florida) set on July 16 and July 17 for most runs in consecutive games (10).
Davis tied the league record and set a team for most RBIs in a game with eight. He is the fourth player to drive in eight runs in a game. The last time that occurred was on July 4, 1979, when Scotti Madison (Vanderbilt) accomplished that feat for Hyannis at Cotuit. The first player to do this was Wayne Upton for Bourne on Aug. 11, 1965, against Otis. Charlie Malitz (Texas A&M) also finished with eight RBIs for Chatham at Falmouth on June 12, 1965.
Bruce Hack is a baseball historian for Sportstats.