News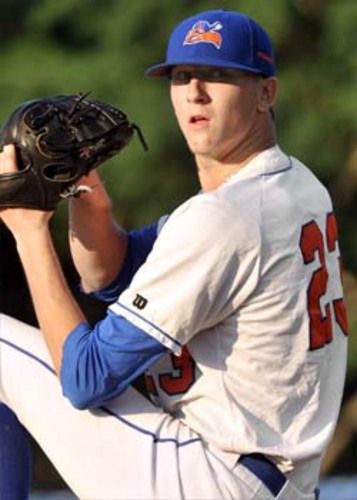 08/15/2013 12:24 PM
Article By:
The Hyannis Harbor Hawks' Jeff Hoffman has won the Robert A. McNeece Award for Outstanding Pro Prospect, among the highest honors bestowed on a Cape Cod Baseball League player. Hoffman, who left the Cape in late July, was presented with the award by his host family earlier this week at his home in Latham, N.Y.
In four starts for Hyannis, Hoffman went 2-0 with 3.69 ERA and 1.04 WHIP. Despite his relatively short stint in his sophomore campaign with the Harbor Hawks, Hoffman had a tremendous walk-to-strikeout ratio of 0.15, and his 33 Ks were fourth best on the team. He held opponents to a measly .217 batting average.
His finest start of the summer came July 17 against Orleans, in which he threw 7 2/3 innings of shutout ball, scattering three hits, walking one and striking out 11 batters. The performance was enough to earn him Coca-Cola Pitcher of the Week honors.
A sophomore at East Carolina, Hoffman went 6-7 with a 3.20 ERA this spring. He led the Pirates in innings pitched (109 2/3) and strikeouts (84), and ranked second on the team in BB/SO (0.46). As a freshman, he was selected to the Eastern Conference USA All-Freshman Team.
Last season with the Harbor Hawks, Hoffman went 2-1 with a 2.40 ERA, striking out 30 opponents in 30 innings of work. His performance last summer earned him a spot for the West in the 2012 All-Star game, the only freshman to do so.