News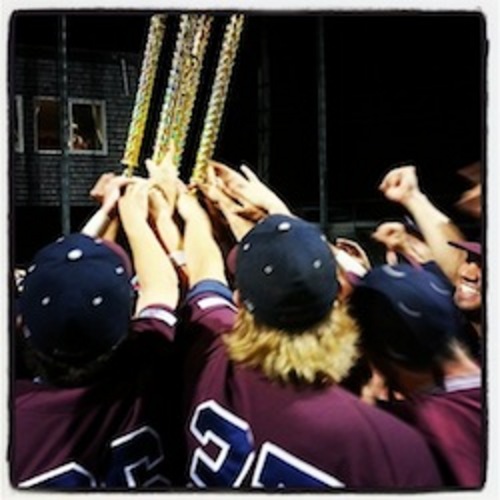 08/15/2013 8:26 PM
Article By:
ORLEANS, Mass. – What began as a tight game and a pitchers' duel blew up late in the game, as the Cotuit Kettleers defeated the Orleans Firebirds 6-1 Thursday night in dominant fashion before a packed crowd at Eldredge Park to clinch their 14th Cape Cod Baseball League championship in the modern era.
Orleans kept it close for most of the game but could not hold on for the win at home. The Kettleers, who finished the regular season third in the West with a 25-18-1 record, needed three games in each series to beat the Falmouth Commodores and Bourne Braves before sweeping Orleans. Their win gives Cotuit its first title since 2010, and adds to its pedigree as the most decorated team in the Cape League.
Starters Christian Cecilio (San Francisco) of Cotuit and Jared Miller (Vanderbilt) of Orleans both looked good early on. Cecilio pitched six scoreless innings, giving up only four hits and putting his team in great position to win. Miller, meanwhile, did his best to match his opposition and was successful, for the most part. He did get saddled with the loss, but gave up just two runs on six hits in 5 2/3 innings of work.
Miller first got into a bases-loaded jam in the third inning, and gave up the first run of the game when Danny Diekroeger (Stanford) snuck in a single down the first-base line that put the Kettleers up 1-0. Miller escaped without any further damage in that inning, but Orleans never managed to recover.
Miller found himself in danger again in the sixth when a wild pitch allowed Mark Payton (Texas) to move to second. Payton scored on a single by Drew Jackson (Stanford) to make it 2-0.
Down just two runs, the Firebirds continued to battle back but continually fell short. The final nail in the coffin came in the eighth. After retiring four straight batters, Orleans reliever Jeremy Rhoades (Illinois State) loaded the bases in the top half of the inning, and was replaced by All-Star closer Matt Troupe (Arizona).
After two runs came across on a fielder's choice and error, Troupe gave up a two-run single to Nolan Clark (Concordia) to extend the Kettleers' lead to six and seal the Firebirds' fate.
Troupe struck out the side in the top of the ninth and Shane Conlon (Kansas State) put the Firebirds on the board with a sacrifice fly, but it was too little, too late.
Congratulations to the Cotuit Kettleers, the 2013 Cape Cod Baseball League champions.
For more Championship Photos from SportsPix look at the Slideshow section