News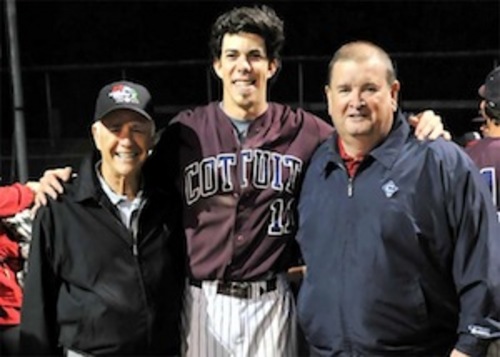 08/21/2013 5:01 AM
Article By:
Bradley Zimmer was the recipient of the Star of Stars Award, given to the most valuable player of the Cape Cod Baseball League playoffs. Zimmer (San Francisco) was honored with the award last Thursday night in postgame ceremonies following Cotuit's 6-1 title-clinching victory over Orleans at Eldredge Park.
During the playoffs, Zimmer hit .240 with four runs scored, three doubles and three RBIs. His biggest contribution to the Kettleers came in Game 1 of the Cape League championship series against the Firebirds when, with the score tied at 2, he notched a single that brought in two runs, giving Cotuit a 4-2 lead and the eventual win. In that game he went 3-for-5 with a run scored.
During the regular season, Zimmer batted .281 for the Kettleers with three doubles, a triple, a home run, seven RBIs and six stolen bases. In his sophomore campaign at San Francisco, Zimmer was second on the team in average (.328), home runs (7) and RBIs (37).