News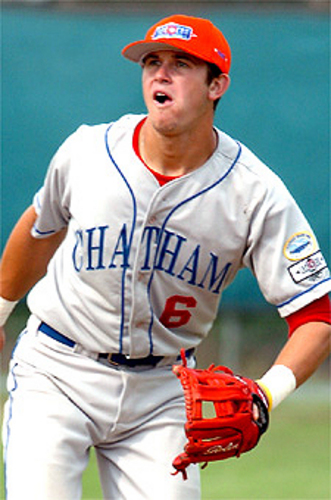 10/06/2013 7:06 PM
Article By: CCBL Public Relations Office
Twenty-seven former Cape Cod Baseball League players are on the rosters of the eight teams participating in Major League Baseball's 2013 divisional playoffs. Leading the way are the National League Central champion St. Louis Cardinals, whose manager, pitching coach and a half-dozen players all claim Cape League backgrounds.
St. Louis won the National League Central Division, finishing at 97-65, the same record as the American League East champion Boston Red Sox, and both teams are managed by former Cape Leaguers.
It's the Cardinals' first division title since 2008, and the Red Sox return to postseason play after 2011's September collapse and the six-month nightmare that was the 2012 season.
Mike Matheny (Cotuit, 1989) manages the Cardinals while John Farrell (Hyannis, 1982) is the skipper for the Red Sox. Matheny's pitching coach is Derek Lilliquist (Cotuit, 1986-87) and his playoff roster includes six players with Cape League pedigrees – pitchers John Axford (Cotuit, 2003), Randy Choate (Hyannis, 1999), Joe Kelly (Yarmouth-Dennis, 2008) and Seth Maness (Bourne, 2009), plus infielder Kolten Wong (Orleans, 2010) and outfielder Shane Robinson (Hyannis, 2004).
Three Red Sox players honed their skills on the Cape – pitcher Brandon Workman (Wareham, 2008-09), catcher David Ross (Brewster, 1996) and outfielder Jacoby Ellsbury (Falmouth, 2004).
The NL West champion Los Angeles Dodgers' coaching staff includes two former Cape Leaguers: assistant hitting coach John Valentin (Hyannis, 1988) and assistant pitching coach Ken Howell (Cotuit, 1981). Other Dodgers who played on the Cape are pitchers Chris Capuano (Bourne, 1999), J.P. Howell (Bourne, 2002; Wareham, 2003) and Brian Wilson (Hyannis, 2002), plus catcher Tim Federowicz (Chatham, 2007).
Tampa Bay, Oakland, Atlanta and Pittsburgh each feature three Cape League grads on their playoff rosters, while Detroit lists two.
Here is the complete list:
ALDS
Boston Red Sox
John Farrell, Manager Hyannis, 1982
Jacoby Ellsbury, OF Falmouth, 2004
David Ross, C Brewster, 1996
Brandon Workman, P Wareham, 2008/09
Tampa Bay Rays
Evan Longoria, IF Chatham, 2005
David DeJesus, OF Bourne, 1998; Chatham, 1999
Sam Fuld, OF Hyannis, 2003
Detroit Tigers
Alex Avila, C Harwich, 2007
Luke Putkonen, P Wareham, 2006
Oakland A's
Ryan Cook, P Brewster, 2007
Sean Doolittle, P Harwich, 2005
Josh Donaldson, IF Harwich, 2006
NLDS
St. Louis Cardinals
Mike Matheny, Manager Cotuit, 1989
Derek Lilliquist, Coach Cotuit, 1986-87
John Axford, P Cotuit, 2003
Randy Choate, P Hyannis, 1996
Joe Kelly, P Y-D, 2008
Seth Maness, P Bourne, 2009
Kolten Wong, IF Orleans, 2010
Shane Robinson, OF Hyannis, 2004
Los Angeles Dodgers
Ken Howell, Coach Cotuit, 1981
John Valentin, Coach Hyannis, 1988
Chris Capuano, P Bourne, 1999
J.P. Howell, P Bourne, 2002; Wareham, 2003
Brian Wilson, P Hyannis, 2002
Tim Federowicz, C Chatham, 2007
Atlanta Braves
David Hale, P Chatham, 2008
Chris Johnson, IF Hyannis, 2005
Reed Johnson, OF Brewster, 1998
Pittsburgh Pirates
Jason Grilli, P Cotuit, 1995; Brewster, 1996
Tony Watson, P Harwich, 2006
Gaby Sanchez, IF Brewster, 2004