News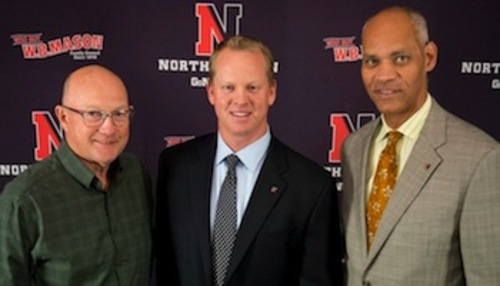 10/26/2013 1:47 PM
Article By:
Former Cape Cod Baseball League Home Run champion Mike Glavine (Hyannis '94), has been hired by his alma mater as head coach of the Northeastern University baseball team and will take over following the 2014 season.
He will succeed his former coach Neil McPhee, who will retire after 29 years on the job.
Glavine was a walk-on with the then-Hyannis Mets (now known as Hyannis Harbor Hawks) during the 1994 season and took the league by storm. The power-hitting left-hander led the Cape League in home runs that year with 13, one ahead of Morgan Walker.
"Leading the Cape league in home runs was a great honor," said Glavine, younger brother of former National League All-Star pitcher Tom Glavine. "The (Cape) League always has the best talent in the country and I felt like a lot of hard work paid off that summer. I was able to take what I learned that summer and the success I had, into my senior season and minor league career. That summer gave me a ton of confidence going forward."
He was among the RBI leaders that summer on the Cape and compiled a .496 slugging percentage. Glavine was a major asset to Hyannis and helped the team to a 21-21 record.
After spending four years at Northeastern, Glavine was drafted by the Cleveland Indians in 1996. While spending most of his time in the minors at Double-A and Triple-A, he was called up by the New York Mets in September 2003 at age 30 and played with his brother Tom, who was a member of the starting rotation at the time at age 37.
Glavine lined his first big league hit Sept. 28 against the Dontrelle Willis. He became the third Northeastern player to reach the big leagues, joining George Yankowski and Cape League Hall of Famer Carlos Pena. "That summer was the first time I exclusively used a wood bat so I learned a lot about my swing but I also learned I had a lot of work to do to play at the professional level. We had a couple of first-round picks on our team that summer and I realized how much I needed to improve to play at their level," Glavine added when asked about how the skills he developed in the Cape League helped him in the majors.
"Making the Hyannis team late was an awesome feeling," the younger Glavine said. "Being a local kid, I always appreciated what the league was about more than players from out of state. I knew it was a huge opportunity for my future career and getting drafted, but also a great opportunity to improve my skills at Northeastern."
Glavine teaches some of his skills he learned in the Cape League to players at Northeastern.
"I often talk about my summer in the Cape League with our players," Glavine said. "I learned to play the game with a chip on your shoulder. I wanted to prove to guys from all the bigger college baseball schools that a kid from Northeastern could play with them and that we had plenty of good players from New England.
"The second thing I make sure I share with my players is that baseball is fun. You have to enjoy playing the game, and that summer was one of the best summers of my life."