News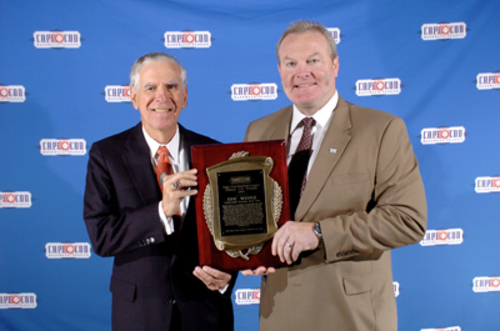 10/31/2013 3:37 PM
Article By:
Two years ago, eight of Major League Baseball's 30 managers were men who had played in the Cape Cod Baseball League as collegians.
Last year, the Elite Eight became the Surviving Six as Colorado's Jim Tracy (Chatham, 1976) resigned after the Rockies won just 64 games to finish with the worst season in franchise history, and Bobby Valentine (Yarmouth, 1967) was fired by the Red Sox after Boston's last-place finish in the American League East.
Today, there are only five, with the announcement by CCBL Hall of Famer Eric Wedge (Yarmouth-Dennis, 1988; class of 2011) that he will not be returning to pilot the Seattle Mariners in 2014.
Wedge, the 2007 AL Manager of the Year with the Cleveland Indians, quit over policy differences with Mariners' ownership.
The remaining big league skippers from the Cape League are Mike Matheny (Cotuit, 1990) of the NL Central champion St. Louis Cardinals and John Farrell (Hyannis, 1982) of the world champion Red Sox, plus New York Yankees skipper Joe Girardi (Cotuit, 1984) and CCBL Hall of Famers Buck Showalter (Hyannis, 1976; class of 2002) and Robin Ventura (Hyannis, 1987; class of 2001).
Needless to say, Matheny and Farrell, whose teams tied for the best record in baseball this season (97-65), will return in 2014. Showalter will be back in the Orioles' dugout as his contract, which was extended in January, runs through 2018, and Girardi will remain in the Bronx for the next four years after the Yankees re-signed him despite overtures from the Chicago Cubs and Washington Nationals.
But Ventura's status is unclear. Like Matheny, Ventura had no previous managerial experience when he accepted the job following the departure of the outspoken and colorful Ozzie Guillen at the end of the 2011 campaign. In 2012, the White Sox finished 85-77, just three games behind the AL Central champion Detroit Tigers, and Ventura was a strong contender for American League Manager of the Year, an honor that ultimately went to Oakland A's manager Bob Melvin.
But this year was a different story. The White Sox could manage only 63 wins and finished a distant 30 games behind the Tigers, leading to speculation that Ventura's days as White Sox skipper might be numbered. His current contract expires at the end of the 2014 season.