News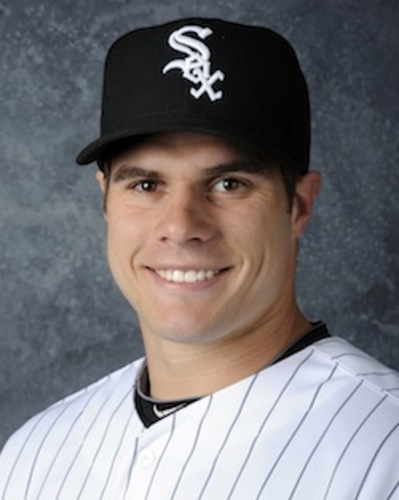 11/24/2013 10:42 AM
Article By:
On July 5, 2006, Josh Phegley was named "Mr. Baseball" in his home state of Indiana.
Seven years later – to the day – he became Cape Cod's "Mr. 1,000."
The former Wareham Gateman catcher made his major league debut on July 5, 2013, for the Chicago White Sox. The debut came against the Tampa Bay Rays at Tropicana Field in St. Petersburg, Fla., where he got his first big league hit and his first MLB sacrifice fly, and drove in two of his team's three runs while becoming the 1,000th Cape Cod Baseball League player to make it to the major leagues.
The only thing spoiling a near perfect day for Phegley was the fact that his team lost, 8-3.
With starting catcher Tyler Flowers hitting just .208, the White Sox were desperate for some offensive production at that position. So they summoned Phegley from Triple-A Charlotte, where he was batting .316 with 18 doubles, 15 home runs and 41 RBIs in 61 games.
The ChiSox had chosen the Indiana University star with the 38th pick in the 2009 MLB First-Year Player Draft after watching him star at Terre Haute North High School, where he was named Indiana's "Mr. Baseball" after a spectacular senior season. The annual honor is bestowed upon the top high school player in Indiana by Hoosier Diamond magazine, which conducts a statewide poll of head coaches.
Phegley received 276 points, 56 more than his nearest rival. And why not? He had just come off an incredible season in which he batted .592, smashed 13 home runs and drove in 50 runs to lead the Patriots to the Class 4A sectional and regional titles. He also started at tailback and safety for the school's football team.
Then it was off to Bloomington, where Phegley hit a disappointing .232 while starting 42 games as Indiana University's No. 1 catcher.
"I wasn't happy with my freshman year at IU," Phegley said. "My goal in going to the Cape was to prove that I was much better than that. Hitting against some of the best pitchers in the country gave me that opportunity."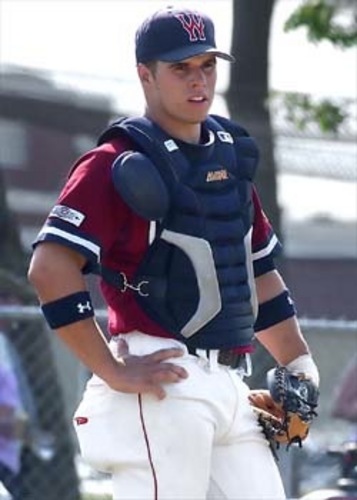 Phegley got off to a strong start with the Gatemen in 2007, earning selection to the West Division squad for the All-Star game that was to be played at Wareham's home ballpark, Clem Spillane Field. But a severe attack of appendicitis requiring emergency surgery forced him to miss both the All-Star game and the remainder of the Cape League season. Ironically, the illness felled Phegley on the day the Cape League's all-stars were being treated to a day at Fenway Park.
"I felt progressively worse as we drove to Boston," he recalled. "I made it as far as the parking lot, but Coach (Cooper) Farris had to take me to the hospital."
Phegley was rushed to Beth Israel Deaconess Medical Center, where tests revealed that his appendix was about to burst. Immediate surgery was required.
Phegley's Wareham host mom, Cindy Dawicki, stood vigil at the hospital until receiving word that Josh had come through the appendectomy with flying colors. "I phoned his parents in Indiana and let them know that he was OK," Dawicki said. "At about 1 a.m., I finally left the hospital."
Phegley was released the next day and returned to the Dawickis' home to begin his recuperation. "He stayed with us for about another week and a half, then flew back home," Dawicki recalled.
In his 27 games at Wareham, Phegley batted .269 with five doubles. While he didn't produce the eye-popping figures he compiled in high school, Indiana's Mr. Baseball was convinced that he could hold his own against the nation's best competition and he was eager to return to the collegiate diamond to prove it.
Phegley's turnaround in 2008 was remarkable. Batting .438/.507/.746, he had 20 doubles, 15 home runs, 69 runs scored and 80 RBIs in 61 games. His first collegiate home run came on a day he hit for the cycle. He led the Big Ten in average, OBP, OPS, total bases (167) and RBIs, was second in runs, slugging and hits, and third in doubles and home runs. He was voted All-Conference catcher and second-team All-American by Collegiate Baseball and the American Baseball Coaches Association.
It was more of the same in Josh's junior year. He batted .344/.467/.633 with 17 homers, 58 runs scored and 66 RBIs in 59 games, and shared All-Conference catcher honors with Dan Durkhart of Ohio State. Overall, his three-year batting average was .353 with 39 doubles, three triples, 32 home runs and 162 RBIs, figures that did not go unnoticed by the White Sox scouting department as the 2009 amateur draft date approached.
The White Sox chose the 5-10, 215-pound catcher with the 38th overall draft selection. He was their second pick, after Jared Mitchell, and was compensation for the loss of Orlando Cabrera to free agency.
After pocketing an $858,600 signing bonus, the 21-year-old catcher reported to the Low-A Kannapolis Intimidators to begin his professional career. There, the habitual slow starter, produced a batting line of .224/.277/.408, but he hit nine home runs in 52 games and threw out 58 percent of attempted bases thieves.
His progress was impeded in 2010 by a blood disorder called Idiopathic Thrombocytopenic Purpura, or ITP, a rare autoimmune bleeding disorder characterized by abnormally low levels of the blood cells called platelets, which induce clotting to help prevent and stop bleeding. A low platelet count can make a collision or being hit by a foul tip a very dangerous occurrence.
Phegley opened the 2010 season with Class-A Winston-Salem. He caught all 10 innings of an early season game against Potomac, surviving a collision at the plate and getting the game-winning RBI, but the next morning he discovered that his blood count was just 2,000 per micro liter. A normal platelet count ranges between 150,000 and 300,000.
In a 2010 interview with MLB.com reporter Scott Merkin, Phegley recalled the incident. "I felt 100 percent. Unless you have blood work run, there's no sure way to know," Phegley said. "I don't feel any different, but you get a bruise and it can get out of hand. My immune system is attacking my own platelets and it acts like leukemia, a blood cancer ... I'm having to keep my (platelet) numbers up because of the position I play. Eventually, I've been told, my system will flip itself around. There's a 90 percent chance it never reoccurs. It's kind of a big speed bump in the road right now."
Despite having to deal with ITP, Phegley put together a respectable 2010 season, hitting a combined .284/.328/.415 with stops in Bristol, Winston-Salem and Class-AA Birmingham. He threw out 46 percent of would-be base stealers and he was winning his battle against ITP.
A now healthy Phegley started the 2011 season in Double-A but was promoted to Triple-A Charlotte in July. He hit a combined .242/.298/.368 and continued to show a strong arm, posting a 43 percent caught-stealing record. He led the Southern League in putouts (620), but also in passed balls (16) as he continued to work on the defensive side of the game.
In 2012, after his first big-league spring training as a non-roster invitee, the White Sox sent Phegley back to Charlotte, where he spent the entire season. He threw out 46.2 percent of attempted base-stealers while hitting .266/.306.373. He excelled for the Knights in the International League playoffs, going 9-for-26 with a double and two home runs.
Phegley enjoyed Charlotte's road trips to Pawtucket, R.I., where he could reunite with his Cape League host family, the Dawickis. "(Husband) Ken and I got to see him play a lot against the PawSox," said Cindy Dawicki. "We made it a point to take him out to dinner at a nice restaurant in Providence after the games and get him back to the team's hotel on time."
It was back to Charlotte to start the 2013 season. As Phegley caught fire offensively, he couldn't help but notice how the parent White Sox were struggling.
Then in early July, the call came. Phegley was to pack his bags and head for St. Petersburg, Fla., where the White Sox were playing a weekend series against the Tampa Bay Rays. ManagerRobin Ventura (Hyannis, 1987), himself a Cape League Hall of Famer, told Phegley he would be in the starting lineup on Friday night.
When Tampa Bay starter Jeremy Hellickson delivered the game's first pitch, a called strike to White Sox leadoff hitter Alejandro De Aza, it was official. The rookie catcher's name would be in the box score, making him the 1,000th Cape Leaguer to play in the major leagues – "Mr. 1,000."
Phegley's first MLB at-bat came leading off the third inning. He struck out swinging on three straight pitches. In the top of the fifth, Phegley batted third, following two other former Cape League All-Stars against whom he played in 2007 – Conor Gillaspie (Falmouth) and Gordon Beckham (Yarmouth-Dennis). Beckham doubled to left on a 2-2 pitch after Gillaspie had popped out to third. Phegley took two pitches out of the strike zone, fouled off a third, then singled to right, scoring Beckham for his first big league RBI.
In the seventh, Gillaspie grounded out to second, Beckham fouled out to shortstop and Phegley struck out swinging.
With Tampa Bay leading 8-1 in the ninth, the White Sox staged a too-little, too-late rally. Four straight hits, including singles by Gillaspie and Beckham, brought Phegley to the plate. He hit the first pitch he saw from reliever Cesar Ramos to center for his first big-league sacrifice fly and his second RBI of the game. Up came another 2007 Cape Leaguer, recently acquired Blake Tekotte(Brewster), who hit into a fielder's choice that sent Gillaspie to third and Beckham to second. De Aza ended the game by grounding out to second and Phegley's memorable day ended in defeat, although he had driven in two of his team's three runs.
Phegley hit three homers and drove in eight runs. On July 7, he hit his first big league home run off Rays ace David Price. He homered again the next day and on July 11, he smashed his first career grand slam, connecting off Anibal Sanchez of the Detroit Tigers in a 6-3 ChiSox win. In his first five games, he had three homers and collected eight RBIs. But he tailed off after that and finished the season with a .206 batting average in 65 games. His 42 hits included seven doubles, four home runs and 22 RBIs. He drew only five walks while striking out 41 times.
What the future holds for Phegley is anybody's guess. The White Sox produced only 63 wins as they finished 30 games behind the Central Division champion Detroit Tigers, putting the status of just about every player and even manager Ventura in jeopardy. For now, Josh is focusing on spring training and a full and successful major league season in 2014.
When the last MLB game of 2013 went into the record books, the Cape League-Major League Baseball players list had grown to 1,025 names. It is available for viewing on the Cape League's website,
www.capecodbaseball.org
.