News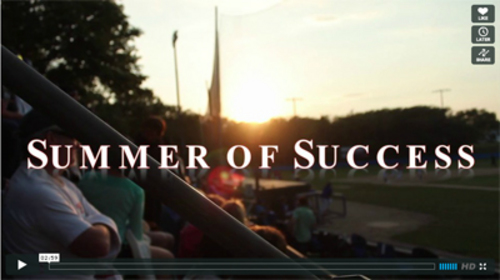 11/26/2013 10:53 AM
Article By:
World Premiere "live" broadcast of "SUMMER OF SUCCESS" on the Hawks website starting at 7:30 on Tuesday, Nov. 26.
HYANNIS, Mass. – Every summer, America's greatest collegiate players flock to the Cape Cod Baseball League in search of completing life long dreams. For three months the players compete for their futures in front of a plethora of professional scouts. Although it is of importance, their on field lives are only a small portion of what Cape League baseball really is.
"Summer of Success," a short documentary film directed by Marc Graham, shows what it truly means to be a player within the CCBL. Produced and written by Graham and DJ Jamiel, the motion picture highlights five members of the 2013 Hyannis Harbor Hawks roster, Jake Hernandez (University of Southern California), Cy Sneed (Dallas Baptist), Steve Wilkerson (Clemson University), Jay Baum (Clemson University) and Tyler Spoon (Arkansas). The film uses the players as a vehicle to tell the story. Summer of Success begins by showing the Harbor Hawks prior to arriving on Cape Cod, documenting the long journey that has led them to this point. Each player stays the entire summer with a host family. They begin in June as strangers, but leave as cohesive members of the community, woven within the fabric of each seaside village.
The film also speaks to the dedication and work done by volunteers, a side rarely seen or spoken of. Countless hours of time and dedication are required for each and every Cape League season to commence. For most, the CCBL has become a significant component of who they are.
Summer of Success closes by highlighting the bitter ending of the season. Relationships that have been built, grown and sustained over the past three months are now over. The film shows that Cape League baseball is about much more than a simple game.
-DJ Jamiel