News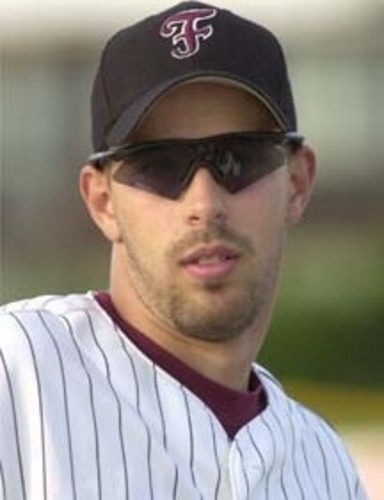 03/27/2014 4:20 AM
Article By:
David Aardsma (Falmouth, 2002) was pitching again Wednesday.
The Cape Cod Baseball League Hall of Famer (class of 2010) signed a minor league contract with St. Louis and worked one inning Wednesday as the Cardinals edged the Washington Nationals 3-2 in Grapefruit League action. First up out of the Cardinals' bullpen, Aardsma gave up one hit, walked one and struck out one in a scoreless sixth frame.
The Cleveland Indians released Aardsma last Friday after deciding he would not be added to their 40-man roster. Several clubs expressed interest in the 32-year-old right-hander and he chose to accept the defending National League champions' offer.
The Cardinals, who have been searching for a reliable reliever to complete their bullpen, see the former Seattle closer as a possible solution. Aardsma had pitched well this spring for Cleveland, allowing three runs (two earned) on five hits in six innings. He struck out five and walked none. He was in the Indians' camp under a minor league contract as a nonroster invitee and would have been entitled to a $100,000 retention bonus had he remained with the Indians through Tuesday.
St. Louis manager Mike Matheny (Cotuit, 1989), Aardsma's catcher with the San Francisco Giants in 2005, has been looking at organization options Jorge Rondon, Keith Butler and Scott McGregor to fill the final bullpen spot, but none has impressed him enough to win the job, and observers believe the trio soon will be headed to the minors.
According to Cardinals beat writer Derrick Goold of the St. Louis Post-Dispatch, Aardsma's veteran presence would enhance an otherwise very young bullpen. "He said that he agreed to a minor-league deal with the Cardinals and will have at least two outings to earn a spot on the major league roster," Goold said. "He agreed to a two-way deal that pays him a different salary if he reaches the majors."
Aardsma's presence could have an impact on other relief pitchers, such as Seth Maness (Bourne, 2009) and Pat Neshek (Wareham, 2001), both of whom figure to be part of the bullpen when the Cards open the season next week in Cincinnati. Further complicating the situation is the eventual return of injured reliever Jason Motte. Should Aardsma be added to the active roster and pitch well early in the season, Motte's return could force the Cardinals to drop the veteran Neshek or to send a young arm like Maness back to the minors.
Aardsma, San Francisco's first-round draft choice (No. 22 overall) in 2003, spent time with the Giants, Cubs, White Sox and Red Sox before finding a home in Seattle, where he blossomed into one of the American League's more reliable closers. From 2009-10, he had a 2.90 ERA and 69 saves for the Mariners. But a hip injury, requiring an operation, followed by Tommy John surgery on his right elbow ended his stay in the Great Northwest.
On Feb. 22, 2012, exactly seven months after his Tommy John surgery, Aardsma signed a one-year contract with the New York Yankees, who saw him as a possible successor to their aging closer, Mariano Rivera. But Aardsma spent most of 2012 in Triple-A, appearing in only one big league game. He was designated for assignment during spring training in 2013 and subsequently released.
After a brief stint with the Miami Marlins' Triple-A club in New Orleans, he joined the New York Mets organization and was sent to Triple-A Las Vegas, where his strong performance (1.12 ERA and three saves in eight games) earned him a promotion to New York on June 8. He remained with the Mets for the rest of the season, fashioning a 2-2 record and a 4.31 ERA. But the Mets declined to offer him a contract for 2014 and he became a free agent on Oct. 31. Three months later, he agreed to a minor league deal with Cleveland.
Aardsma, who is 23-15 with 69 saves and a 4.23 ERA during a seven-year major league career, enjoyed a dream season in 2002 with the Falmouth Commodores. He saved seven games, posted a win-loss record of 3-0 and carved out a 0.68 earned run average while striking out 45 in 26 innings. It was a performance that could not be overlooked by the CCBL Hall of Fame selection committee and on Nov. 20, 2010, he was inducted in the annual ceremony at Chatham Bars Inn.
"To play here is a privilege and an opportunity," Aardsma said in his acceptance speech. "But you don't know how special it is until long after."