News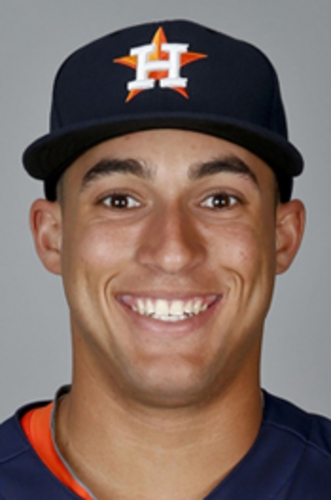 04/17/2014 7:12 AM
Article By: CCBL Public Relations Office
Slugging outfielder George Springer (Wareham, 2009 & 2010) made his much-anticipated major league debut Wednesday night in Houston, becoming the second former UConn Husky and one of more than 200 Cape Cod League graduates currently active in Major League Baseball.
Wearing his familiar No. 4, Springer batted second and played right field as the Astros faced the Kansas City Royals. The crowd at Minute Maid Park gave him a nice ovation as he stepped to the plate for the first time as a big leaguer, but he was robbed of a hit by shortstop Alcides Escobar, who made a diving stop of his sharply hit ground ball and fired to first for the out on a very close play.
Springer legged out an infield single in his second at-bat, then scored on a home run by Jason Castro (Yarmouth-Dennis, 2007). He finished 1-for-5, with a run scored, a walk and two strikeouts in Houston's 6-4 loss to the Royals in 11 innings.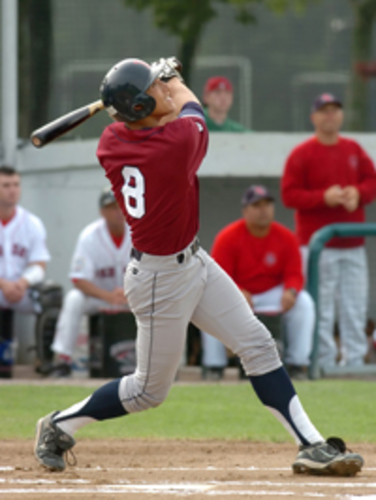 Earlier in the day, Springer flew to Houston from Colorado Springs, where he had blasted a grand slam for Triple-A Oklahoma City the night before, then was informed of his promotion by his manager, Tom Lawless. Springer said at first he was speechless because of his surprise and excitement when he got the news. "I think I just stared at him blankly," Springer said. "Once it set in, I put my head in my hands and was in shock. I was in awe. I was able to call my mom and dad. I wasn't able to stay calm. It was an extremely emotional phone call."
His father, George Springer Jr., a Hartford lawyer who played in the 1976 Little League World Series and was a football player at UConn, and his mother, Marie, who was a gymnast at UConn, were equally excited. "My tears were immediate and sustained for a period of time," his father said. "In fact, he had to call me back because it took me a little while to get my composure. I'm overjoyed that he has this opportunity."
Upon arriving in Houston, the younger George said. "This is great. This is obviously a thing as a player and as a kid, you dream of your whole life. To get the opportunity is something special."
Springer was hitting .308 with three homers and eight RBIs for Oklahoma City. Last season, in 135 games split between Double-A (Corpus Christi) and Triple-A, he hit a combined .303 with 37 homers, 108 RBIs, 45 stolen bases and an OPS of 1.010.
The 6-foot-3, 204-pound native of New Britain, Conn., is considered a true five-tool player with the ability to hit for average, hit for power, run, throw and field his position. Those attributes were the reason Houston selected him in the first round of the 2011 amateur draft and gave him a $2.52 million signing bonus. Three years earlier, the Minnesota Twins had made him their 48th-round pick, but the opportunity to play at UConn, his mom and dad's alma mater, won out.
It was a wise decision. Springer was a Freshman All-America in 2009, the Big East Player of the Year in 2011 and a consensus All-America in 2011. As a freshman, he hit .358/.454/.679 with 75 runs, 16 home runs – a freshman record -- and 12 steals in 15 attempts, earning an invitation to play in the Cape League for the Wareham Gatemen, where he got his first taste of hitting with a wood bat.
In 40 games for Wareham, Springer totaled 35 hits for a .261 batting average, with three doubles, one triple, three home runs and 25 runs batted in. He also was successful on 12 of 14 stolen base tries.
He continued his collegiate success as a sophomore, hitting .337/.491/.658 while setting school records for walks (60) and runs (84). He homered 18 times, made only one error in the field and swiped 33 bases while being caught twice. He returned to Wareham in 2010, going 15-for-52 (.288) in 16 games before leaving to join Team USA for the World University Games. His grand slam provided all the offense in a 4-2 win over Japan in the semifinals as the team won the silver medal.
Springer's 18-game Team USA totals were .292/.342/.472 with 21 hits, 12 runs, two home runs and a team high seven doubles and 18 RBIs. He joined two other Cape Leaguers – Jackie Bradley Jr. (Hyannis, 2009) and Mike Mahtook (Harwich, 2010) as the squad's main outfielders.
As a UConn junior, Springer's collegiate stardom reached its peak. He batted .343/.450/.608 with 31 steals in 38 tries, 12 home runs, 61 runs scored and 77 RBIs in 66 games. He finished as Connecticut's career leader in both home runs (46) and runs scored (220).
In 56 games over two Cape League seasons, Springer had 50 hits, scored 31 runs and collected three doubles, two triples and six round-trippers. His combined batting average was .269 with 32 RBIs and 19 stolen bases in 22 attempts.
Despite his shortened 2010 season on the Cape, Baseball America rated Springer as the No. 2 prospect in the league, between No. 1 Anthony Ranaudo of Brewster and his UConn and Wareham teammate Matt Barnes. The Boston Red Sox scooped up Ranaudo with the 39th pick in the 2010 draft and chose Barnes with the 19th pick in 2011. Both are currently pitching for Boston's Triple-A club in Pawtucket.
Springer joins fellow Cape League alum Mike Olt (Orleans, 2008 & 2009) as the only two UConn players currently active in Major League baseball. Olt, an infielder-outfielder with the Chicago Cubs, was a first-round draft pick (49th overall) of the Texas Rangers in 2010 and acquired by the Cubs in a late-season deal last year. He has been their primary third baseman in the early going, batting .231 with two home runs and five RBIs in his first 12 games.
Springer's debut also raises the all-time total of MLB players from the Cape League to 1,032.
-ccbl-