News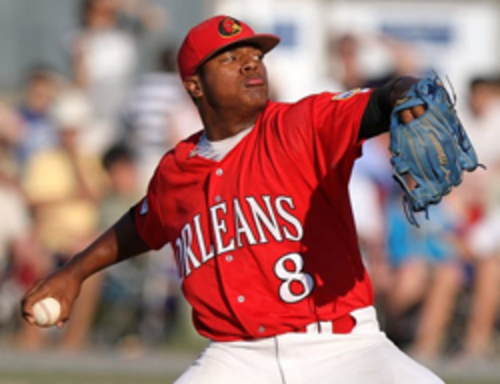 05/06/2014 7:25 AM
Article By:
Rookie right-hander Marcus Stroman (Orleans, 2010/11) became the 11th former Cape Cod League player to make his major league debut this spring, pitching in relief for the Toronto Blue Jays in Sunday's 7-2 victory over the Pirates in Pittsburgh.
The former Duke University star got the word of his promotion late Saturday in Buffalo, then made the 3½-hour drive to Pittsburgh early Sunday morning. He was sent in to pitch the eighth inning with the Blue Jays leading, 7-1.
"Once I got out there I felt fine and I had a good time," said Stroman, who barely slept the night before. "I didn't execute like I wanted to, but it was good to get it out of the way."
Stroman, who relieved Blue Jays starter Dustin McGowan, ended up allowing a run on one hit and recording two outs before being picked up by southpaw Brett Cecil, another Orleans alum (2006). His one mistake came when Josh Hamilton hammered a high fastball to right centerfield for a run-scoring triple.
"We wanted to get him in there as soon as possible," said manager John Gibbons. "He had a nice comfortable lead there, a little breathing room. I thought he did great."
Although Stroman always has been comfortable working out of the bullpen, something he did on occasion at Duke University, the Blue Jays decided last year to stretch him out as a starter. It worked well at Double-A New Hampshire, where he went 9-5 with a 3.30 ERA in 20 starts. Promoted to Triple-A Buffalo this season, he had a 1.69 ERA and 36 strikeouts in 26 2/3 innings before being called up.
Whether he starts or relieves doesn't matter to Stroman. "I'm just happy to be here," he said before Sunday's game. "I've had experience in the bullpen … I'm not worried about it. I feel like I can come in – that's something I've done in the past and that's something I'm comfortable with, so it's not like it's completely new."
Orleans' closer in 2010, Stroman was nearly perfect in 15 games for the Firebirds. He scattered 10 hits, walked only three batters and struck out 32 in 25 innings. He did not allow a run as he notched 10 saves.
Splitting the 2011 season between Team USA and Orleans, Stroman excelled for both clubs. The first Duke player to make the collegiate national team's final roster, he was named closer and did not allow a hit in seven appearances encompassing 8 1/3 scoreless innings. A perfect 4-for-4 in save opportunities, he struck out 17 of the 27 batters he faced and issued only one walk. Returning to Orleans, he got into two games, pitching a total of six innings. Again, he did not allow a run while giving up one hit, walking three and striking out eight.
In 17 games over two seasons with the Firebirds, he had a perfect 0.00 ERA in 31 innings of work, striking out 40, issuing six bases on balls and scattering 11 hits.
The 2010 season was especially memorable for Stroman, who was selected for both the East Division All-Star Team and the end-of-season All-League Team. His Fenway Park debut came in the Cape League All-Star Game on July 28. "I felt like a big leaguer," he said. "When we walked into the stadium from behind home plate, the first thing we saw was the Green Monster in left field. It was … overwhelming."
Stroman pitched a scoreless second inning for the East squad, his fastball topping off at 96 mph as he allowed one hit, a ground-ball single to the opposite field. He struck out one and induced two groundouts, including one that shattered the bat.
After the game, which the West All-Stars won 5-0, he admitted, "I had some butterflies, which is a good thing. It's such a historic ballpark and I was thinking about all the great big-leaguers who'd played here. In the bullpen, in the dugout, this is where you want to be – in the big leagues."
Now, a short four years later, it's exactly where he is – in the big leagues with the Blue Jays.
-ccbl-