News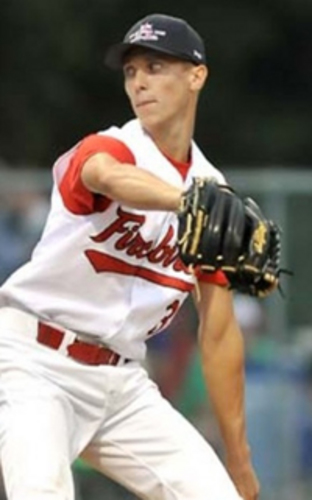 05/18/2014 7:50 AM
Article By: CCBL Public Relations Office
Cleveland rookie left-hander Kyle Crockett (Orleans, 2012) became the first member of baseball's 2013 draft class to make it to the major leagues Friday night as he appeared in relief during the Indians' 11-1 loss to the Oakland Athletics. Cole Figueroa (Harwich, 2007; Orleans, 2008) of Tampa Bay made his MLB debut the same night as the Rays blanked the Los Angeles Angels, 3-0.
One year ago, Crockett was still pitching for the University of Virginia. On June 7 -- the second day of the 2013 First-Year Player Draft -- he was selected by the Indians in the fourth round (111th overall).
"Give our scouting staff a lot of credit," manager Terry Francona said before Friday's game. "This kid's not a real imposing, big kid, but he's given up two runs in his professional career so far. He's not going to be intimidated. He pounds the strike zone. He throws all his pitches for strikes ... He's kind of a polished kid. There's not a ton of development left, other than facing major league hitters."
Crockett, who carries 170 pounds on his 6-foot-2 frame, breezed through three levels of minor league ball in parts of two seasons as a pro. He has fashioned a 0.45 earned run average in 40 1/3 innings, striking out 49 and walking only eight. At Double-A Akron, he had a 0.57 ERA with six saves and 17 strikeouts in 15 2/3 innings before getting the call to Cleveland Friday morning.
When the Indians fell behind 8-1 with one out in the second inning, Francona figured it was a good time for the youngster to get his feet wet, so he brought in Crockett to relieve shell-shocked starter Zach McAllister. The rookie walked the first batter he faced, Brandon Moss, but got out of the inning with a double play. In the third, he gave up a leadoff homer to Jed Lowrie and a single, then got two outs on a pair of fly balls by Josh Reddick and Eric Sogard before being relieved by C.C. Lee.
Crockett admitted he was overcome by emotion when his Double-A manager Dave Wallace called him into his office Friday morning and told him he was being called up. The young pitcher thought at first that he was being promoted to Triple-A Columbus, then he realized he was actually going to Cleveland.
"My heart stopped, and I kind of just sat there and started crying. It was just a great experience," he said.
Crockett said his rapid ascension to the big leagues was something he never anticipated. "Yeah, that'd be pretty fair to say," he told MLB.com writer Jordan Bastian. "Just hearing stories from other guys, I thought that the minor league life would be a lot tougher -- a long struggle. But I moved pretty quickly to Akron and then up to here. It's kind of been a whirlwind. It's definitely a surprise, but a very good one."
Appearing in 17 games for the 2012 Orleans Firebirds, Crockett finished with impressive numbers. He gave up two runs, both earned, in 24 innings, while striking out 28 and walking three. He fashioned a 1-1 record with a 0.75 ERA, and recorded six saves.
Crockett was not the only former Orleans player to break into the big leagues Friday night.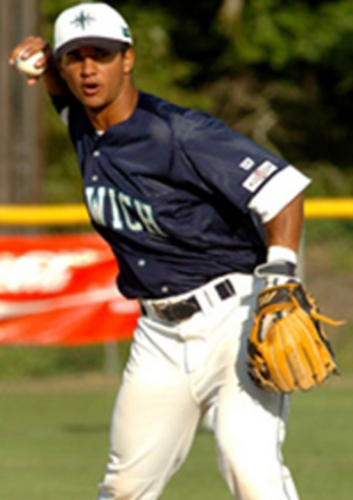 Tampa Bay rookie Figueroa, a career .291 hitter in seven minor league seasons, was sent in to pinch hit in the eighth inning of the Rays' shutout win over the Angels in Anaheim.
Figueroa had been called up from Triple-A Durham on Thursday when Tampa Bay second baseman Ben Zobrist went on the 15-day disabled list with a dislocated thumb.
Figueroa popped out to shortstop in his only at-bat, then went in to play second for the final two innings, cleanly fielding a ground ball off the bat of Angels' catcher Hank Conger to end the eighth. The former University of Florida star, who turns 27 next month, hit .299 for Durham this season after playing well during his second spring training with the Rays last March.
"I think Cole Figueroa is a really good baseball player," Rays manager Joe Maddon told MLB.com. "I sent him out this year (during spring training) and again I told him – and I meant it – that, 'You're a big league baseball player.' I like his tools. I like his abilities a lot. He's a bright player, a smart baseball player. He was going to make it to the major leagues at some point, it just happened a little bit slower based on the situation."
The accolades aside, Figueroa realizes his stint in the big leagues may be short-lived, so he plans to make the most of his opportunity. "They (the Rays) would always tell me how much they enjoyed watching me play and they kept telling me to keep pushing, don't get discouraged. They didn't want me to give up on that dream. The big part now is not to just say, 'I've made it,' but to show them what I can do and try to stay up here as long as I can."
In 2007 at Harwich, Figueroa hit .281/.364/.336 with five doubles, one homer and 13 RBIs in 39 games. In '08, he slipped a bit to .232/.277/.330 with three doubles, one triple, two homers and 17 RBIs in 30 games. Over his two seasons on the Cape, he was successful on 15 of 21 stolen base attempts.
Crockett and Figueroa are the latest of 15 former Cape Leaguers to debut in the majors so far this season.
-ccbl-