News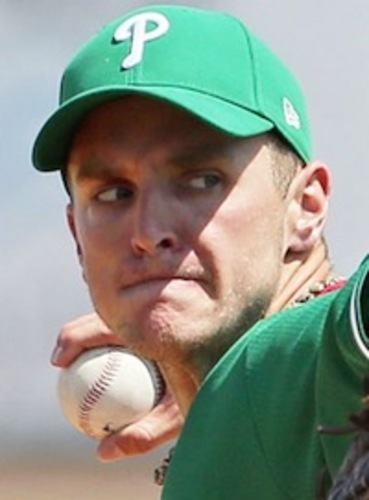 05/25/2014 8:49 AM
Article By: CCBL Public Relations Office
Philadelphia rookie David Buchanan (Brewster, 2010) made his Major League Baseball debut Saturday and it lasted longer than his entire Cape Cod Baseball League career.
The 25-year-old right-hander pitched five effective innings and Chase Utley (Brewster, 1998; Cotuit, 1999) hit a two-run homer as the Phillies beat the Los Angeles Dodgers 5-3.
Buchanan appeared in just one game for the 2010 Whitecaps, going four innings and being charged with the loss. He gave up three hits and an earned run, walked three and struck out three.
He had joined Brewster after being selected by the Phillies in the seventh round (23rd overall) of the 2010 amateur draft and spent just five days on the Whitecaps' active roster before leaving the Cape to sign with Philadelphia and report to Williamsport in the New York Penn League.
On Saturday, filling in for injured starter Cliff Lee, Buchanan gave the struggling Phillies a lift, allowing two runs and five hits, striking out two and walking two. Facing 20 Dodger batters, he threw 44 of his 66 pitches for strikes, including 11 first-pitch strikes.
Buchanan retired the first three batters he faced on ground balls, then watched his new teammates give him a quick lead. After Ben Revere doubled, Dodger catcher A.J. Ellis caught Jimmy Rollins' foul popup but dropped Chase Utley's foul pop. Utley used the second chance to hammer his first home run since April 13 and the Phillies led 2-0 after one inning.
"This is what I thought about since I was a kid," Buchanan said after the game. "I'm overwhelmed with emotions. It's so humbling that so many people took the time out, got plane tickets and were here to see me." The Atlanta native was referring to more than 15 family members and friends in the crowd, including his parents and his college coach, Greg Frady.
The Georgia State University coach watched his former ace become the first player from the school to make the majors. "We're really a young program with very little history," Frady said. "David Buchanan going to the big leagues … is a monumental time in Georgia State baseball history."
Buchanan was 5-1 with a 3.98 ERA at Triple-A Lehigh Valley before joining the Phillies. The 6-foot-3, 190-pound pitcher is the 17th rookie with Cape League roots to make his Major League Baseball debut so far this season.