News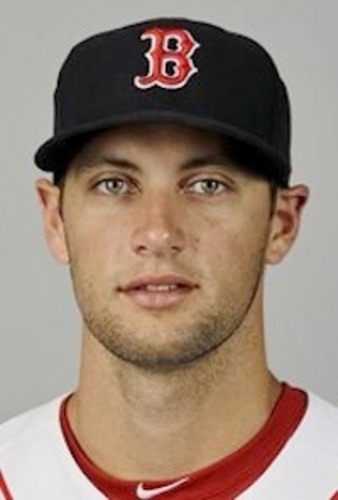 06/02/2014 5:04 PM
Article By: CCBL Public Relations Office
Admittedly nervous, Alex Hassan nevertheless was right at home Sunday as he made his major league debut at Fenway Park and collected his first career base hit in the Boston Red Sox's 4-0 victory over the Tampa Bay Rays.
Born in Quincy, Mass., and a graduate of Boston College High School, Hassan (Orleans, 2008-09) saw many a Red Sox game at the venerable ball yard while growing up in Milton, and he even got to play there in the '09 Cape League All-Star game.
The 26-year-old rookie, called up from Triple-A Pawtucket on Friday when catcher Ryan Lavarnway was placed on the 15-day disabled list, watched from the bench for two nights as Boston beat the Rays twice to extend their current winning streak to six. On Sunday afternoon, though, manager John Farrell (Hyannis, 1982) penciled him in as the starting right fielder and Hassan responded by getting his first big league hit and helping the Red Sox run their streak to seven wins in a row after 10 consecutive losses.
The 6-foot-3, 200-pound rookie batted sixth and quickly found himself in a pressure spot, coming up with two outs and the bases loaded in the first inning. He never got to swing the bat, though, as Rays lefty Erik Bedard painted the plate with three consecutive called strikes to end the threat.
Hassan's next at-bat, in the fourth inning, was a different story. After Jonny Gomes led off with a single, Hassan stroked a clean single to center field. Jackie Bradley Jr. (Hyannis, 2009) followed with a walk to load the bases and Jonathan Herrera's sacrifice fly made it 1-0. Brock Holt, who had a record-tying afternoon with four doubles, used one of them to drive in two runs and the Red Sox led 3-0.
Hassan is the first Massachusetts native to start for the Red Sox since Mark Bellhorn (Cotuit, 1993) of Weymouth in 2005, and the first to start in the outfield since Billy Conigliaro (Revere) in 1971.
The former Duke star (.322/.402/.460 with 202 hits and 100 RBIs over three college seasons) was drafted by Boston in the 20th round (No. 618 overall) in 2009. He batted .217/.318/.303 in 45 games this season at Pawtucket, hardly impressive figures, while playing 25 games in right field, 11 in left, seven at first base and two as DH for the PawSox.
In six minor league seasons, Hassan's career line is .285/.394/.426, with 35 homers and 231 RBIs.
Farrell liked what he saw of Lavarnway during spring training, according to boston.com's Maureen Mullen. "If he goes out and puts up the at-bats we saw in spring training, he'll be just fine. He had probably some of the most consistent at-bats for the entire time he was there with us," Farrell told Mullen before Sunday's game, adding, "It's a chance for us to get another right-handed bat in the lineup. He's got exposure to both corner outfield positions, and this is a challenging one here because of the dimensions."
Hassan's Pawtucket teammate, infielder Garin Cecchini, also debuted Sunday and he too got his first big league hit. "We're tapping into organizational depth and guys are ready to contribute," Farrell said after the game. "It is a special day. I don't know the last time two Red Sox players have gotten their first major league hits in a game."
For the record, the last two Red Sox rookies to get their first big league hits in the same game were Andy Merchant and Steve Dillard on Sept. 28, 1975.
Cecchini's debut came in the fourth inning after second baseman Dustin Pedroia was ejected by plate umpire D.J. Reyburn at the end of the third for continuing to argue strike calls.
After his freshman year at Duke, Hassan played 39 games for the 2008 Orleans Cardinals, batting .208/.331/.238. The following season, he improved across the board and was selected for the All-Star game at Fenway, appearing as a pinch-hitter and drawing a base on balls.
Hassan finished 2009 with a very respectable line of .289/.344/.395, with five doubles, two triples, a home run and 20 RBIs.