News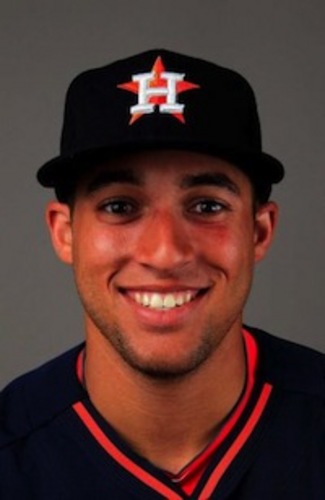 06/04/2014 3:05 PM
Article By: CCBL Public Relations Office
Two 2010 Cape Cod Baseball League rivals have been honored by Major League Baseball for their on-field performances in May. Houston Astros right fielder George Springer (Wareham, 2009-10) was voted American League Rookie of the Month and St. Louis Cardinals second baseman Kolten Wong (Orleans, 2010) got the nod as National League Rookie of the Month.
Springer batted .294 (30-for-102) with four doubles, one triple, 10 homers, 25 RBIs, 22 runs scored and 13 walks in 26 games to claim his first monthly award. He is the first Astro to win Rookie of the Month honors since Hunter Pence in May 2007, when the club was still competing in the National League.
Springer's outstanding month at the plate placed him at the top of a host of offensive categories (minimum 84 plate appearances) for the period, finishing first in the Junior Circuit in runs scored, homers, RBIs, walks, slugging percentage (.647), extra-base hits (15) and total bases (66); placing second in at-bats, hits and on-base percentage (.385); and finishing third in batting average.
Springer was also second in the league with a .357 batting average on balls put in play. His 10 home runs tied him for third all-time in baseball history for homers in May by a rookie, with Mark McGwire (15 in 1987) the last rookie to club 10 or more homers during the month.
Springer finished one homer shy of tying the Astros franchise record for May home runs - 11, set by Jimmy Wynn in 1969.
On May 8, the right-handed-hitting Springer launched the first home run of his career as Houston topped the Detroit Tigers 6-2 at Comerica Park. Springer also walked and scored a pair of runs in the contest. The 24-year-old displayed drama in Houston's Lone Star State showdown with the Texas Rangers on May 14, belting a two-run homer in the bottom of the seventh to give the Astros a 5- 4 lead in a winning effort at Minute Maid Park.
On May 24, the former University of Connecticut star went 2-for-5 with two homers and five RBIs to guide the visiting Astros to a 9-4 triumph over the Seattle Mariners at Safeco Field. Springer began the scoring in the first with a two-run shot and later connected on another two-run homer as part of a five-run Houston fifth inning in the win.
On May 29, the Nutmeg State native hit his seventh homer over a seven-game stretch in a 3-1 edging of the Baltimore Orioles in Houston. According to the Elias Sports Bureau, Springer, the 11th overall pick by Houston in the 2011 MLB draft, is only the second rookie in major league history to hit seven homers over a seven-game span, joining Rudy York, who did it with Detroit from Aug. 22-27, 1937.
The last Astro overall to have such a stretch was Morgan Ensberg in 2006 (seven home runs in six games).
Other rookies receiving votes included the AL Pitcher of the Month Masahiro Tanaka (5-1, 1.88 ERA, 42 SO) of the New York Yankees; infielder Xander Bogaerts (.327, 2 HRs, 8 RBIs) of the Boston Red Sox, and reliever Jake Petricka (0.64 ERA in 14.0 IP over 12 G) of the Chicago White Sox.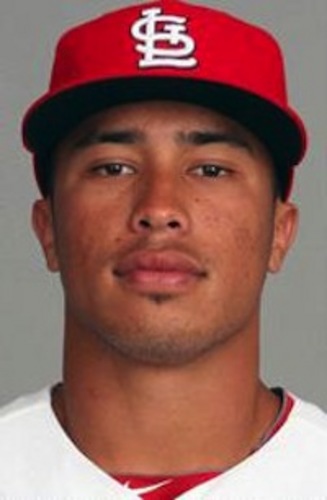 In 13 May contests, the Cardinals' Wong hit .333 (16-for-48), the highest among NL rookies with 40 or more plate appearances during the month. The 22nd overall selection in the 2011 MLB draft out of the University of Hawaii at Manoa, Wong ranked second among NL rookies in doubles (4) and stolen bases (4), third in hits, tied for third in RBIs (6) and runs scored (7) and sixth in on-base percentage (.418).
Wong set a career high with four hits on May 28, going 4-for-5 with an RBI and his first career triple in a 7-4 loss to the New York Yankees. The native of Hilo, Hawaii, hit safely in eight consecutive games following his May 14 recall from Triple-A Memphis, batting .364 (12-for-33) with five RBIs and three doubles in that span.
Wong earned the promotion after hitting .344 (22-for-64) with two home runs and 10 RBIs in 15 games with Memphis. Kolten made the Cardinals Opening Day roster for the first time this year, but was optioned on April 27. In his first appearance after the recall, he made an immediate impact on the Cardinals' lineup, going 2-for-4 with a stolen base and a run scored in a 5-2 win over Atlanta on May 16. He collected two more hits in the May 17 matchup between the two clubs, and swiped another bag while scoring twice en route to a 4-1 victory.
This is his first career monthly honor and he becomes the first Cardinal to be voted Rookie of the Month since infielder Brian Barden (Brewster, 2001), who won for April 2009.
Other rookies receiving votes included Cincinnati Reds outfielder Billy Hamilton (.260, 9 R, 20 H, 2 3B, 9 SB); Pittsburgh Pirates catcher Tony Sanchez (.255, 3 R, 12 H, 2 HR, 6 RBIs); pitcher Chase Anderson (1-0, 0.79 ERA, 12 SO, 11.1 IP) of the Arizona Diamondbacks; reliever Aaron Barrett (1-0, 0.79 ERA, 13 SO, 11 1/3 IP) of the Washington Nationals; starter Jacob deGrom (0-2, 2.42 ERA, 25 SO, 26.0 IP) and reliever Jeurys Familia (0-0, 1.93 ERA, 19 SO, 18 2/3 IP) of the New York Mets; pitcher David Hale (0-0, 0.00 ERA, 18 2/3 IP) of the Atlanta Braves; relievers Neil Ramirez (0-1, 0.93 ERA, 16 SO, 9 2/3 IP) and Brian Schlitter (2-1, 1.23 ERA, 10 SO, 14 2/3 IP) of the Chicago Cubs; and Milwaukee Brewers reliever Rob Wooten (1-1, 0.71 ERA, 10 SO, 12 2/3 IP).
Springer and Wong each will receive a specially designed trophy, suitably engraved, to commemorate their achievements.