News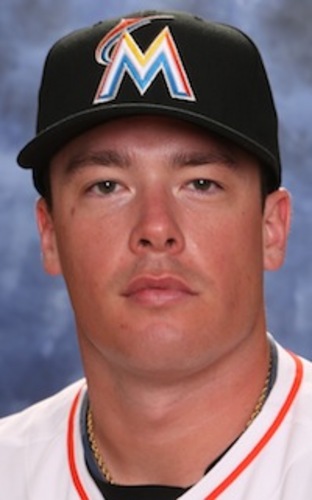 06/06/2014 6:13 PM
Article By: CCBL Public Relations Office
Former Bourne Braves player Justin Bour and his fellow Miami farmhand J.T. Realmuto enjoyed successful major league debuts Thursday as the Marlins beat the Tampa Bay Rays 11-6 in St. Petersburg to complete a three-game series sweep of their cross-state, interleague rivals.
Bour, who hit .192/.276/.250 in 18 games for Bourne in 2008, was a 25th-round draft choice of the Chicago Cubs the following June. Miami acquired the former George Mason University star from the Cubs last December in the minor league phase of the Rule 5 draft.
The 6-foot-4, 250-pound first baseman was hitting .330 with nine home runs and 36 RBIs in 55 games at Triple-A New Orleans when he was summoned to the big leagues. He had two singles in five at-bats and drove in a run Thursday as the Marlins sent the struggling Rays down their 10th straight defeat.
"It hasn't really sunk in yet, but it feels great to finally be here," said Bour, who in six minor league seasons hit .279/.418/.621 with 83 home runs and 422 RBIs. "Whatever they call me to do, I'm going to be ready to do it … DH, first base … I'm not really sure exactly what they'll do with me, but either one is fine by me. I'm just ready to get out there."
The Marlins optioned weak-fielding second baseman Derek Dietrich (Wareham, 2009) to New Orleans to open a spot on their roster for Bour, who batted seventh as their designated hitter Thursday in an American League ballpark. Next week, they will be in Texas for two games against the Rangers, providing the 26-year-old rookie with two more opportunities to DH. Otherwise, he will see spot duty at first base or give the M's a much-needed left-handed bat off the bench.
"He's certainly big and strong," Marlins manager Mike Redmond observed as he watched Bour loosen up before Thursday's game.
Redmond continued, "This is the fun part of managing – being able to watch guys in their major league debuts. This is something they'll never forget. I told them to just relax and have fun, just allow their ability and talent to come forward," he said.
Bourn is the 20th former Cape League player to make his major league debut this season and the 1,046th on the all-time list of big leaguers from the CCBL.
Realmuto, 23, was called up from Double-A Jacksonville to back up catcher Jeff Mathis, who has taken over behind the plate while starter Jarrod Saltalamacchia recovers from a concussion. He had three RBIs in his major league debut, driving in two on his first big league hit, a fourth-inning single, and adding a sixth-inning RBI single. He was batting .301 with 14 doubles, three triples and five homers at Jacksonville and was sixth in the Southern League in RBIs (31) and second in slugging (.503).