News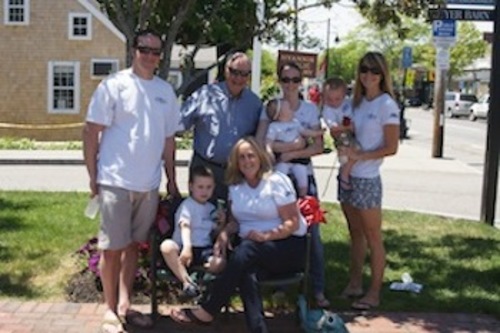 06/14/2014 5:35 PM
Article By: John Garner Jr.
It was a beautiful, sun-splashed afternoon at the JFK Hyannis Museum when the Cape Cod Baseball League gathered round to honor late umpire Jim McNally, who died unexpectedly last July in a roofing accident.
CCBL senior vice president Jim Higgins and senior deputy commissioner Sol Yas were eloquent and emotional addressing a crowd that included McNally's wife, Joanne, son Jim, daughter Jennifer, three grandchildren and several other family and friends as they gathered for an unveiling of a memorial brick inscribed with McNally's name and his 1952-2013, with two red roses and a baseball.
McNally was one of the top Cape League umpires during his heyday, working many of the league's biggest games as well as the Frank Finn tryouts and U.S. Military games. He received the second annual Curly Clement Award in 2005, presented for officiating excellence and contributions over the years to baseball umpiring.
For the past several seasons, McNally began the Cape League season by umpiring at the official Frank Finn CCBL Tryout at Clem Spillane Field in Wareham in early June. McNally was a veteran umpire and member of the Boston Park League Hall of Fame. He owned a roofing business and lived in Sandwich.
McNally was an ECAC umpire for several years until 1982 when he separated from the CBUA. He didn't umpire again until 1997, when regular CCBL umpires refused to work in a labor dispute.
McNally worked the plate for the Cape League-Team USA game in Chatham (2000, 2-2 tie), attended by an estimated 10,000 people at Veterans Field, most ever to witness a baseball game on the Cape.
Another familiar masked man behind the plate on the Cape was veteran arbiter Jim Rondeau, who's retired from active umpiring after a storied 30-year career.
Rondeau began umpiring in the Cape League in 1983, assigned by Cape League Hall of Famer Manny Pena and worked on same crew in the '83 CCBL All-Star game at Fenway Park with another Hall of Famer, Curly Clement.
I sat down with Rondeau this past week inside the spacious McKeon Park press box in Hyannis as he reminisced about some of his professional highlights.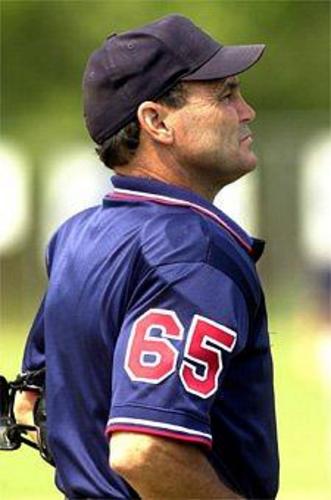 "There are many great memories, including working the plate in the fastest nine-inning game in league history, a 1-0 masterpiece at Coady Field between (Mark) Mulder of Bourne and (Barry) Zito of Wareham that took just 1:43," Rondeau said. "Both pitchers were on top of their game and got into a good, fast rhythm."
A Palmer, Mass., native who now lives in South Dennis, Rondeau worked with several father-son combinations, including Greg Vaughn Sr., and Greg Vaughn Jr., in Cotuit and Wareham pitchers Jack Armstrong Sr., and Jack Armstrong Jr.
During the 2009 college baseball season, Rondeau worked the plate during a spring game between Akron and North Carolina State in which an NCAA record 51 strikeouts occurred.
Rondeau umpired in the Venezuelan Winter League from 1992-94 and in Puerto Rico during the winter of 1994-95. He also worked the 1996 Summer Olympics in Atlanta when baseball was an Olympic sport and for several years has worked the Baltimore Orioles spring training camp in Florida.
"I've enjoyed some great experiences and met a lot of interesting people," Rondeau said. "I love baseball and will continue to be around the game as much as possible."