News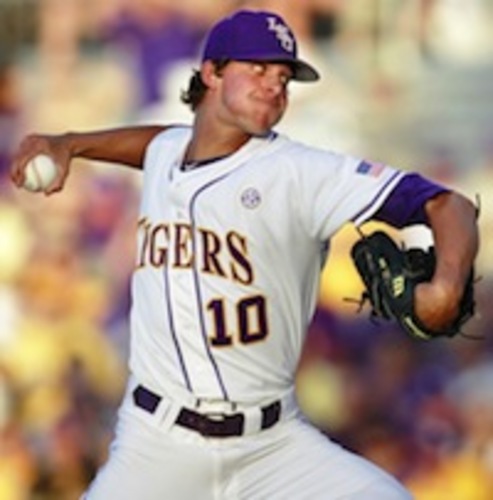 06/16/2014 5:11 PM
Article By: CCBL Public Relations Office
Former Cape Cod Baseball League right-hander Aaron Nola (Harwich, 2012) of LSU is one of three finalists for the National College Baseball Hall of Fame's National Pitcher of the Year Award. The other two 2014 finalists are Blake Fox of Rice and Brendan McCurry of Oklahoma State.
The Pitcher of the Year Award, sponsored by Diamond, will be presented during the National College Baseball Hall of Fame's annual Night of Champions on June 28 in Lubbock, Texas.
"Each of these players was instrumental in his team's regular-season and postseason success," said Raymond Richardson, co-chairman of the Pitcher of the Year Award committee. "They maintained their impressive numbers throughout the season, and they're going to make it difficult to choose a winner."
Nola, a junior from Baton Rouge, La., went 11-1 with a 1.47 ERA as a junior and was named one of three finalists for the Golden Spikes Award. The 21-year-old finished his career at LSU with a 30-6 record and a 2.09 ERA, and he's the only player in SEC history to be a two-time Pitcher of the Year. In his last two seasons, Nola was 23-2 with 256 strikeouts. The Tigers finished the season at 46-16-1 after a loss to Houston during regionals.
Fox, a sophomore from Bellaire, Texas, had 69 strikeouts and only 27 walks in 104 2/3 innings to go with his 12-0 record on the year. He also had an opponent batting average of .236. The Owls ended the season with a loss to Texas A&M during regionals.
McCurry, a senior from Tupelo, Okla., is ranked fourth in the NCAA with 19 saves and made a school-record 34 appearances during this season. With a 5-0 record and 0.39 earned run average, he allowed only two runs in 46 innings and gave up just 29 hits while recording 53 strikeouts.
"Each of these guys was part of a dominant pitching staff, and yet they all managed to distinguish themselves," said Chris Snead, award co-chairman.
Nola already has signed a professional contract with the Philadelphia Phillies, who chose him with the seventh pick in the 2014 MLB First-Year Player Draft on June 5. He reportedly signed for the MLB-recommended bonus of $3,300,900.
"We believe he's a guy who has a chance to pitch pretty quickly in Philadelphia," said Phillies general manager Ruben Amaro Jr., himself a former Cape Leaguer (Cotuit, 1985). "But that'll be based on his performance and how he grows.
"He's a pretty regimented kid. I got a chance to see him … it was clear he's got some great focus. He knows exactly what he wants to do to prepare. And I was impressed with the way he prepared for his start when I saw him pitch. But that's kind of been his M.O. We just want to make sure he gets acclimated to our program, acclimated to what we want to do with him and we'll kind of go from there."
The Phillies assigned Nola to the Advanced-A Clearwater Threshers of the Florida State League to start his pro career. But Amara left the door open for the youngster to be pitching at Double-A Reading before this season ends. That decision will fall on Joe Jordan, the organization's farm director, and minor league pitching coordinator Carlos Arroyo.
Nola is following in the footsteps of his brother Austin (Harwich, 2010-11), now a shortstop at Double-A Jacksonville in the Miami Marlins organization. Austin was Miami's fifth-round draft pick in 2012 after playing at LSU and helping Harwich win the Cape League championship in 2011.
The Night of Champions event also features the announcement of the winners of the Brooks Wallace Shortstop of the Year Award and the John Olerud Two-Way Player of the Year Award, as well as the 2014 National College Baseball Hall of Fame inductions. The winners of the Johnny Bench Award and the Dick Howser Trophy also will be recognized.
More information on the National Pitcher of the Year Award or the National College Baseball Hall of Fame's Night of Champions may be found at
www.collegebaseballhall.org
.