News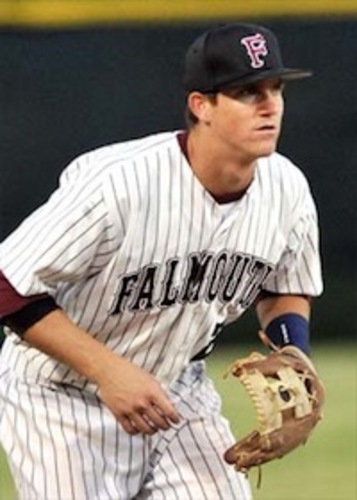 06/18/2014 4:28 AM
Article By:
The 2013 Falmouth Commodores' offense was extremely potent, so it's no surprise that a Commodore took home the Thurman Munson Award for the best batting average in the Cape Cod Baseball League. What was perhaps surprising is that the recipient was a freshman. Even more surprising? He's back this year.
Kevin Newman sported a league-leading .375 batting average in 2013, edging out teammates and notable sluggers Kevin Cron and Rhys Hoskins.
Newman didn't overpower en route to the title, singling 60 times with just three doubles, no triples and no home runs. With single after single, Newman bested yet another Falmouth teammate – 2013 Cape League home run leader Casey Gillaspie, the Tampa Bay Rays' first-round draft pick.
The Commodores' shortstop brings a lot more to the table in his second season than just a hot bat.
"I'm not trying to repeat what I did last year," Newman said. "I'm just trying to stay with in myself and do everything I can to help the team."
In just six games with the Commodores, the California native notched his first home run of the season to go along with his seven singles thus far.
"Just work hard in the weight room," Newman said regarding what he worked on this season as a sophomore at the University of Arizona. "Got bigger, put some weight on me, so hopefully that'll transform into some extra-base hits."
While it's often Newman's consistency at the plate that makes him stand out, Commodores field manager Jeff Trundy recognizes the shortstop's well-rounded play.
"You're talking about a kid whose great on both sides of the ball," Trundy said. "He's a great defensive short stop, came in last year and hit a lot better than a lot of people thought he was going to."
Newman is a player who exemplifies just how much a player can grow in the short summer season.
"Everyone thought he was a good hitter," Trundy said. "But he ended up having an incredible summer, leading the league in hitting."
Newman's stellar performance on the Cape, as well as a strong showing in his second season with the Wildcats, earned him and invitation to Team USA tryouts this month. While Newman said he's hoping for the best, he's just excited and grateful for the opportunity.
"I'm just looking to enjoy it, make the most of it and whatever happens, happens," Newman said.
As far as Trundy is concerned, Newman's strengths around the diamond are only half of the story. It's the 20-year-old's character off the field that makes him such a valuable commodity.
"On the field, off the field, in the dugout, I think (Newman) brings so much to the table," Trundy said. "He's a young man who has a bright future, not only because of his ability but also because of his character and his makeup. We're excited to have him and be around him again."
Of course, Trundy isn't the only one happy to have the batting champion back. For Newman, there was really only one option.
"Falmouth is a great place," Newman said. "The teammates, the coaches, just everyone involved all around so there was no doubt in my mind that I wanted to come back and play here again."