News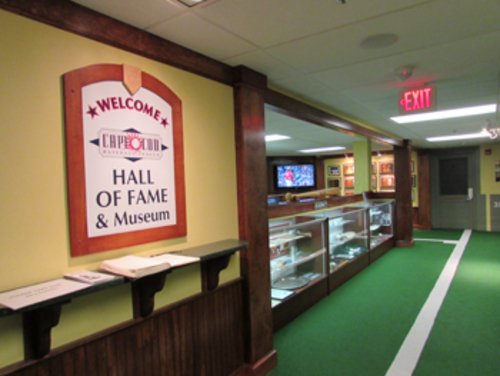 06/19/2014 8:32 AM
Article By:
There are many components that make the Cape Cod Baseball League what it is. One of its best attributes is the League's Hall of Fame, a hidden treasure located downstairs in the JFK Hyannis Museum on Main Street in Hyannis.
Created 15 years ago, the Cape League Hall of Fame has become an integral part of the nation's best collegiate summer league. Players, umpires, administrators and their significant contributions and achievements over the years have been honored through the Hall of Fame.
Some notable names include Thurman Munson (Chatham, 1967), Pie Traynor (Falmouth, 1919), Nomar Garciapara (Orleans, 1993), Matt Wieters (Orleans, 2006) and Andrew Miller (Chatham, 2004-05). Other members include former umpire Curly Clement, major league scout Lenny Merillo (Barnstable '35), and Cape League President Judy Walden Scarafile, the only female member of the the Hall of Fame.
Jim Higgins, CCBL senior vice president, said the main objective of the museum is to share the Cape League's story and history with fans.
This summer, all 10 franchises will be hosting their own Hall of Fame game, where there will be a traveling exhibit on display showcasing memorabilia such as baseball cards of former CCBL players, a Dennis jersey from the early 1900s, and a glove signed by pitcher David Aardsma (Falmouth, 2002). There will also be a trivia competition for the fans, specific to that team's history. Higgins hopes this will draw more attention to the importance of past players and entice tourists and fans alike to visit the Hall of Fame.
"The franchises all have wonderful exhibits," Higgins said. "And the more fans get to see them, the greater appreciation they will have for the entire league and its storied history."
The first of 10 Cape League Hall of Fame games will be Sunday, June 22, at Guv Fuller Field in Falmouth, where the Falmouth Commodores will face the Harwich Mariners in a doubleheader at 4 p.m.
Here is the complete schedule of Cape League Hall of Fame Games:
Sunday June 22, 4 p.m. at Falmouth
Friday, June 27, 5 p.m. at Y-D
Saturday, June 28, 5 p.m. at Cotuit
Monday, June 30, 6 p.m. at Bourne
Saturday, July 5, 7 p.m. at Wareham
Sunday, July 6, 6 p.m. at Hyannis
Monday, July 14, 7 p.m. at Chatham
Wednesday, July 16, 5 p.m. at Brewster
Thursday, July 17, 7 p.m. at Orleans
Saturday, July 19, 5:30 p.m. at Harwich