News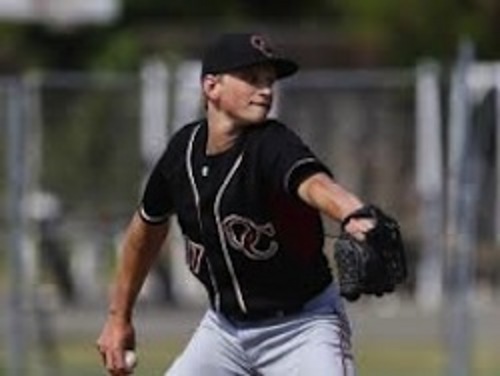 06/23/2014 7:46 PM
Article By:
For Cape Cod Baseball League fans, the MLB First-Year Player Draft is a time for reminiscing and reflecting, as past players move on to the next stage of their careers.
After spending summers competing against the best of the best in the college game, former Cape Leaguers are finally drafted and move on to the pro ranks, and fans will follow their careers regardless of which team selects them. It's a touching process, like graduating from school or getting a big promotion at work.
Occasionally, there is an exception. Like the 2008 film "The Curious Case of Benjamin Button" suggests, sometimes the process is just backward. Unbeknownst to them, fans sometimes aren't hearing the names of past Cape League stars but of future ones.
Such was the case in 2013. Following big names at the top of the first round such as Mark Appel (Y-D, 2011), Kris Bryant (Chatham, 2011), and Colin Moran (Bourne, 2012), those paying attention to Cape League alums likely missed a high school kid from Westlake Village, Calif., who went No. 10 overall to the Toronto Blue Jays. The Oaks Christian School star was about to make news around the country, but on Cape Cod he was just another high school kid getting drafted before getting the chance to enjoy playing in the world's best summer league.
His name is Phil Bickford (Cal State Fullerton), and he's not playing in the Blue Jays' system. Instead, he's spending this summer as a member of the Yarmouth-Dennis Red Sox. Coming out of high school, he turned heads left and right with his size and strength, not to mention his domination of the local high school talent. Sporting a high-90s fastball complemented by impressive off-speed stuff, Bickford possesses both command and composure on the mound. He seemed pro-ready, and the Blue Jays agreed, but a summer later he's playing amateur baseball at Red Wilson Field. How does something like that happen?
Any player selected in a pro sports entry draft has the choice not to sign with the team that selected them. That's one facet that separates Major League Baseball from the NFL, NHL, and NBA; for the latter three, it's almost a certainty a player will sign because if not, the team retains the player's rights anyway.
MLB is unique in its approach to the draft, in that rights are not retained and a player can simply re-enter the draft. But it's not as easy as it sounds. A player can only be drafted by an MLB team out of high school or as a junior or senior in college. Thus, the decision is different at each level. College seniors almost always sign for lack of a better alternative. College juniors must decide whether they can raise their draft stock with an extra year.
For high school athletes, it's a major life decision. The choice is bypassing an education for a big payday and an immediate pro baseball lifestyle at the age of 18 or 19. The alternative is putting off going pro for at least three years and taking a risk with college baseball. It's a tough choice.
As the 10th overall pick, meanwhile, Bickford's signing bonus is roughly $2.9 million. While it's unclear how much Toronto actually offered Bickford, it still seems like a deal most would take.
Consider another former Cape League pitcher, Karsten Whitson (Orleans, 2012). Whitson was drafted out of high school ninth overall by the San Diego Padres in 2010, but chose to attend the University of Florida. His plan backfired, as he struggled with injuries throughout his collegiate career. In fact, he pitched only 3 1/3 innings for the Firebirds before being shut down due to injury. He was drafted in the 37th round by the Washington Nationals in 2013 and turned that down as well. This year, he was drafted in the 11th round by the Boston Red Sox.
What outsiders tend to miss is that for those who choose not to sign, there are more success stories than hard-luck tales such as Whitson's. The aforementioned Mark Appel, another Y-D Red Sox arm, was the poster child for choosing not to sign. He was selected eighth overall by the Pittsburgh Pirates in 2012 after his junior season at Stanford and a strong Cape League season the summer before, but chose to return to school for his senior year.
The following year, he went to the Houston Astros as the No. 1 overall pick. Not only does being the top pick come with unimaginable prestige, but it also more than doubled the signing bonus Appel would have received with Pittsburgh.
And then there's Tyler Beede, who was nearly a member of the 2012 Cotuit Kettleers. Beede was selected 21st overall out of high school by the Toronto Blue Jays in 2011. Beede was the only first-round pick not to sign that year, and instead chose to attend Vanderbilt. After three strong college seasons, Beede was selected 14th overall by the San Francisco Giants this year and is playing in the College World Series Finals.
While Bickford didn't reveal exactly what factored into his decision not to join the Blue Jays, he did say that he entered with an open mind and things simply didn't go as planned. "The negotiations came into play, and it just didn't work out the way we had in mind," he said, "so the decision was to go to Fullerton and experience college, get an education, and go through the process of that route."
He insists he has no regrets about his decision. "I just wanted to play baseball. I just want to compete wherever I am."
Bickford was named Big West Conference Freshman Pitcher of the Year and was chosen for the Louisville Slugger Freshman All-American Team. He went 6-3 with a 2.13 ERA for the Titans, and struck out 74 opponents in 76 innings for a team-leading 8.76 strikeouts-per-nine innings ratio. He dominated his conference opponents, giving up only four runs all season and Big West batters had a .254 average when he was on the mound.
"Every time you go out to the mound you just want to focus on each and every pitch," Bickford said.
For now, Bickford has forgotten about the draft and isn't thinking about school either, but is focused entirely on the summer and his Cape League experience. "I kind of just came here expecting competitive baseball, and it's been a lot more than that already," he said, noting how impressed he is with the scenery, the people, and his teammates and coaches.
He said he's enjoying New England, where his father grew up and where he can truly express his lifelong love for the Boston Red Sox. In the end though, he's all business.
"We're all out here to get better. That's the goal," Bickford said. "Every outing I'm just going out there, not taking anything for granted, and trying to give the Y-D Red Sox a chance to win."