News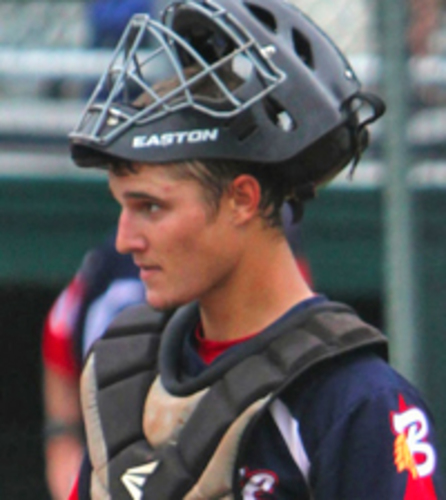 06/28/2014 7:47 AM
Article By:
Max Pentecost (Bourne, 2013) added another impressive piece of hardware to his growing collection Thursday night when he beat out two other former Cape Cod League stars to win the 2014 Johnny Bench Award as the top catcher in college baseball.
Hall of Famer Bench personally presented the award to Pentecost to highlight the annual Greater Wichita Sports Banquet in Wichita, Kan.
"I'm really enjoying this," Pentecost said Thursday, the Wichita Eagle reported. "It's only going to be here a little bit longer, then my career is going to continue in pro ball. I'm just trying to take this in, soak it up and make it last. Whatever happens next is in God's control, and that's what I'm looking forward to."
Pentecost remains unsigned after the Toronto Blue Jays selected him with the 11th pick in baseball's First-Year Player Draft on June 5. His stock in the draft rose significantly after he led little-known Kennesaw (Ga.) State to its first NCAA Division I postseason appearance this spring and his MVP 2013 summer on the Cape.
He finished third in the race for the Cape League batting title (.346) and produced five home runs, 29 RBIs and a .538 slugging percentage, building up momentum that continued into his junior season in college. There, he raised his batting average 121 points to .422, second among all Division I hitters, and led the nation in hits with 113. Both marks were school and Atlantic Sun Conference records.
He also showed more power, hitting nine home runs and driving in 61 runs, and he led the Owls with 17 stolen bases, a feat rarely accomplished by a catcher.
Baseball America and several other publications named him a first-team All-America and he was a finalist for the Greg Olson Award as Breakout Player of the Year in college baseball.
Also present for Thursday's ceremony were the other two Bench Award finalists -- Will Allen (Bourne, 2012) of Ole Miss and Kyle Schwarber (Wareham, 2012-13) of Indiana. Like Pentecost, both were drafted three weeks ago – Allen in the 13th round by Detroit and Schwarber in the first round by the Chicago Cubs. Allen, also like Pentecost, has yet to sign with the Tigers, perhaps hoping that adding the Johnny Bench Award to his resume would enhance his bargaining position.
Schwarber had no such concerns. As the fourth player drafted, he was rewarded with a $3.1 million signing bonus, which now seems like a bargain as he pounds the cover off the ball at Class-A Kane County, Detroit's entry in the Midwest League.
The Wichita Eagle reported that Pentecost credited his Cape League experience for this year's success. "The whole summer in the Cape … it's definitely the whole reason I've been able to do what I have this year," he said. "I became a much better player, person – matured a lot while I was up there, and I mentally became stronger. That's what I was missing to begin with."
Pentecost is the seventh Cape League alum to receive the Johnny Bench Award in its 15-year history. Florida's Mike Zunino (Yarmouth-Dennis, 2011) was the last previous winner, in 2012, preceded by Bryan Holaday (Brewster, 2009) of Texas Christian in 2010, Buster Posey (Y-D, 2006-07) of Florida State in 2008, Ed Easley (Chatham, 2006) of Mississippi State in 2007, Ryan Garko (Hyannis, 2001-02) of Stanford in 2003 and Kelly Shoppach (Harwich, 2000) of Baylor in 2001.
Tonight (Saturday, June 28), Pentecost will be in Lubbock, Texas, for the College Baseball Hall of Fame's annual Night of Champions, where he and fellow Cape Leaguer A.J. Reed (Harwich, 2012-13), will be recognized for their achievements.
Reed recently was named winner of the 2014 Dick Howser Award, college baseball's equivalent of the Heisman Trophy. The Kentucky pitcher-first baseman was the first player drafted in the second round on June 5, taken by the Houston Astros with the draft's 42nd pick.
Other highlights of the Night of Champions event will be the announcements of winners of the National Pitcher of the Year Award, the John Olerud Two-Way Player of the Year Award and the Brooks Wallace Award for Shortstop of the Year, and the National College Baseball Hall of Fame class of 2014 inductions.
-ccbl-