News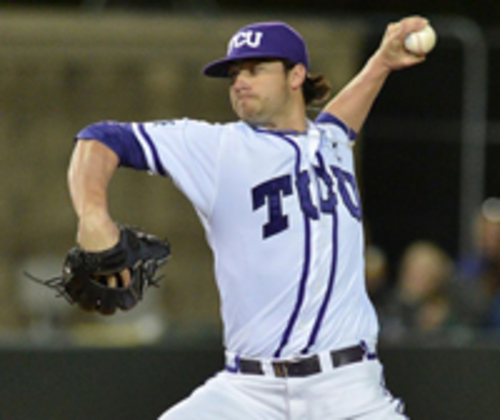 06/29/2014 7:17 AM
Article By: CCBL Public Relations Office
A little over a year ago, on June 12, Texas Christian lefty Brandon Finnegan was making his Cape Cod Baseball League debut, pitching the Falmouth Commodores to a season-opening 6-2 victory over the Harwich Mariners.
On Saturday, Finnegan, the 17th pick in Major League Baseball's 2014 First-Year Player Draft, demonstrated that everything is up to date in Kansas City as he met the media at Kauffman Stadium after agreeing to contract terms with the Royals and pocketing a signing bonus of $2,200,600.
What a difference a year makes.
The 21-year-old bonus baby exuded affability, charm and just the right amount of cockiness for a new multimillionaire as he smiled his way through interviews, answered every question and complied with every autograph request. Next week, he returns to the real world when he begins his pro career at Advanced-A Wilmington.
Let the bus rides begin.
Finnegan would just as soon forego the obligatory climb through the minors, believing he's already a major league talent. "A lot of people say I'm like C.J. Wilson (Angels) or Derek Holland (Rangers) and I like to think I am," Finnegan told reporters. "I'm a big fan of David Price, too. I feel like he's a bulldog on the mound … that's how I take it when I'm on the mound. I'm not 6-foot-4, I'm only 5-foot-11, but I feel like I've got the stuff that's good enough to pitch in the pros right now."
Although Royals general manager Dayton Moore and scouting director Lonnie Goldberg, who flanked Finnegan on the podium, aren't quite ready to add the rookie to the team's major league roster, both admire his confidence and his ability.
"He certainly has the stuff to get major league hitters out," Moore said as he outlined the club's immediate plans. Finnegan will fly out on Monday to join the Wilmington (Del.) Blue Rocks, the Royals' entry in the Advanced-A Carolina League. He'll undergo a couple of weeks of conditioning before entering game action.
"Obviously, we want to get him ready as soon as we can," Moore said, adding that the organization will keep a close eye on Finnegan's development, monitoring it "week to week, month to month."
Goldberg's staff scouted Finnegan through three years of high-level college competition, plus a 2013 season split between the Cape League and Team USA. He started two games for the Commodores before leaving the Cape, posting a 1-0 record and a 3.68 ERA in 7 1/3 innings. He struck out 10, walked only two and scattered six singles while holding opposing hitters to a 222 batting average.
With the touring collegiate national team, Finnegan started four games and appeared twice in relief. He was 3-1 with a 1.14 ERA, 10 walks, 23 strikeouts and 11 hits allowed in 23 1/3 innings. His opponents hit just .143.
This past spring, he was a standout for a TCU squad that made its first trip to the Division I College World Series, posting a 2.04 ERA with 134 strikeouts in 105 2/3 innings. He started one game in Omaha, against eventual finalist Virginia, limiting the Cavaliers to one earned run in eight innings, but Virginia broke a 2-2 tie in the 15th inning and won 3-2. Among the batters he faced was another Royals draft pick, outfielder Brandon Downes (Y-D, 2013), who worked him for a single and a walk.
With seventh rounder Downes also signing Saturday, the Royals now have their first 20 draft picks under contract. That group also includes Central Florida left-handed pitcher Eric Skoglund (Harwich, 2012; Bourne, 2013), their third round selection; Washington outfielder Robert Pehl (Y-D, 2012-13), their 11th round pick, and Oregon outfielder Scott Heineman (Brewster, 2013), chosen in the 19th round. The Royals also signed South Carolina right-handed pitcher Evan Beal (Cotuit, 2013), their 21st round pick.
-ccbl-