News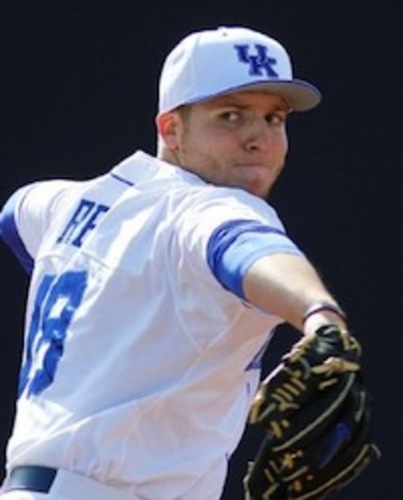 07/02/2014 8:38 AM
Article By:
Two summers ago, A.J. Reed and Aaron Nola briefly were teammates with the Harwich Mariners.
Early last month, they were among the elite college players chosen in the early rounds of Major League Baseball's First-Year Player Draft.
And this past Saturday night in Lubbock, Texas, the pair received two of college baseball's most prestigious awards to highlight the National College Baseball Hall of Fame's annual Night of Champions.
Reed, who returned to Harwich for a second Cape Cod Baseball League season in 2013, accepted the John Olerud Award which recognizes the nation's best two-way player. It was the second major honor in two weeks for the University of Kentucky star, who in mid-June had been named winner of the Dick Howser Trophy as National Player of the Year, college baseball's equivalent of the Heisman. That announcement came in Omaha, Neb., on Opening Day of the College World Series.
Nola received the National Pitcher of the Year Award, sponsored by Diamond Sports. He had been one of five finalists for the Howser Trophy and both he and Reed remain finalists for the Golden Spikes Award, which honors the nation's top amateur baseball player. The winner will be announced July 17 in Los Angeles.
Reed prevailed in the Olerud Award voting over two other former Cape Leaguers, Aaron Brown (Chatham, 2012; Brewster, 2013) of Pepperdine and Nick Howard (Harwich, 2013) of Virginia. Reed was the first player chosen in the second round of the MLB draft (42nd overall) on June 5 and is now playing first base for the Tri-City ValleyHawks, Houston's entry in the short-season, Class-A New York Penn League.
The 6-foot-4, 230-pound left-hander was hitting .245/.384/.321 with four doubles and eight RBIs in his first 14 games of play-for-pay baseball.
For now, he'll concentrate on his hitting and fielding, but in college as well as the Cape League, he also displayed professional level pitching skills. This past spring at Kentucky he led all Southeastern Conference pitchers in wins with a 12-2 record and a 2.09 ERA while striking out 71 in 112 innings. He hit .336 with 23 home runs and 73 RBIs and his glove work was outstanding, to the tune of a .992 fielding percentage. His efforts earned him the SEC Player of the Year award.
In the Howser Trophy balloting, Reed emerged victorious from a field of five finalists, all with ties to the Cape League. Besides Nola, his competition included Oregon State pitcher Ben Wetzler (Falmouth, 2012); Kennesaw State (Ga.) catcher and Johnny Bench Award winner Max Pentecost (Bourne, 2013); and Oregon State outfielder Michael Conforto, who never quite made it to the Cape, although he had signed to play at Brewster this season. Conforto's plans changed when he was invited to join Team USA, and then was drafted in the first round by the New York Mets (No. 10).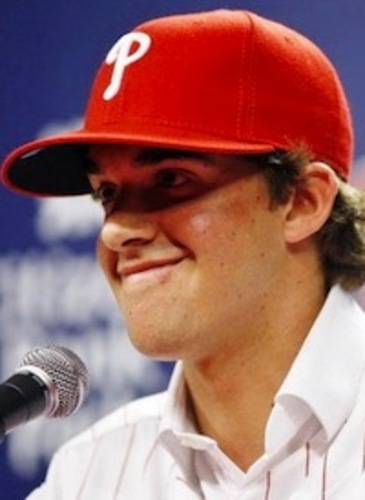 Nola beat out two other finalists – Blake Fox of Rice and Brendan McCurry of Oklahoma State – for the pitching trophy, winning on the strength of a spectacular 2014 season at LSU in which he was 23-2 with a 1.47 ERA and 134 strikeouts. In 116 1/3 innings, he held opponents to a .172 batting average and gave up only four home runs.
The Philadelphia Phillies made Nola their first-round pick (No. 7 overall) in last month's draft, assigning the 21-year-old right-hander to Advanced-A Clearwater (Fla.). He was roughed up a bit in his pro debut, but bounced back with one hit in four shutout innings in his second start. On Tuesday night (July 1), he threw 48 pitches, including 34 for strikes, and retired the last eight batters he faced. Last week, Nola pitched well for two innings but gave up five runs – four earned – in the third, and he walked three batters.
The Phillies, whose general manager, Ruben Amaro Jr., played at Cotuit in 1985, have a very specific plan for Nola. "We believe he's a guy who has a chance to pitch pretty quickly in Philadelphia, but that'll be based on his performance and how he grows," Amaro told MLB.com. "He's a pretty regimented kid. I god a chance to see him … it was clear he's got some great focus. He knows exactly what he wants to do to prepare ... We just want to make sure he gets acclimated to our program, acclimated to what we want to do with him and we'll kind of go from there."
Director of Player Development Joe Jordan said the club's goal is not to make Nola a dominant minor-league pitcher it's to get him used to throwing 160 to 170 total innings by the end of the summer, and that number will include the 116 1/3 he accumulated at LSU. "The transition to professional baseball, the transition to our routine … those types of things are way, way out front much more than getting this guy built up to pitch seven innings, eight innings," Jordan told Max Cohen of the Philadelphia Inquirer.
Jordan said for now, Nola will pitch every six days as he adjusts from the seven-day rotation used in college to the professional standard of pitching every fifth day.
Although Nola is starting out at a relatively high level rather than a rookie league or short-season league, it's possible he could be promoted late in the season. "We're in it for the long haul," Jordan told Cohen. "We feel like this guy's going to be an important piece of our major-league rotation at some point ... and it should be quicker than some. But there's a lot to accomplish between now and then."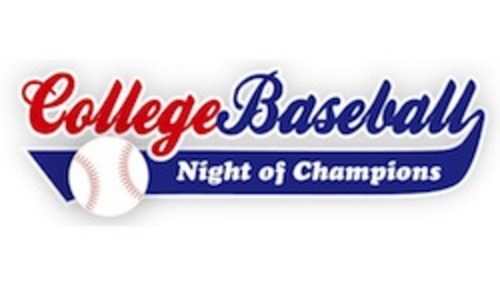 Another major award presented at Saturday's Night of Champions was the Brooks Wallace Award for the nation's outstanding college shortstop. It went to Trea Turner of North Carolina State, who last fall was recruited by the Y-D Red Sox for the 2014 season. Team USA interceded as did the draft, in which Turner went to the San Diego Padres with the 13th selection of the first round. The other finalists were Vince Conde (Orleans, 2013) of Vanderbilt and LSU-Lafayette's Blake Trahan, who was on the Hyannis Harbor Hawks' 2014 preseason roster, but opted for Team USA.
Other highlights included the presentation of the 2014 Skip Berman National Coach of the Year Award to Texas Tech's Tim Tadlock, induction ceremonies for this year's National College Baseball Hall of Fame class and a salute to Dick Howser Trophy winner Reed and Johnny Bench Award winner Pentecost.