News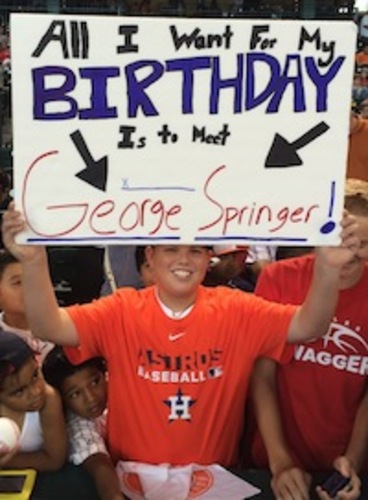 07/03/2014 10:30 AM
Article By: CCBL Public Relations Office
Rookie right fielder George Springer (Wareham, 2009-10) has quickly become one of the Houston Astros' most popular players and on Wednesday at Minute Maid Park he showed one reason why as he made a young fan's birthday wish come true.
When Springer stepped onto the field to warm up for the game with the Seattle Mariners, he spotted 14-year-old Matthew Brown near the Astros' dugout holding up a sign that read, "All I want for my birthday is to meet George Springer."
Springer walked over to Matthew, shook his hand, chatted for a moment and signed the teen's Astros cap before resuming his pre-game routine. Adding frosting to Matthew's cake, Springer made a great defensive play in the second inning.
The birthday boy's wish came true and he went home proud and happy despite the home team losing 5-2. Springer went 1-for-5 in the game. For the season, he is batting .240/.344/.465 and leads the Astros in both homers (16) and RBIs (44).
Springer had struggled after being called up from Triple-A in April, prompting Astros fans to wonder whether the rookie was worthy of the promotion. But he soon dispelled all doubts and went on a May tear that earned him American League Rookie of the Month honors. He batted .294 (30-for-102) with four doubles, one triple, 10 home runs, 25 RBIs, 22 runs scored and 13 walks in 26 games.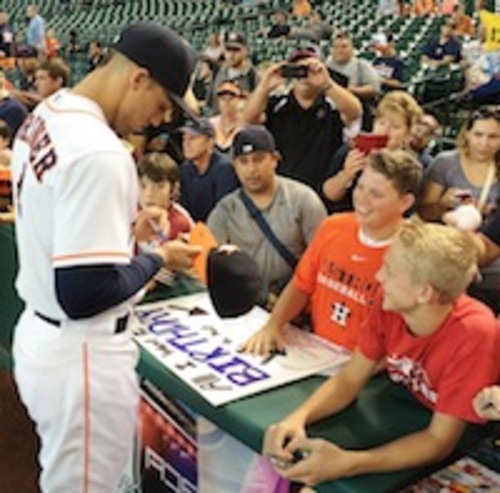 The 10 homers tied him for third all-time in baseball history for May homers by a rookie. George also finished one homer shy of tying the Astros franchise record for May, set by Jimmy Wynn in 1969.
On May 8, Springer launched the first home run of his career as Houston topped the Detroit Tigers 6-2 at Comerica Park. Springer also walked and scored a pair of runs in the contest. On May 14, the 24-year-old belted a two-run homer in the bottom of the seventh to give the Astros a 5- 4 lead and the eventual victory in Houston's Lone Star State showdown with the Texas Rangers.
Springer homered twice and collected five RBIs to propel the visiting Astros past the Seattle Mariners 9-4 at Safeco Field on May 24. Springer began the scoring in the first with a two-run shot and connected on another two-run homer as part of a five-run Houston fifth. Five days later, he hit his seventh homer over a seven-game stretch in a 3-1 win over Baltimore.
According to Elias Sports Bureau, Springer, the 11th overall pick by Houston in the 2011 MLB draft, is only the second rookie in major league history to hit seven homers over a seven-game span and the first in 80 years. Rudy York did it with Detroit from Aug. 22-27, 1937.