News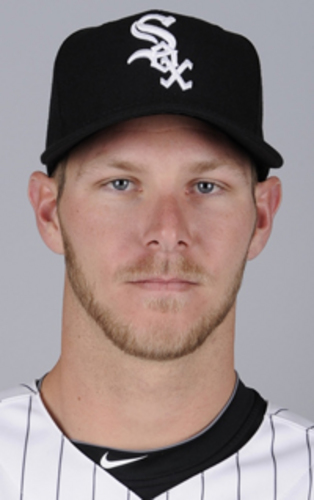 07/10/2014 7:23 PM
Article By: CCBL Public Relations Office
Chicago White Sox ace Chris Sale (Y-D, 2009), the winning pitcher in last year's Major League Baseball All-Star game, won the final fan vote and will fill the 34th spot on the American League roster for Tuesday's Midsummer Classic at Target Field in Minneapolis.
It was a clean sweep for the Windy City as Cubs first baseman Anthony Rizzo won the National League fan vote, edging former Minnesota Twin Justin Morneau, now a member of the Colorado Rockies.
Sale, who led the AL voting from wire to wire, solidified his case Wednesday night in Boston, where he pitched 7 2/3 innings of one-run ball against the Red Sox. The slender southpaw received 6.7 million votes between Sunday night when the balloting opened and 4 p.m. Thursday when it closed, putting him in his third straight All-Star game.
Although he missed five weeks of the season with a flexor muscle strain, Sale goes into the All-Star break with an 8-1 record and a 2.08 ERA. "He's as good as anybody," said ChiSox manager Robin Ventura (Cotuit, 1987) before learning the results of the voting. "I know it seems biased, but you start looking at pitchers around the league and you can tell by the at-bats and swings guys have (that) he's as good as anybody."
Sale prevailed over four other pitchers – Los Angeles right-hander Garrett Richards (Cotuit, 2007), Houston left-hander Dallas Keuchel (Wareham, 2007-08) Detroit righty Rick Porcello and Cleveland righty Corey Kluber. He is the fourth White Sox winner in the fan vote, following Scott Podsednik (2005), A.J. Pierzynski (2006) and Paul Konerko (2011).
Since the final-player fan vote was instituted in 2002, Sale is the eighth former Cape League player to win and the fifth in the American League, where previous winners were Nick Swisher (Wareham, 2000) of the Yankees in 2010, Brandon Inge (Bourne, 1997) of the Tigers in 2009, Evan Longoria (Chatham, 2005) of the Rays in 2008 and Jason Varitek (Hyannis, 1991 & 1993) of the Red Sox in 2003.
In the National League, CCBL grads won in three consecutive years, starting in 2006 when fans chose Los Angeles Dodger Nomar Garciaparra (Orleans, 1993). They voted in Chris Young (Chatham, 2000) of San Diego in '07, then chose Corey Hart (Brewster, 1996) of the Milwaukee Brewers in '08, the only year in which ex-Cape Leaguers won the vote in both leagues.
Barring further roster changes, 10 former Cape League players will be in uniform for Tuesday night's contest, four on the AL roster and six NL stars. Sale joins starting third baseman Josh Donaldson (Harwich, 2006) and pitcher Sean Doolittle (Harwich, 2005), both of Oakland, plus reserve infielder Kyle Seager (Chatham, 2007-08) of Seattle.
Baltimore catcher and Cape League Hall of Famer Matt Wieters (Orleans, 2006; class of 2013) was voted to the AL starting lineup, but must miss the game as he recuperates from Tommy John surgery.
Philadelphia Phillies second baseman and six-time All-Star Chase Utley (Brewster, 1998; Cotuit, 1999) is the only National League starter from the Cape League. Others on the NL roster, all first-time All-Stars, are Cincinnati third baseman Todd Frazier (Chatham, 2005-06), Pittsburgh utility player Josh Harrison (Cotuit, 2007), Colorado outfielder Charlie Blackmon (Cotuit, 2005) and two pitchers, Pittsburgh southpaw Tony Watson (Harwich, 2006) and St. Louis right-hander Pat Neshek (Wareham, 2001).
For the first time ever, both managers for the All-Star Game are former Cape League players. Boston's John Farrell (Hyannis, 1982) is the American League skipper, while St. Louis's Mike Matheny (Cotuit, 1990) leads the National Leaguers.
-ccbl-