News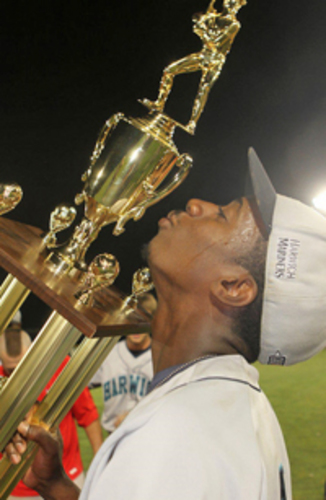 07/11/2014 1:21 PM
Article By: CCBL Public Relations Office
Los Angeles Dodgers prospect Darnell Sweeney (Harwich, 2011) never has been considered a power hitter, relying instead on a good eye, a quick bat and speed afoot.
But after he blasted home runs in three consecutive at-bats on June 30 for Double-A Chattanooga, that perception may be changing.
Sweeney, the Dodgers' 13th-round pick in the 2012 First-Year Player Draft, surprised even himself by opening the second game at AT&T Field against Southern League foe Birmingham with his third straight home run after going deep in his last two at-bats as the two teams completed a game that had been suspended the day before.
Chattanooga won the seven-inning nightcap 5-3 after losing the suspended game 12-10.
The switch-hitting shortstop from the University of Central Florida finished with a 5-for-8 day, which also included two doubles. The three home runs gave him 11 for the season and, although he hasn't gone deep since that memorable day, he has continued his consistent hitting and through games of July 11 his .321 average topped his team and his hit total had climbed to a league-leading 105.
"I'm just blessed to … play every day and reach that number," Sweeney said.
Sweeney deposited a 1-2 pitch into the right field stands for his first home run, which came during the sixth inning of the first game with two on, two out and the Lookouts trailing by a run. His second, also on a 1-2 count, was a solo shot in the eighth which increased Chattanooga's lead to 9-7 lead before Birmingham rallied for five runs in the ninth to secure the victory.
A former Cape League pitcher, right-hander Nick McCully (Bourne, 2008) started for Birmingham in the nightcap and served up Sweeney's third home run, a leadoff blast on a 2-1 pitch in the first inning. McCully, a Chicago White Sox farmhand who was a ninth-round draft choice of the St. Louis Cardinals in 2009, took the loss, his seventh of the season against three wins.
"My first home run … was with two strikes, and all I was trying to do, honestly, was put the ball in play," Sweeney told MiLB.com writer Mark Emery. "He left a curveball up in the zone where I could put a good swing on it. That's what I did. The second one … actually all three of them, were off of curve balls. I wasn't really looking for it, but it was in my zone and I was able to put good swings on all three of them … The third time was kind of surprising. I knew I got it, but I really wasn't trying to hit it out. The ball just kept on carrying."
Sweeney played 30 regular-season games for Harwich's Cape League championship club in 2011, hitting .282/.362/.359 with six doubles, a triple and 12 RBIs. He ranked third in the league in stolen bases with 15. In seven playoff games, he batted .250 with two doubles, one triple, three RBIs and three stolen bases. He failed to connect for a home run all season.
-ccbl-