News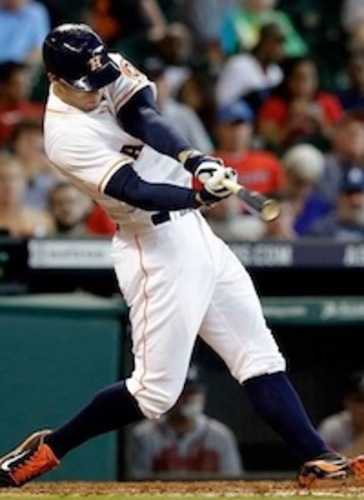 07/24/2014 8:49 AM
Article By:
George Springer (Wareham, 2009-10) will have to wait a couple of weeks before zeroing in on another record. But when he gets it, he will be replacing a fellow former Wareham player as the most prolific rookie home run hitter in Houston Astros' history.
Springer is batting .231 with 20 homers and 51 RBIs through his first 78 major league games, putting him within one dinger of Lance Berkman's (Wareham, 1996) listed club record for rookies. That quest was temporarily halted Wednesday when the 24-year-old right fielder was placed on the 15-day disabled list with a strained left quadriceps.
The injury was at first thought to be not serious enough for the DL, and the team's medical staff advised Springer to take a more cautious approach to the game while it healed. Manager Bo Porter even gave Springer permission not to run hard out of the box to protect the injury. But Springer knows no other way to play than all-out, so, rather than risk further aggravation, the Astros decided two weeks off the field would be the best course of action.
Despite a slow start after being called up from Triple-A on April 16, Springer has emerged as one of the AL's bright young stars, methodically rewriting the rookie chapter in Houston's record book. His 15th home run of the season, a solo shot June 26 against the Atlanta Braves, gave him three more than Berkman's pre-All-Star game rookie mark of 12 set in 2000, and helped him win American League Rookie of the Month honors.
His 10 home runs in May set an Astros' rookie record and tied him with Wally Joyner, Jose Canseco and fellow UConn star and Connecticut native Walt Dropo for third most long balls by a rookie in May. The record is 15 by Mark McGwire in 1987.
Now Springer has his sights set on Berkman's 21 rookie-season homers, a record that is almost certain to be eclipsed, as Springer will have nearly two more months to tie and pass Berkman when he comes off the DL in early August.
There may be some debate about the record, though. Berkman's official rookie season was 2000, when he slugged 21 home runs. But the former Rice University star and Texas native played 34 MLB games in 1999, too few to negate his rookie status but enough for him to hit four home runs. So, technically, Berkman's home run total as a rookie was 25.