News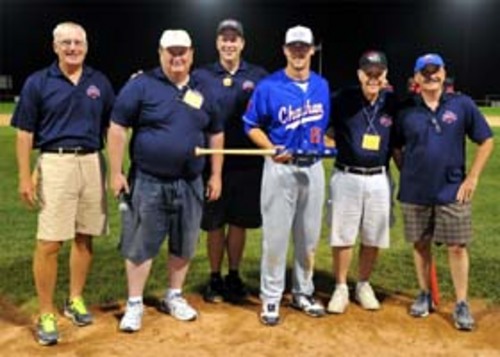 07/27/2014 10:57 PM
Article By:
BOURNE, Mass. – Having already been distinguished as the best of the best as a Cape Cod Baseball League All-Star, athletes vying for the Most Valuable Player title have a lot of competition and a high skill level to compete against. This year Angler A.J. Murray (Georgia Tech) distinguished himself as the cream of the crop by playing his way to East Division MVP on Sunday night.
Murray made the most of his at-bats, going 2-for-2 with a single in the first inning and a double in the fourth. The starting first baseman was the only multi-hitter for the East Division.
"It's an honor to win the award in the first place," Murray said after the game. "It's very special to have my teammates and my family here."
Murray has had quite the season with the Cape League thus far. He sports an impressive .331 batting average and is tied for third in the league with five home runs. He also was recognized as the Coca-Cola Player of the Week for the third week of the 2014 season.
"It's a blessing being able to play in the Cape League," Murray said. "My teammates are some of the best players in the country."
When asked about being the only multi-hitter for the East this evening, Murray had nothing but praise for his opponents. "I was pretty lucky," he said. "The West had great pitching all night."
More than 15 family members and friends were on hand to support Murray, who also played for Chatham last summer. "It's great having them all here and being so close to home," said Murray, a New Jersey native.

Murray, who will be returning to Georgia Tech this fall for his senior year, is certainly a player to watch.