News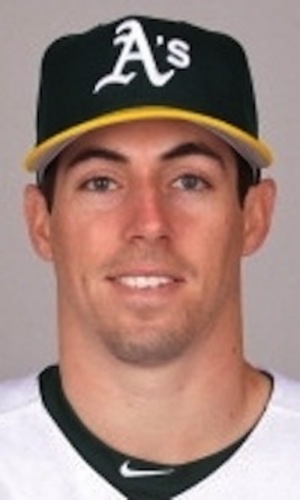 07/29/2014 8:18 AM
Article By: CCBL Public Relations Office
Minor league outfielder Billy Burns (Harwich, 2011) was preparing to leave his hotel room for the ballpark in Frisco, Texas, on Monday when manager Aaron Nieckula called, telling him to pack his things and that he would be told why when he got to the field.
"I was pretty shocked," Burns said. "I didn't know where I was going. It could've been Triple-A. It could've been traded. There's so much stuff that goes on in baseball. … It could've been a number of things."
As it turned out, the 24-year-old center fielder for Double-A Midland in the Texas League was being called up to the Oakland Athletics and was ordered to report to Houston, where the A's were playing the Astros. In a span of 24 hours, Oakland had lost its two primary center fielders, Coco Crisp and Craig Gentry, to injuries, opening the door for the speedy Burns, who had impressed the A's brass with a strong showing in spring training.
After he finished packing, Burns got another call, this one from A's traveling secretary Mickey Morabito. "I was confused when Mickey called me and said, 'We're going to play in Houston.' I said, 'What? What do you mean?' He was, like, 'Oh, they probably haven't told you yet.' "
When Burns finally walked into Nieckula's office, he said he was "grinning from ear to ear. All the coaches were surrounding me and hugging me and saying good luck."
That happened around 2:30 in the afternoon in Frisco, where the Rockhounds were playing the first-place RoughRiders, a Texas Rangers farm club. Some 5½ hours later, around the third inning, Burns arrived at Minute Maid Park in Houston, quickly dressed and joined his new teammates in the visitors' dugout.
With the A's trailing 7-3 in the ninth, manager Bob Melvin told the rookie to grab a bat and sent him in to pinch-hit for Josh Reddick with one out and the bases empty. Burns got good wood on the ball in his first big-league at-bat, but lined out to right fielder Robbie Grossman.
"I felt OK," Burns said afterward. "I think everything was kind of a fog to me … and it being my first AB. Everything was happening fast, I guess. I felt OK; I wasn't too nervous."
Burns appears to be the right man at the right time for the Athletics. With Crisp back in Oakland for an MRI exam on a sore neck that has bothered him for most of the season and his backup Gentry on the DL with a broken right hand, the switch hitter is sure to get plenty of at-bats, especially against left-handers. A's left fielder Yoenis Cespedes likely will start in center field against right-handed pitching.
"This was a guy we gave a lot of at-bats to in spring training," Melvin said. "He really impressed everybody. ... Couple that with the fact that we wanted a center fielder, and he was the guy."
An Academic All-America at Mercer University in Macon, Ga., Burns was a 32nd-round selection (967th overall) of the Washington Nationals in the 2011 draft. The Nationals traded him to Oakland this past Dec. 11 for left-handed pitcher Jerry Blevins.
Burns brought blazing speed and good base-running instincts with him. At Midland, he stole 51 bases in 56 attempts, a 91.1 percent success rate, and collected 20 doubles and three triples, tied for second on the team in both categories. Since his professional debut with Low-A Hagerstown (Md.) in 2012, Burns has stolen a total of 125 bases in the minor leagues.
The son of former NFL running back Bob Burns, Billy isn't a big guy at 5-9, 180, but he is a fine athlete with speed his greatest asset. He hit .322/.432/.382 with 65 walks and 68 strikeouts in 398 at-bats for Low-A Hagerstown in 2012, followed by a .312/.422/.391 line in 91 games for High-A Potomac last year. A late promotion to Double-A Harrisburg resulted in a .325/.434/.360 line in 30 games. He combined for 72 walks and just 54 strikeouts in 444 at-bats at the two levels.
Burns batted .329/.390/.370 in 21 games for the Harwich Mariners of the Cape Cod Baseball League in 2011. His 24 hits included three doubles and he contributed six RBIs. Giving a hint of his future base-running success, he was successful on four of five stolen base tries.