News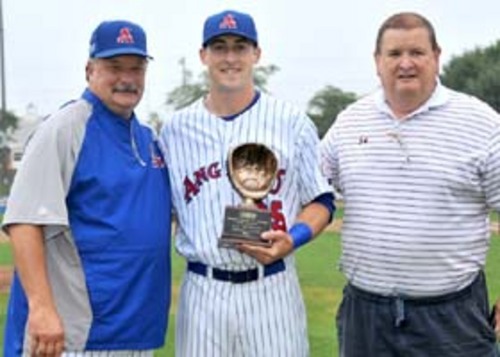 08/04/2014 10:59 AM
Article By:
CHATHAM, Mass. – As the Cape Cod Baseball League playoffs loom, it's time to take a look back at the 2014 regular season and recognize standout players and teams. For the Cape League, that means recognizing players with the annual collection of awards and honors.
It should come as no surprise that Chatham Anglers player A.J. Murray (Georgia Tech) is taking home this year's Manny Robello 10th Player Award, which recognizes a player who has demonstrated dedication both on and off the field.
Murray has had an incredible season, and his dedication to the Anglers has stood out throughout the summer.
"This (award) means a lot to me," Murray said on winning the prestigious award. "It's a real honor. My team means a lot to me, and I couldn't have done it without my teammates."
Murray has demonstrated superb offense time and time again, highlighted by a walkoff solo home run earlier this season. His homer and three RBIs helped Chatham top the Harbor Hawks, earning Murray honors as the Coca-Cola Player of the Week for the third week of the season.
His consistency and outstanding play earned Murray a spot as starting first baseman on the East Division All-Star Team. Murray made quite a splash for the East, going 2-for-2 with a single in the first and a double in the fourth. He was the only multi-hitter for the East in the All-Star game and he walked away with East MVP honors in the 5-0 loss to the West.
"I didn't expect to win either of them coming here," Murray said after being recognized as both East All-Star MVP and 10th Player. "It's been a real blessing to win both."
Murray, currently second in the standings with six home runs and 31 RBIs and sporting a .321 batting average, has a lot to take back with him to Georgia Tech for his senior season.
"I'm going to take back the experience of this summer, try and use it with my team, being a senior leader."
It is clear that, along with his teammates, Murray's family plays a large role in his motivation on the diamond. "I got my brother in the stands," Murray said Sunday night, pointing his brother out in the Chatham crowd following the award presentation. "And I'm always playing for (my dad)."
Murray lost his father, Mike, to a heart attack a week before Christmas. "I know he's up there watching," Murray said.
The 10th Player Award was named on behalf of Manny Robello, a longtime volunteer for the Cotuit Kettleers and the Cape League. Much like the dedication of Robello, the 10th Player Award recognizes a player who goes above and beyond the call of duty and inspires us with passion and commitment. Former 10th Player recipients include Nomar Garciaparra (Orleans, 1993), Jermaine Clark (Chatham, 1996), Ryan Hanigan (Orleans, 2002) and Nate Freiman (Harwich, 2007).