News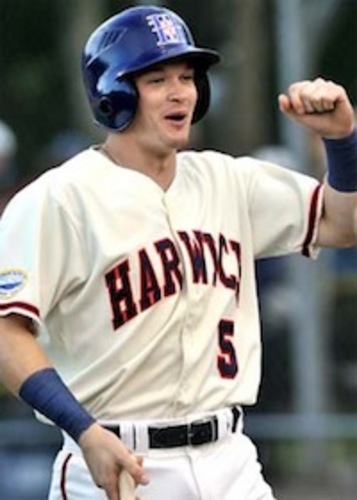 08/07/2014 8:37 AM
Article By:
Mariners 7, Whitecaps 2: After a two-hour delay to recover from rain earlier in the day, the Harwich Mariners and Brewster Whitecaps got under way at Whitehouse Field a little after 9 p.m. on Wednesday night. But it was obvious the late start wouldn't slow down the East champions, who easily handled a depleted Brewster team all night in Game 1 of a best-of-three playoff Cape Cod Baseball League series presented by Rockland Trust.
Game 2 is today at 4 p.m. at Brewster's Stony Brook Field.
The Whitecaps surprised even themselves by slipping into the playoffs at the last minute. They were in last place in the division for nearly the entire season before capitalizing on the Chatham Anglers' struggles and moving into the final spot in the penultimate regular-season game.
Despite extending the season, Brewster still lost a majority of its team, including all its offensive All-Stars. Wednesday night, the Whitecaps had three pitchers starting in the outfield, none of whom had more than five combined at-bats combined between the Cape League and their college seasons this spring. The Whitecaps had three temporary players in their starting lineup, and the left-handed LaMonte Wade (Maryland) playing an unorthodox position of shortstop. In total, the Whitecaps had just 14 players on their roster, and it showed.
Andrew Lee (Tennessee), also the DH, got the start and took the loss for the Whitecaps, giving up four hits and striking out six.
It was a rough first inning for Lee, who gave up a leadoff single and a hit batter. All-Star Ian Happ (Cincinnati) knocked in two runs with an RBI double, scoring on a single by C.J. Hinojosa (Texas) to give the Mariners a 3-0 lead.
Meanwhile, Harwich starter Zack Erwin (Clemson) had a 1-2-3 inning in the first, but allowed his first of two earned runs in the second on a deep solo shot from Home Run Hitting Contest runner-up Luke Lowery (ECU). Lowery ended up with both of Brewster's RBIs, as a hit-and-run in the sixth scored Wade from first base.
That was where the offense stopped for the Whitecaps, who managed just six hits. They grounded into inning-ending double plays twice, extinguishing any chance of catching up.
Skye Bolt (UNC) notched his first home run of the summer for the Mariners, who went on to score a run in each of their last three innings to make it 7-2. Happ led the way with a double and a triple, two runs scored and two runs driven in. Joe McCarthy (Virginia) was also effective, going 3-for-5 with a run and an RBI, and Angelo Amendolare (Jacksonville) kicked in an RBI and a stolen base.
Perhaps even more impressive was the pitching. There were 28 total strikeouts in the game, 15 of which came from the Mariners. Erwin struck out seven, allowing two runs in six strong innings for the win. He was relieved by Seth McGarry (Florida Atlantic) in the seventh, who struck out all six batters he faced in order. Then came Ronnie Glenn (Penn), who struck out two of three in the ninth, to make it eight strikeouts of the final nine Brewster batters to end the game.
The Mariners are making their fifth consecutive playoff appearance and have won two championships in the past six seasons, while the Whitecaps had not made the playoffs since 2011 and haven't won it all since 2000.