News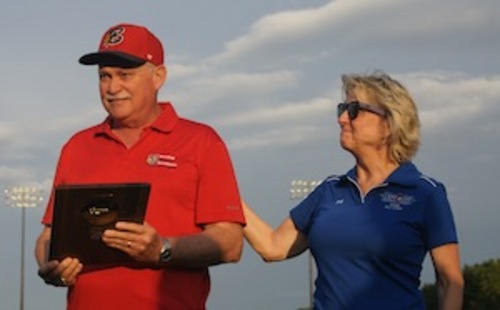 08/07/2014 7:20 PM
Article By:
Prior to Thursday night's first-round game of the Cape Cod Baseball League playoffs between Bourne and Cotuit, the league presented Chuck Sturtevant with the John Wylde General Manager of the Year Award for the dedication, passion and hard work he poured into the Bourne Braves this season.
An integral part of the league for 28 years, first with the Falmouth Commodores and later with the league itself, Sturtevant stepped in to fill the role of general manager for the Braves in 2012.
"I was shocked I received the award," Sturtevant said. "I was just doing my job. I love what I do and wouldn't be doing it if I didn't enjoy it. My family is very supportive of what I do as well, and know how much the Cape League means to me."
"John Wylde really helped me make the league the best league possible, so getting an award that is named after him is a real honor to me," Sturtevant added.
Sturtevant has helped run several Cape League All-Star games during his tenure, and brought his knowledge and expertise to this year's Friendly's All-Star game as the Braves hosted it at Doran Park for the first time in franchise history.
But what matters most to Sturtevant has always been the players. Among Sturtevant's favorite things is watching his players on the field - and watching some of them be inducted into the Cape League Hall of Fame.
This is the first Bourne GM to be recognized with this award, adding to the franchise's numerous accomplishments this season. The Braves were also named the regular-season West Division champions and earned the President's Trophy, given each year to the team with the most points overall.
The award is named after the late John Wylde, former general manager and president of the Wareham Gatemen, whose legacy lives on. Wylde's dedication to both the Gatemen and the Cape League was unparalleled. The award is given to a general manager who demonstrates the qualities and dedication Wylde possessed.