News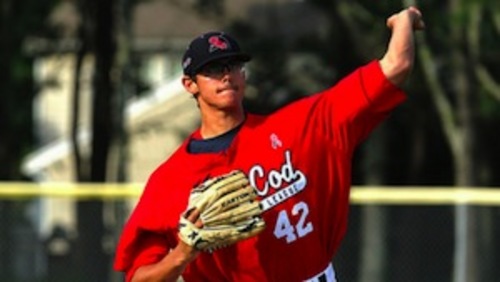 08/12/2014 8:14 PM
Article By:
Red Sox 2, Mariners 0: In the ultimate pitchers' duel, the Y-D Red Sox again emerged victorious on the road, edging the Harwich Mariners at Whitehouse Field on Tuesday in Game 3 of the West finals to advance to the Cape Cod Baseball League championship series, presented by Rockland Trust.
Y-D took Game 1 as the visiting team by a score of 7-2 Sunday before Harwich returned the favor with a 9-2 win at Red Wilson Field in Game 2 on Monday. The Red Sox did it again Tuesday, knocking off the regular-season East champion Mariners.
Y-D will face West Divisional champion Falmouth in a best-of-three series beginning Wednesday at Guv Fuller Field at 6:30 p.m.
The teams had a nearly identical first inning, as both Harwich's Zack Erwin (Clemson) and Y-D's Justin Jacome (UC Santa Barbara) allowed a runner to reach second but managed to escape the jam.
Harwich did not have the same luck in the top of the second inning. A double play seemingly ended the threat created by back-to-back singles, but an error in the infield allowed Josh Lester (Missouri) to score from first and give Y-D a lead it wouldn't relinquish.
Following a leadoff double for Harwich in the bottom of the second, Game 3 of the East Divisional championship provided the most dominant pitching sequence of the season. Between the two teams, 22 straight batters came up to bat and 22 were retired in a row.
Jacome and Erwin were absolutely untouchable, each taking down 11 opposing batters in quick succession. They they blew through the next three innings, not allowing anyone to reach base until the bottom of the fifth inning.
Jacome exited the game in the seventh after throwing 6 1/3 shutout innings of three-hit ball, giving up no walks and fanning six. Similarly, Erwin's day ended after seven full innings in which he gave up just three hits and a walk. But the early unearned run left him saddled with the loss.
Phil Bickford (Cal State Fullerton) took over for Jacome and threw 2 2/3 scoreless innings, striking out six to pick up the eight-out save.
"I just went out there and took it a pitch at a time and trusted all the work that the staff has been doing," Bickford said. "It was fun. Once you get into that rhythm, the game can treat you well."
He also spoke on the added confidence that came coming from such a strong start from Jacome. "Following an outing like that, you have to make sure that you do your job," Bickford added.
The Red Sox added an insurance run in the ninth. After back-to-back singles put Michael Donadio (St. John's) on third, Donadio scored by a pinch-hit sacrifice fly by Brennon Lund (BYU).
Offense was at a premium in the deciding game, with just a combined 10 hits between the teams.
Ian Happ (Cincinnatti) went 1-for-3 with a double for Harwich, but made more noise with his glove than with his bat, coming up with several nice catches in left field.
Marcus Mastrobuoni (Cal State Stanislaus) was Y-D's best batter in the win, hitting a ground ball that scored a run on an error and later hitting a single.
While Bickford wasn't overconfident about what lies ahead with the Falmouth Commodores, he is looking forward to the challenge. "This team's scary when it's hot. I'm not really one to get ahead of myself, but it would be awesome to take this whole thing."