News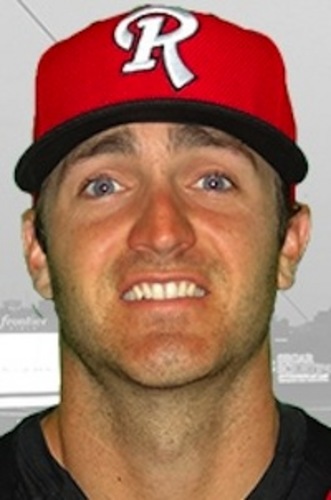 09/04/2014 3:37 PM
Article By: CCBL Public Relations Office
Three former Cape Cod Baseball League players joined the ranks of major leaguers Wednesday, the most to do so on any single day all season. Two of the three debuted for the same team – the San Francisco Giants – another first in 2014.
Right-handed relief pitcher A.J. Achter (Cotuit, 2010) retired the side in order in the ninth inning as the Minnesota Twins beat the visiting Chicago White Sox 11-4. Center fielder Gary Brown (Orleans, 2008-09) and third baseman Chris Dominguez (Hyannis, 2008) both went 0-for-1 as pinch-hitters in the Giants' 9-2 loss to the Colorado Rockies in Denver.
With roughly 3½ weeks remaining in the regular season, the number of new big leaguers from the CCBL has reached 55. And the all-time list of players from the Cape to reach the majors has grown to 1,073.
Achter spent most of this season at Triple-A Rochester, where he fashioned a 4-4 record and a 2.38 ERA in 40 games. The 6-foot-5, 205-pound right-hander from Michigan State walked 24 and struck out 69 in 72 innings of work, impressing the Twins enough to clear a spot on their 40-man roster and reward him with a September call-up on Monday.
In his ninth-inning debut, the former Kettleer needed just 10 pitches – eight of them strikes – to retire the three batters he faced on two fly balls and an infield popup.
"I don't think I could have asked for anything more," Achter said after the game. "I felt very comfortable out there … The most nervous I was all night was when I was waiting for (bullpen coach) Bobby Cuellar to answer the phone and say my name. But once I got on the mound, everything felt like it was back to usual."
Achter's mom, dad and girlfriend were on hand for the game at Target Field in Minneapolis, where they saw him become the first ex-Michigan State player in the big leagues since Mark Mulder (Bourne, 1997) debuted for St. Louis in July 2008.
Achter was selected by the Twins in the 46th round in 2010, two years before Major League Baseball voted to limit the draft to 40 rounds. Minnesota was in no hurry to sign the tall righty, so he fulfilled his commitment at Cotuit, where he went 2-2 with a 1.42 ERA in 38 innings spread across 14 games, two of them starts. He walked 14, struck out 31 and picked up three saves for manager Mike Roberts' club, which was en route to winning the first of two CCBL championships in the 21st century.
The Twins monitored Achter's appearances and liked what they saw. So they got serious about a deal and the two sides eventually settled on a contract. "I'm glad we made something work," Achter said. "It was about an hour before the deadline."
Achter, 26, is the second-lowest Minnesota draft pick to play with the big club after former utility player Denny Hocking, selected in the 52nd round in 1989.
"It doesn't matter where you get drafted," manager Ron Gardenhire said. "There is always that heart inside that tells you whether you can or can't. If you let people tell you that you can't do this or can't do that, you will never make it in this game."
Rob Antony, Minnesota's assistant general manager, concurred. "It's a combination of the scout doing a good job and a kid who had good makeup and didn't worry about being a low-round draft pick," Antony said, "I also like to believe that our player development people and our organization, once a player is drafted, forget about where he was taken."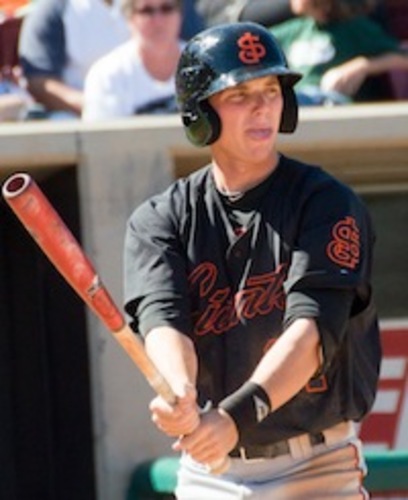 Earlier Wednesday, some 900 miles to the west, the Giants maintained their 2½-game NL wild card lead over Milwaukee as both teams suffered defeats. San Francisco manager Bruce Bochy called on three of his team's 10 September call-ups, resulting in a baseball rarity: three MLB debuts for the same team in the same game.
In the seventh inning, Bochy used his third pitcher, 28-year-old right-hander Erik Cordier, a 10-year minor league veteran whose fastball regularly reached 101 mph against the Rockies. Cordier, a second round draft pick by Kansas City in 2004, walked one and struck out another as he debuted with a scoreless inning in San Francisco's loss to the lowly Rockies.
Bochy employed both Brown and Dominguez as pinch hitters. Brown, the Giants' first-round pick in 2010, batted for Juan Gutierrez in the seventh and was robbed of a base hit in his first MLB at-bat when Rockies left fielder Corey Dickerson made a nice running catch. In the ninth, Bochy sent Dominguez up to hit for Brandon Crawford (Orleans, 2007), but the Giants' 2009 third-round draft choice grounded into a double play.
Brown, out of Cal State Fullerton, batted .271/.332/.394 at Triple-A Fresno with 10 homers and 53 RBIs in 136 games. A solid performer for two seasons in Orleans, the 6-foot, 170-pound outfielder amassed 63 hits in 72 Cape League games over two seasons. He excelled in 2009 when he slashed .310/.371/.397 with two homers and 14 RBIs, earned a spot on the end-of-season All-League team and was named by Baseball America as the 17th best prospect in the league.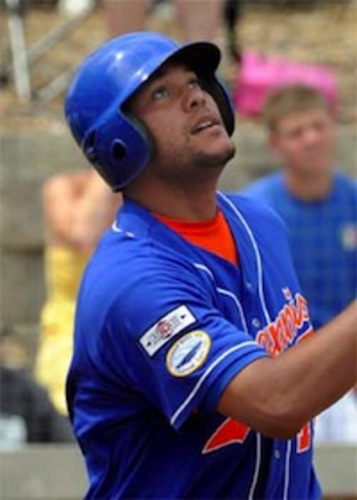 Former Louisville slugger Dominguez batted .274/.310/.460 at Fresno with 136 hits in 131 games. He had 23 doubles, three triple, 21 home runs and 85 RBIs for the Giants' Pacific Coast League club. He also stole 21 bases in 31 attempts – not bad for a 6-foot-4 specimen who tips the scales at 235 pounds. Although he hit a total of 39 home runs and collected 175 RBIs in his three years at Fresno, he also struck out 302 times in 306 PCL games.
On the Cape, he displayed plenty of raw power, smashing 10 homers, along with 11 doubles and a triple for Hyannis. He collected a total of 44 hits, drove in 31 runs and slashed .262/.307/.518 over 42 games for the Mets (now Harbor Hawks).
Dominguez's most memorable game came on July 9, 2008, when he hit home runs in the first, sixth and eighth innings as his team beat Falmouth 6-4. The third baseman became just the second player in modern league history to go deep three times in one game with a wood bat, joining Hall of Famer Frank Thomas of Orleans, who accomplished the feat in 1988.
Statistics guru Bruce Hack reports that six other players had three-homer games during the league's aluminum bat era (1974-84).