News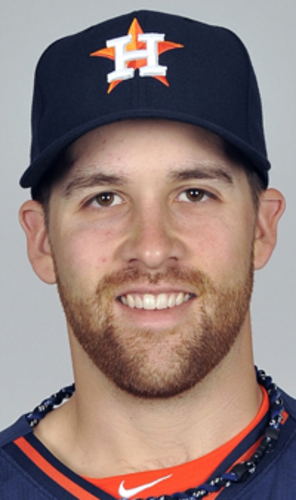 10/02/2014 10:33 AM
Article By: CCBL Public Relations Office
Houston Astros starting pitcher Collin McHugh (Wareham, 2007) has been voted American League Rookie of the Month for September. This is McHugh's first career monthly award and the second for Houston this season after George Springer (Wareham, 2009-10) won in May.
McHugh went a perfect 4-0 with a 1.59 ERA, one walk and 25 strikeouts in 28.1 innings pitched over four starts. Among AL rookies with at least 24 1/3 innings logged, he finished first in ERA and opponent batting average (.150), tied for first in wins, was sixth in strikeouts per 9.0 innings pitched (7.94), tied for seventh in innings, and was ninth in strikeouts.
On Sept. 3, the Illinois native surrendered just one run on four hits with eight strikeouts in 7 2/3 innings to guide the Astros to a 4-1 victory over the Los Angeles Angels of Anaheim at Minute Maid Park. In his next turn on Sept. 9, Collin was equally impressive with eight innings of two-hit ball en route to a 2-1 edging of the Seattle Mariners at Safeco Field. The 27-year-old threw 100 pitches, allowing one run and striking out four in the gem.
Back in Houston to face the Cleveland Indians on Sept. 15, McHugh weaved his way through 6 2/3 innings in a 3-1 defeat of the Tribe. The Berry College product allowed one unearned run on five hits and struck out seven in the effort, extending a string of nine starts (6-0, 1.50 ERA) in which the right-hander allowed two runs or less (dating back to Aug. 1), a streak that, according to the Elias Sports Bureau, only three other Astro hurlers have done in a single season in franchise history: Larry Dierker (11 G in 1969); Nolan Ryan (9 G in 1983); and Mike Scott (14 G in 1986). McHugh also extended a string of four games in which he issued zero walks.
In his final start of 2014 on Sept. 21, the former 18th-round draft pick (by the New York Mets in 2008) allowed three runs on four hits with one walk and six strikeouts in six innings to defeat the Mariners 8-3 at Minute Maid Park. It gave Collin his seventh consecutive winning decision, the longest streak for the Astros since Oswalt won nine straight from Aug. 26, 2006, through April 17, 2007. The last Houston pitcher to win seven straight decisions in a single season was Andy Pettitte in 2005.
McHugh finished his first full season in the majors with an 11-9 record, a 2.73 ERA and 157 strikeouts in 154.2 innings pitched over 25 starts. He led all MLB rookies in ERA (with a minimum of 150.0 IP) and opponents' batting average (.208); ranked second in strikeouts per 9.0 innings pitched (9.14); third in strikeouts; and tied for fourth in wins. His 2.73 ERA is the second-lowest for an Astros rookie ever, trailing only Ken Forsch's 2.53 in 1971.
McHugh is just the fifth Astros player ever to win the Rookie of the Month award, following Springer, Hunter Pence (May 2007), Kirk Saarloos (July 2002) and Roy Oswalt (August 2001). Pence, Saarloos and Oswalt all won when the Astros were still in the National League.
Other rookies receiving votes included Boston's Xander Bogaerts (.313, 4 HR, 16 RBIs) and Mookie Betts (.310, 31 H); Minnesota's Danny Santana (.341, 30 H, 10 2B); Baltimore's Kevin Gausman (0-1, 2.87 ERA, 5 GS, 29 SO); Cleveland's T.J. House (2-0, 1.42 ERA, 1 BB, 20 SO), and Kansas City's Yordano Ventura (4-1, 1.62 ERA, 28 SO). Gausman pitched at Harwich in 2011.
McHugh will receive a specially designed, suitably engraved trophy in recognition of his accomplishment.