News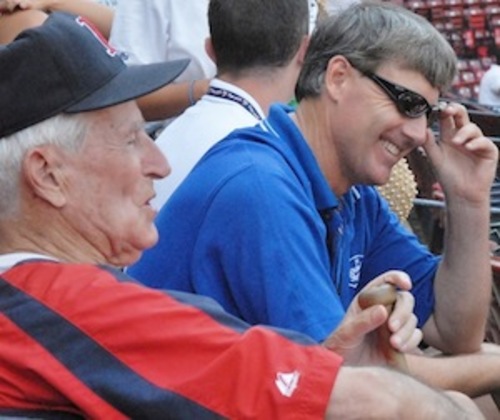 10/12/2014 5:38 PM
Article By:
Does John W. Garner Jr. have a twin? A clone? A doppelganger? A secret double who shares his vast knowledge of baseball history and has the skill to put it into words?
He must. Because it would be impossible for any one person to handle Garner's workload as director of public relations and broadcasting for the Cape Cod Baseball League.
In recognition of that workload and of Garner's distinguished service to the league, he has been chosen as the 2014 winner of the Richard "Dick" Sullivan Executive of the Year award, which he – or someone who looks remarkably like him – will receive during the brunch preceding the 15th Hall of Fame induction ceremony on Nov. 15 at the Chatham Bars Inn.
League President Judy Walden Scarafile revealed the identity of the 2014 winner at a recent meeting of the league's executive committee, calling Garner the "one person who was absolutely extraordinary this season."
Scarafile, who served on the three-member selection panel that also included Cape League Commissioner Paul Galop and Boston Red Sox Vice President Dick Bresciani, cited some of Garner's achievements:
"He coordinated all press releases, writing many himself for media and our web site … he coordinated all the radio and TV crews, and we all know what a huge job that was. He worked on a daily basis with Fox College Sports and WEEI's Game of the Week. In fact, he was the play-by-play voice for the WEEI games. He created the WXTK Cape League Report presented five days a week all season by our broadcast interns."
Garner, like the Hall of Fame itself, is marking his 15th year with the Cape League. He started as director of broadcasting in 2000 and added the public relations role two years later. He had previously served 13 years with the Eastern College Athletic Conference as an assistant commissioner, whose duties included director of public relations, ECAC championships administrator, and publications and advertising coordinator, while overseeing special events and activities such as the ECAC Holiday Festival, television and membership.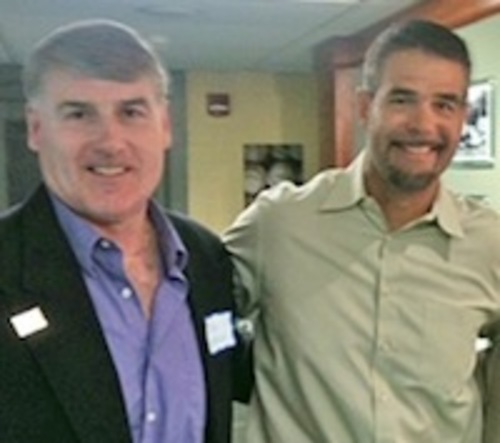 A 1977 graduate of Plymouth State (N.H.) University, where he majored in history and geography, Garner was a member of the men's basketball team but became best known for his work publicizing Panther athletics. The Scarborough, Maine, native served as Plymouth State's sports information director from 1981-86 before joining the ECAC staff, a move that brought him to Cape Cod and the conference's headquarters in Centerville. In 1994 he was elected to Plymouth State's athletic hall of fame.
Today, in addition to his varied Cape League duties, he finds time to be a contributing sports writer for the Cape Cod Times, where he also goes to work each day in his "real" job as single-copy circulation manager for the Cape's only daily newspaper.
This past season, while overseeing five members of the Cape League's public relations department and working closely with social media director Ashley Crosby, he took on the added assignment of co-editor of Cape League Magazine, the league's thrice-yearly official publication. When he wasn't behind a microphone or tapping away on his laptop, he could often be found at games around the league, checking on his corps of broadcast interns.
Established in 2006, the Executive of the Year Award was named for Dick Sullivan, who served in many capacities with the Cape League, including commissioner and president. Before his retirement in 1999, Sullivan spent 44 years in higher education, including 15 years as a professor, dean and vice president at Hofstra University before returning to his native Massachusetts to help open the West Barnstable campus of Cape Cod Community College, where he served as dean of student services for 29 years. He was named dean emeritus upon his retirement.
The award bearing his name recognizes the qualities Sullivan brought to the league, including distinguished service, outstanding leadership, enhancing the reputation and success of the league (or a member team), professionalism, overall performance that exceeds expectations and going "above and beyond."
"John met and surpassed all those criteria. He came to the CCBL with a wealth of knowledge and expertise in broadcasting and communication," Scarafile said. "He brought his distinguished career in athletics to the CCBL and how lucky we are that he did so. We have all learned from him, and there's no doubt in our minds that the Cape Cod Baseball League is better and stronger because of him."