News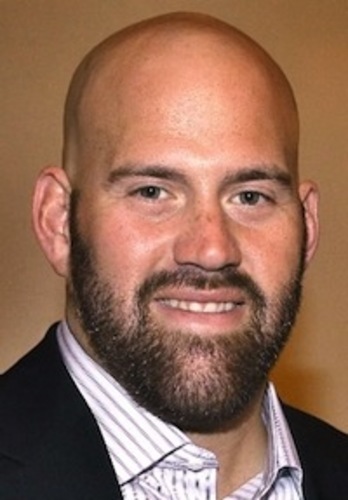 10/31/2014 8:59 PM
Article By:
Kevin Youkilis (Bourne, 2000) is hanging up his spikes for good.
The two-time World Series champion with the Boston Red Sox is retiring at age 35 after a 10-year major league career, most of which was spent in Boston. His decision was announced in a tweet Thursday from his representatives at Pro Star Management: "15-yr client, Kevin Youkilis, after deep thought about family and health, is calling it a career. Been a great one! Love ya, Youk. #YOOOUUUK."
Youkilis, an eighth-round draft choice of the Red Sox in 2001, made his MLB debut in Toronto on May 15, 2004, slamming a fourth-inning home run off Pat Hentgen. The rookie added a single in the sixth inning for a 2-for-4 afternoon as the first-place Red Sox beat the Blue Jays 4-0 en route to their first World Series title since 1918.
In parts of nine seasons with Boston, Youkilis batted .287, hit 133 home runs and was a defensive standout at both first base and third. He was a three-time All-Star (2008, 2009 and 2011) and a Gold Glove first baseman in 2007, when he was an important member of the first Major League Baseball team to win two world championships in the 21st century.
From 2006-09, Youkilis was at his best, hitting .296/.393/.498 with 85 home runs. In 2008, according to Joon Lee of Gammons Daily, he ranked fifth offensively among all American League players. He finished third in the MVP voting behind Boston teammate Dustin Pedroia and Minnesota's Justin Morneau and was named winner of the AL Hank Aaron Award. He also posted career highs in batting average (.312), slugging percentage (.569), hits (168), doubles (43), home runs (29) and RBIs (115).
Traded to Chicago on June 24, 2012, he hit his first home run for the White Sox on July 3 off Roy Oswalt of the Texas Rangers and on July 9 he was named the American League Player of the Week after batting .478 with three home runs and 10 RBIs to help his team win five of six games. ChiSox manager Robin Ventura (Hyannis, 1987) called him a competitor with a "grinder mentality" who fit in well with his new teammates.
Youkilis, who batted .236/.346/.425 with 15 homers and 46 RBIs in 80 games for the White Sox, was granted free agency in October. Two months later, he signed a one-year, $13 million contract with the New York Yankees for 2013, but a bulging disc in his back limited him to just 28 games in pinstripes, during which he hit a dismal .219/.305/.343 with two homers and eight RBIs.
After the Yankees cut him loose last fall, he accepted an offer to play for the Rakuten Golden Eagles of the Japan Pacific League in 2014. He signed a one-year deal worth a potential $5 million in salary and incentives, but a plantar fasciitis flareup sidelined him after just 21 games. He was hitting .215 with one homer and 11 RBIs when he returned stateside for treatment of the painful foot condition. He had hopes of eventually rejoining the Eagles, but was unable to do so.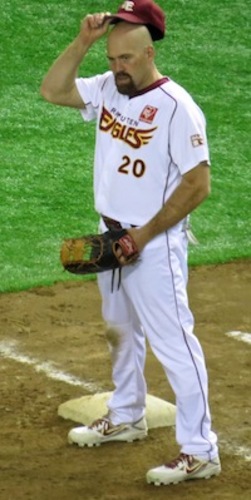 At Fenway Park in Boston with his 2004 teammates last May 28 as the Red Sox celebrated the 10th anniversary of their World Series sweep of the St. Louis Cardinals, Youkilis told former Cape Cod Times sports writer Jen McCaffrey, who now writes for MassLive.com, that he liked the experience of playing in Japan: "It was more of just trying to do something unique. It was nice for my family, it was a cool experience. My daughter went to an international school and learned some Japanese. Just doing something so now I can say I tried it and unfortunately my foot just didn't hold up."
Youkilis closes out his career with a .281/.382/.478 batting line, 150 home runs and 618 RBIs in 1,061 major league games.
In his first Cape Cod Baseball League at-bat as Bourne opened its season against Cotuit on June 12, 2000, Youkilis hit a first-inning home run, duplicating a feat achieved by Red Sox legend and Baseball Hall of Famer Carlton Fisk (Orleans, 1966), who also went deep in his first Cape League plate appearance.
At the University of Cincinnati, Youkilis was a two-time All-America and earned All-Conference USA honors from 1999-2001. He concluded his college career as the Bearcats' all-time leader with 53 homers, 279 runs, 206 walks and a .499 OBP. He was named to the Conference USA All-Decade team in 2004.
Playing in 40 games for Bourne, Youkilis finished sixth in the league in batting at .309, hit two homers and collected 14 RBIs. He also had six doubles and three triples, scored 21 runs and was successful on seven of nine steal attempts. Living up to the nickname he would later earn in the big leagues – "the Greek God of Walks" – he worked opposing pitchers for 40 bases on balls.
Youkilis was chosen as the starting third baseman on not one, but three CCBL All-Star teams that summer: the West Division squad, which fell 7-6 to the East on July 22 in Brewster; the All-Cape squad, which played Team USA to a 12-inning, 2-2 tie in Chatham on July 29, and the postseason All-League team.
Although the game against Team USA ended in a tie, Youkilis' parents, Mike and Carolyn, went home winners. They won $2,500, the largest 50/50 raffle payoff anyone could recall, thanks to the huge crowd, estimated at between 8,000 and 8,500 fans, which filled every nook and cranny of Veterans Field.
In recent years, Youkilis has been mentioned as a possible candidate for election to the Cape League Hall of Fame, but he made it clear that any such honor would have to wait until after his retirement. With that requirement now met, it seems only a matter of time before he will be making a November trip to Chatham for a date with Cape League immortality.