News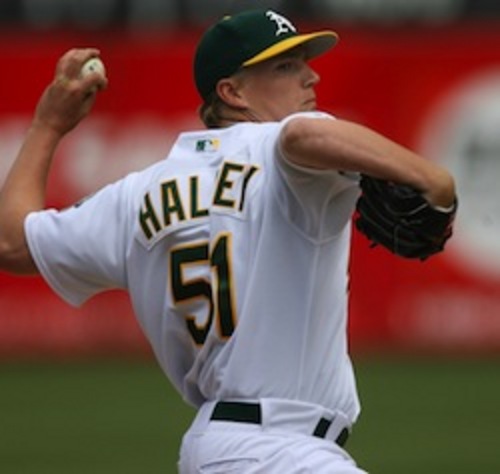 11/06/2014 5:53 PM
Article By: CCBL Public Relations Office
Former major league left-hander Brad Halsey (Chatham, 2001) died last week at age 33, according to a tweet by Halsey's agency, O'Connell Sports.
USA Today, citing anonymous sources, reported that Halsey's death occurred on Friday, Oct. 31, in a recreational climbing accident near his home in New Braunfels, Texas. According to Bob Nightengale's story, the Comal County Sheriff's Office is investigating and will not release any information until the case is closed.
Halsey's agents first tweeted the news on Tuesday night: "We are sorry to hear of the passing of longtime client, Brad Halsey. Our thoughts & prayers are with his family during this difficult time."
The southpaw spent three years in Major League Baseball, from 2004-06, pitching one season each with the New York Yankees, Arizona Diamondbacks and Oakland Athletics. Halsey appeared in 88 career games, making 40 starts; he compiled a 14-19 record with a 4.84 ERA.
At Chatham in 2001, the 6-foot-2, 175-pound lefty found himself on a pitching staff that included future big leaguers Brad Ziegler, Rich Hill and David Bush. He pitched just 1 1/3 innings, giving up five earned runs for a 33.75 ERA. Nevertheless, Halsey was selected by the Yankees in the eighth round of the 2002 First-Year Player Draft out of the University of Texas.
In addition to stops in Arizona and Oakland, he spent time in the Los Angeles Dodgers' minor league system.
Halsey won his first major league start in June 2004, giving up two runs in 5 2/3 innings for the Yankees against the Dodgers in Los Angeles. His final MLB appearance came for the A's in 2006.
Halsey was involved in a number of high-profile baseball moments during his brief career. He was involved in the '05 Diamondbacks-Yankees trade involving Javier Vazquez and Randy Johnson; he surrendered Barry Bonds' 714th career home run in '06, and he started for the Yankees against the Red Sox in the '04 game in which Derek Jeter famously dove headfirst into the third-base stands to catch a foul ball.