News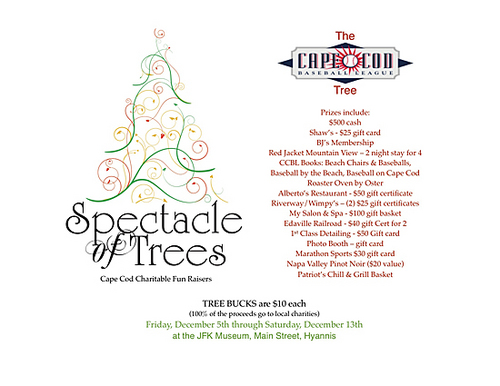 11/30/2014 7:16 PM
Article By:
Hyannis, Mass. – This year's holiday shopping can be as close as the JFK Hyannis Museum and the Spectacle of Trees.
For the seventh straight year, the Cape Cod Baseball League has one of 17 trees on display in the museum, all aglow and glittered with many gifts on and under the tree. The most significant is a $500 cash gift!
Your Christmas shopping can be made very easy this year. It's simple….just go to the museum and purchase Tree Bucks for $10 each.
If you put the ½ ticket stub in the Cape League's "tree box," then all $10 goes to the CCBL. Yes, 100% of the proceeds of each and every ticket stub in the CCBL " box" is going to support the Cape League. In addition to supporting the League, you have a chance winning the tree with all its gifts and money.
Take a look at the gifts listed here. All donations from a variety of businesses on Cape Cod, thanks to the hard work of the Cape League Tree Committee.
The bonus too, is seeing all 17 trees in their splendor is a sight to behold….one stunning tree after another, with one unique theme after another.
So, anytime from Dec 5 - 13, stop in the Museum, buy some " Tree Bucks" see the magnificent display and support our Cape League tree.
Tickets may also be purchased online at the Spectacle of Trees online shopping cart.