News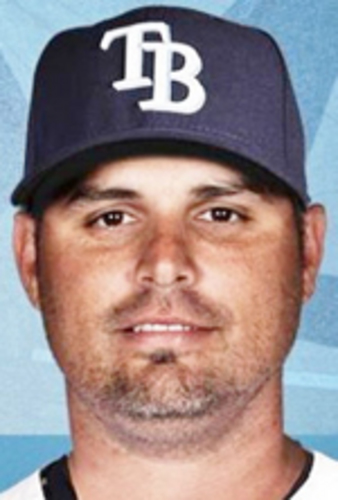 12/06/2014 9:05 AM
Article By: CCBL Public Relations Office
Kevin Cash, the former Florida State infielder who was converted to a catcher in 1999 with the Falmouth Commodores and went on to play parts of eight major league seasons at that position, was named manager of the Tampa Bay Rays on Friday.
Terms of his contract were not disclosed.
The Tampa native, who played 13 games for the Devil Rays in 2005, succeeds Joe Maddon, now manager of the Chicago Cubs. Maddon was under contract with the Rays through 2015, but on Oct. 24 he exercised an option to leave when talks on a new deal broke down.
"We are proud to introduce Kevin as our manager," said Rays' principal owner Stuart Sternberg. "His energy and dynamic personality will fit seamlessly with our clubhouse. We are fortunate to have such a talented individual, and Tampa Bay native, to lead our club as we strive to achieve new heights as a team and organization."
"Kevin is passionate, genuine and dedicated, and those attributes will resonate throughout our clubhouse," said Matt Silverman, president of baseball operations. "As a catcher, a scout and a coach, he has always been a student of the game, and his communication and tireless work will put our club in a position to win, night in and night out."
In Cash, the Rays chose a man with no previous managerial experience at any level over former Seattle manager and current Kansas City Royals bench coach Don Wakamatsu. Royals' outfielder Raul Ibanez was a third finalist for the job until Thursday when he removed himself from consideration because of "family considerations."
Cash, who turns 37 today, last played in the majors with the Boston Red Sox in 2010. He was a good-glove, no-hit catcher who played with five different teams in parts of eight big-league seasons. He never made more than 200 plate appearances in a season and had a career batting line of .183/.248/.278.
He retired after the 2011 season and worked as an advance scout for the Toronto Blue Jays before joining his former Red Sox manager Terry Francona as Cleveland's bullpen coach in 2013. He worked with a Cleveland pitching staff that set the major league strikeout record (1,450) in 2014.
After hiring Cash, Francona once commented, prophetically: "When he was still playing, I thought he was a potential coach in waiting. He's a guy who is going to rise through the coaching ranks quickly and will be a manager."
"Kevin brings so much to an organization … brings great leadership," echoed Indians general manager Chris Antonetti. "I know his title is bullpen coach, but he does far more than that within our organization. I have no doubt that when that time comes, he'll be an extraordinary major-league manager."
Tampa Bay's Silverman said the decision to hire Cash "came down to the energy, the poise that he has, the confidence, but the open-mindedness that goes along with it. That's a rare combination to have in an individual."
The baseball operations chief said it was difficult to choose between Cash and Wakamatsu, who spent 10 seasons as a bench coach with the Royals, Blue Jays, Oakland Athletics and Texas Rangers, and managed the Mariners in 2009-10. Wakamatsu took over a team that lost 101 games and led Seattle to an 85-77 record in 2009, but was fired in August 2010 with the Mariners struggling at 42-70.
Cash's early competition for the job included former Rays' bench coach Dave Martinez, one-time Indians' manager Manny Acta, Hall of Famer Barry Larkin, San Francisco Giants' bench coach Ron Wotus, Rays' minor league manager Charlie Montoyo and ex-major league players Craig Counsell and Doug Glanville (Wareham, 1990), as well as Wakamatsu and Ibanez.
Cash thoroughly impressed the Rays' brass during a marathon final interview on Wednesday. "After 12 hours, we were pretty drained and it felt like Kevin was just getting started," Silverman said.
As he takes over a team that has made the postseason in four of the past seven years under Maddon, Cash becomes the youngest manager in Major League Baseball. Detroit's Brad Ausmus, at age 45, was the youngest manager in the majors last season.
Cash also becomes the eighth active MLB manager to have played in the Cape League, joining Buck Showalter (Hyannis, 1976) of the Baltimore Orioles; John Farrell (Hyannis, 1982), Boston Red Sox; Robin Ventura (Hyannis, 1987), Chicago White Sox; Joe Girardi (Cotuit, 1984), New York Yankees; Chip Hale (Orleans, 1984-85), Arizona Diamondbacks; Mike Matheny (Cotuit, 1990), St. Louis Cardinals, and Walt Weiss (Wareham, 1984), Colorado Rockies.
Cash said he believes his recent interview for the Texas Rangers' vacant managerial position helped prepare him for the Tampa Bay selection process. "It wasn't something I was anticipating at this stage. But as I started preparing for the Texas opportunity, I almost kind of gained momentum, gained some confidence," Cash said. "I was able to really process some thoughts."
Under Maddon, the small-market Rays went 754-705 in nine seasons, made the playoffs four times, won two American League East championships and captured the 2008 AL pennant. The Rays fell to 77-85 in 2014, ending a stretch of six consecutive winning seasons.
Cash is no stranger to the AL East, having played all but 20 games (with Houston in 2010) of an eight-year big-league career with the Blue Jays, Red Sox, Yankees and Rays. Cash was part of two World Series championship teams (2007 Red Sox, 2009 Yankees) and appeared with Boston in the 2008 ALCS against the Rays.
The new manager inherits a roster that includes one of the top-rated pitching staffs in the American League and several All-Star caliber position players, including one of the best third basemen in the game, Evan Longoria (Chatham, 2005). Most of Cash's coaching staff will be comprised of holdovers.
"When it got down to it, the security of our situation with our staff in place, and the clubhouse culture that we have, gave us more comfort," Silverman said. "But, you look at Kevin, his baseball age is much older than his 37 years on this planet," Silverman told reporters. "He's been a student of the game, and that transition to manager is one we think will be a relatively (smooth) one, one made easier by the environment that we already have here."
A solid college infielder at Florida State University, Cash went undrafted after the 1999 College World Series, so he signed on with Falmouth in the Cape League as a first baseman/utility player, hoping to prove his worth to pro scouts. When the Commodores' two primary catchers went down with injuries, he went to manager Jeff Trundy and volunteered to go behind the plate.
Cash not only proved to be a capable receiver, he went on to earn team MVP honors, compiling a batting line of .262/.368/.393 with eight doubles, two home runs and 16 RBIs in 30 Cape League games. The Blue Jays were watching and in August they signed him to a minor league contract as an undrafted free agent.
Cash becomes the first former Tampa Bay player to be named Rays' manager and joins former Chicago White Sox skipper Ozzie Guillen as the only former Rays to manage at the major-league level. He also is the sixth Tampa-born manager in major league history, and the second for the Rays, joining Lou Piniella (his manager in 2005), Hall of Famers Al Lopez and Tony La Russa, Dave Miley and John Hart.
Cash played in the 1989 Little League World Series for Tampa Northside, graduated from Gaither High School in 1997 and played three seasons as an infielder for Florida State, including a trip to the 1999 College World Series.
Kevin and his wife, Emily, have three children: daughters Camden, 8, and Ella, 6, and son J.D., 1.
-ccbl-