News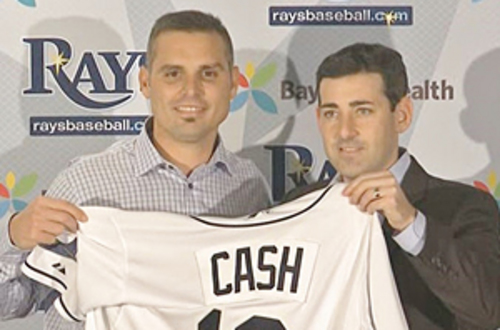 12/15/2014 9:12 PM
Article By: CCBL Public Relations Office
The Tampa Bay Rays formally introduced their new manager Monday in an early afternoon news conference.
Kevin Cash (Falmouth, 1999), who was converted to a catcher while playing in the Cape League, has become the fifth manager in Tampa Bay franchise history. The 37-year-old former big-league catcher replaces longtime manager Joe Maddon, who left in late October to manage the Chicago Cubs.
Cash becomes the youngest active manager in the majors. He's also the eighth current MLB manager to have played in the Cape League, joining Buck Showalter (Hyannis, 1976) of the Baltimore Orioles; John Farrell (Hyannis, 1982), Boston Red Sox; Robin Ventura (Hyannis, 1987), Chicago White Sox; Joe Girardi (Cotuit, 1984), New York Yankees; Chip Hale (Orleans, 1984-85), Arizona Diamondbacks; Mike Matheny (Cotuit, 1990), St. Louis Cardinals, and Walt Weiss (Wareham, 1984), Colorado Rockies.
Cash's playing career included parts of eight seasons in the majors, including a brief stint with the then-Devil Rays in 2005. After retiring in 2012, he served as a major league advance scout for the Toronto Blue Jays and then as bullpen coach for the Cleveland Indians in 2013 and 2014.
During the MLB winter meetings last week in San Diego, Cash said he wants to develop relationships with the Rays' players who live locally in the Bay area in the off-season and everyone else in the organization.
"I want to get in contact, face to face, with the coaches," Cash said. "Personally, I'd like to be accessible in Tampa, get in the front office, build those relationships, some of the understanding of what goes on."
The Rays' All-Star third baseman, Evan Longoria, a fellow Cape League alum, is happy with Cash as the team's new skipper. In an email to the Tampa Tribune, Longoria (Chatham, 2005) wrote, "I'm really excited about the new direction. Kevin brings experience as a player at the major-league level, which excites me, along with a fresh attitude that I feel will translate into making our already great clubhouse even better."
Kevin and his wife Emily have three children, Camden, Ella and JD. A 1997 graduate of Gaither High School in Tampa, where he was an all-state selection, Kevin was an infielder at Florida State for three years and played in the '99 College World Series. After being bypassed that June in the First-Year Player Draft, he not only converted to catcher while playing on the Cape, he earned team MVP honors and was signed as a non-drafted free agent by Toronto.
-ccbl-