News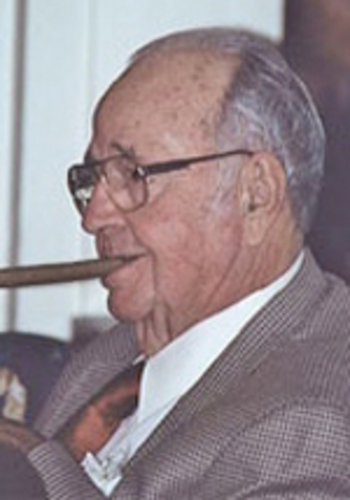 12/18/2014 8:08 AM
Article By: CCBL Public Relations Office
The Cape Cod Baseball League has lost another giant.
Longtime Boston Red Sox scout and Cape League Hall of Famer Bill Enos passed away on Wednesday, Dec. 10, in Scottsdale, Ariz., due to complications from pneumonia. He was 94.
In recent weeks, the Cape League has been saddened by the deaths of three members of its Hall of Fame. Former major league pitcher Art Quirk (Orleans, 1958), a 2009 inductee, died on Nov. 22 in Stonington, Conn., and longtime Red Sox public relations executive Dick Bresciani, who like Enos was enshrined with the inaugural class, died on Nov. 29 in Boston.
Enos spent parts of eight decades in professional baseball as a minor league first baseman, manager, scout and consultant. A left-handed batter, he played in the minor leagues for parts of nine seasons between 1939 and 1952 with independent teams and affiliates of the Brooklyn Dodgers, St. Louis Browns and Philadelphia Athletics.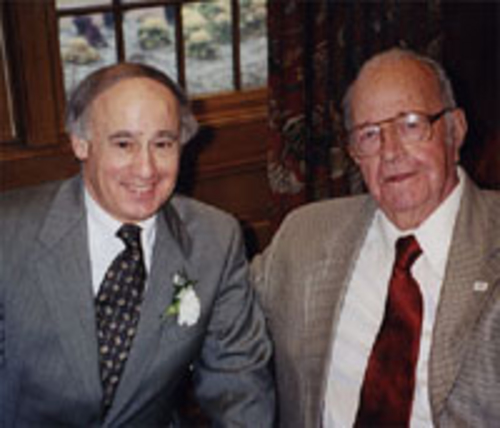 His playing career was interrupted by World War II and he served with distinction in the U.S. Navy from 1942-1945. After the war, he returned to baseball as a player/manager in the Browns' farm system, and in 1952 he was given his first scouting job by the Browns, who moved to Baltimore and became the Orioles two years later.
Enos went on to scout for the Kansas City/Oakland Athletics and Seattle Pilots/Milwaukee Brewers franchises before Haywood Sullivan hired him in 1973 as the Red Sox's New England area scout. All told, he spent nearly 30 years as a member of the Red Sox organization.
Among his signings for Boston were New England products Dana LeVangie, the current Red Sox bullpen coach; Rich Gedman, a two-time All-Star catcher, as well as 12-year major league left-handed pitcher John Tudor (Falmouth, 1975) and Ken Ryan, a right-hander who pitched in the big leagues for eight seasons.
Ryan never played in the Cape League, but he's become a familiar face the past two summers as color analyst on Fox College Sports' national telecasts of CCBL games.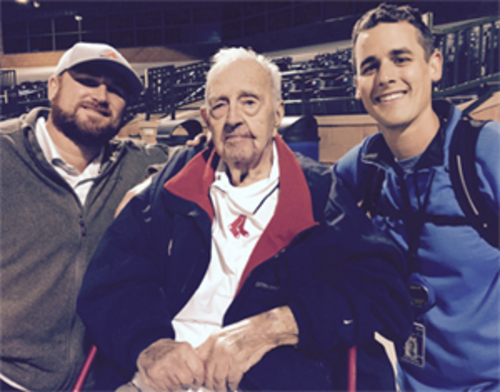 "Bill Enos signed me as a free agent out of Seekonk High School," Ryan said. "He would come to my games wearing a beach hat and smoking a big cigar. He was exactly what you think of when you think of a baseball scout. He was a true professional and had the gift of gab. He would come to my high school games with a lawn chair and he would place it down with his back to me. I knew he was a Red Sox scout and I was always excited when he came to watch me, but every start I had he wouldn't turn around to watch me until about my third or fourth inning. At that point, he would watch me for about two innings. No radar gun … just his eyes.
"After about two innings, he would turn his back again and continue chatting with parents and those at the game. This happened at almost every game he came to. It puzzled me," Ryan said. "When he signed me in June of 1986, I asked him why he always had his back turned at the start of my games. 'Because you never warmed up correctly,' he replied. 'You would throw about 20 pitches to a catcher and you thought you were loose. It took you about three innings every start until I saw the real you.'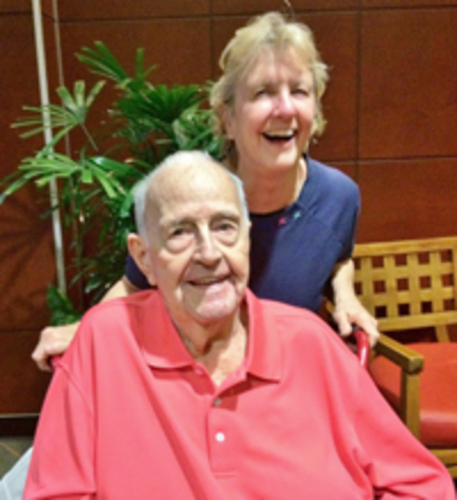 "He was a very wise man. God bless you, Bill, and thank you."
As an Orioles scout, Enos signed Bill Lajoie, who would eventually become general manager of the Detroit Tigers and win the 1984 World Series, and later worked for the Red Sox as a special advisor.
While scouting for the Athletics, Enos signed Norwood, Mass., native Skip Lockwood, a right-hander who pitched in the major leagues for 12 seasons, finishing his career in Boston in 1980. Bill also signed future big league All-Stars, catcher Ellie Rodriguez and left-handed pitcher Bill Travers, for the Athletics and Brewers, respectively.
Enos spent 20 years as a Red Sox scout before stepping down and becoming a consultant. He remained with the organization for another eight years before retiring in 2001. In 1977, the Boston chapter of the Baseball Writers' Association of America presented him with a Scouting Award, and in 2000, the same year he was elected to the Cape League's Hall of Fame, the writers again honored him with a Special Achievement Award.
While serving as a Boston scout, Enos doubled as the Cape League's first scouting liaison to Major League Baseball and his efforts helped build it into one of the world's top amateur leagues. A player himself at Orleans in 1936, he was elected in 2000 to the league's inaugural Hall of Fame class and was enshrined on Jan. 20, 2001.
"More than a friend of the Cape League, Bill was responsible for shaping the perception that the Cape League was the place to play in the summer if you wanted a chance at pro ball. If you knew Bill Enos, you knew the best," said Jim Higgins, CCBL senior vice president.
During his Hall of Fame acceptance speech at the Chatham Bars Inn, Enos had the audience laughing from the start, but the veteran scout got serious for a moment. "I hope the players in this league know what they're getting into," he said. "I hope they realize how lucky they are. So many players want to play here and can't get in."
Cape League president Judy Walden Scarafile first met Enos nearly 47 years ago when she was a freshman at the University of Connecticut, covering the baseball team for the school's student newspaper, The Daily Campus. "We've had a long and wonderful relationship," she said. "Every March, (husband) Peter and I would fly out to Phoenix and visit Bill and (daughters) Karyl and Anne. He always picked the best places for dinner. Last March, we went to the casino, had a terrific meal and then played the five-cent slot machines. Can you imagine how long you can play with nickels? What fun we had! Peter and I will miss him terribly."
Before he was signed as a player, Enos often went to great lengths in order to play in front of scouts. The Cohasset, Mass., native once sneaked into Braves Field in Boston for a multi-day tryout.
Later, he won a subscription sales competition held by The Sporting News that earned him a trip to the prestigious Ray L. Doan's All-Star Baseball School in Arkansas, which featured Dizzy Dean and Rogers Hornsby as instructors. His efforts at that camp led to another tryout, this time with the St. Louis Cardinals.
Since his wife Grace died in 2002, Enos had not ventured out to a baseball game until this past Nov. 5, when the Scottsdale Scorpions played the Salt River Rafters. It was the night that Red Sox second baseman Dustin Pedroia, a former Scorpion, was inducted into the Arizona Fall League's Hall of Fame in a pre-game ceremony. And it was the last game Bill would see in person.
In typical Enos fashion, Bill struck up a conversation with two New York Mets scouts – Conor Brooks and Bryn Alderson. Brooks, a former pitcher from Plymouth, Mass., had been drafted by the Oakland A's in 2000 and had played minor league and independent ball, including two years with the Brockton Rox. He ended his playing career in the Red Sox system, spending 2004 and 2005 at High-A Sarasota and Double-A Portland, and he served as manager Steve Englert's pitching coach with the 2007 Harwich Mariners. Brooks' baseball friends call him "Chowda," which was also Bill's nickname in Cohasset.
Both Brooks and Alderson, the son of Mets GM Richard L. "Sandy" Alderson, attended Dartmouth College, where they played baseball under head coach (and 1988-89 Chatham A's manager) Bob Whalen Jr., son of Bill's close friend and longtime Pittsburgh Pirates scout, the late Bob "Chick" Whalen, who died in 1993.
"Dad had a wonderful time," recalled his daughter, Anne, who convinced him to go to the game. "He held court with them … we stayed at least two hours after the game ended, and both scouts went home with a picture of Dad with Babe Ruth, his favorite player of all time, taken in 1941. It was Dad's last baseball game … he had not attended a game after Mom died in 2002. so it was special that he agreed to go with me. We sat right behind home plate and one could see that he had not lost his scouting abilities and keen eye for talent. 'I like the third baseman,' he said."
Enos is survived by his daughters, Anne and Karyl. Private graveside services will be held in Cohasset at a future date. Donations in Bill's memory may be sent to the Jimmy Fund.
The Cape League thanks the Boston Red Sox media relations office and Anne Enos for providing much of the background information used in this story.