News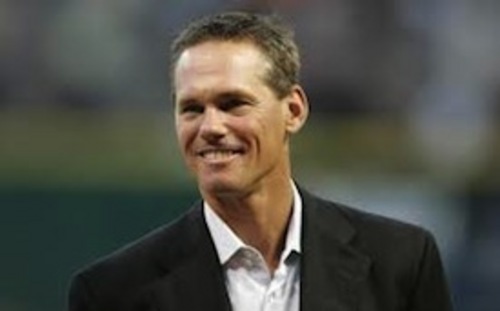 01/07/2015 3:56 PM
Article By: CCBL Public Relations Office
Craig Biggio (Y-D, 1986), the only Cape Cod Baseball League graduate to compile more than 3,000 major league hits, was elected to the National Baseball Hall of Fame on Tuesday, the lone non-pitcher in the four-member class of 2015, which also includes five-time Cy Young Award winner Randy Johnson, three-time Cy Young winner Pedro Martinez and John Smoltz.
Not since 1955, when Joe DiMaggio, Gabby Hartnett, Ted Lyons and Dazzy Vance were voted in, has the Baseball Writers Association of America added four new members in a single election.
Biggio, who spent his entire 20-year MLB career with the Houston Astros, was named on 82.7 percent of the ballots cast by the 549 voting members of the BBWAA. Johnson received votes from 97.3 percent of the writers, Martinez 97.1 and Smoltz 82.9. All three were elected in their first year of eligibility.
In 2014, Biggio polled 74.8 percent, missing election by just two votes in his second year on the ballot. In 2013, he had debuted as the top vote-getter with 388 for 68.2 percent, 39 votes shy of the 75 percent needed for election. It was just the eighth time the BBWAA failed to elect a Hall of Famer, the first since 1996.
When he got the phone call Tuesday informing him of his election, Biggio asked: "Is this really real? You're not playing a joke on me?"
Later he said, "I got a phone call at noon time that will forever change my life and my family's life. This is a very overwhelming and humbling experience."
In an MLB Network interview Tuesday morning, Biggio said: "I haven't been this excited, antsy or nervous in any baseball game I've played. I was crying. I'm not going to lie. I was an emotional mess. You play 20 years in one city, fans become a part of your life. For them to be able to finally have a guy going in, it's an unbelievable feeling."
On July 26, when the formal induction ceremony takes place at the Hall of Fame in Cooperstown, N.Y., Biggio will become the Hall's fourth member from the Cape League, joining Pie Traynor (Falmouth, 1919), Carlton Fisk (Orleans, 1966) and Frank Thomas (Orleans, 1988). Traynor and Thomas also are members of the Cape League Hall of Fame.
Biggio was one of seven ex-Cape League players among the 34 listed on this year's ballot. His fellow "Killer Bee" from the Astros, Jeff Bagwell (Chatham, 1987-88), also received serious consideration, but fell short of the 75 percent needed for election. Bagwell won mention on 55.7 percent of the ballots in his fifth year of eligibility.
To remain eligible, a player must receive at least 5 percent of the votes. Meeting that criteria, in addition to Bagwell, were Jeff Kent (Cotuit, 1988), 14 percent, and Nomar Garciaparra (Orleans, 1993), 5.5 percent. Both were on the ballot for the first time and will get another shot next year. Failing to retain their eligibility were Aaron Boone (Orleans, 1993), 0.4 percent; Darin Erstad (Falmouth, 1993-94), 0.2 percent, and Rich Aurilia (Hyannis, 1991), no votes.
"Craig deserves it," Bagwell said. "It's about time. I'm ready for July. I'm ready to be sitting there in Cooperstown sweating my butt off and listening to him. It'll be really, really cool because Randy will be there too." Bagwell was referring to Johnson's brief but spectacular stint with the Astros in 1998 (10-1, 1.28 ERA with 116 strikeouts in 84 1/3 innings over 11 games).
Biggio will technically be the third Colt .45s-Astros second baseman in the Hall of Fame, joining Nellie Fox and Joe Morgan, both of whom were enshrined in Cooperstown in other clubs' caps. There's no doubt which cap Biggio will have on his plaque in Cooperstown. A first-round pick as a catcher out of Seton Hall University in 1987, the Smithtown, N.Y., product played his entire MLB career (1988-2007) with the Astros.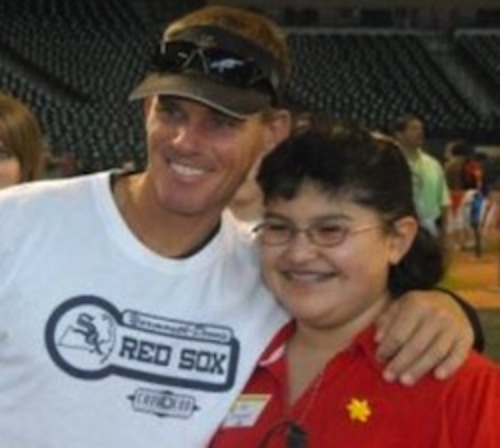 "I'm very excited and honored and humbled to be the first Astro to be in the Hall of Fame," Biggio said. "This is a big day for fans."
"He's very deserving of it," said Texas baseball legend Nolan Ryan, a former Houston star who was inducted in 1999 in a Rangers cap. "I personally think he is a Hall of Famer, so I think he's very deserving."
"Bidge has always been one of the favorite sons of Houston baseball and the city of Houston," said former teammate Brad Ausmus, now manager of the Detroit Tigers. "The fact that he put on the same uniform his entire career and played in the same city his entire career and played hard, the Astros' fans and the city of Houston should be very proud of him."
Biggio has often said he wanted to be remembered as a player who did everything the organization asked, and he definitely bounced all over the diamond.
Although all his childhood baseball heroes were catchers, especially the Yankees' Thurman Munson (Chatham, 1967), Biggio overcame the initial disappointment of being asked to move from behind the plate after earning his first All-Star berth in 1991 as a catcher.
He worked diligently to become a six-time All-Star as a second baseman. Biggio played his first four seasons as a catcher. Then he played second base from 1992-2002 before moving to the outfield for the 2003 and '04 seasons to accommodate Kent. He then played his final three seasons at second base.
Biggio is the 49th Hall of Famer to have played his entire career with one organization.
The positions may have changed from time to time, but the effort and dogged desire to play every day never diminished during his 20 years in his adopted hometown.
"I certainly say it's well deserved," said Phil Garner, an Astros' coach during Biggio's rookie season and the team's manager in his last. "I'm happy for him. I saw him play his first big league game – it was in my first year coaching – and then I saw him play his last big league game. From the first one through the middle through the last one, he played every one as hard he could play. It's hard to say that of other players. He ran to first base just as hard in the first game as the last game, and that makes me proud."
Biggio finished with 3,060 career hits to become one of only 28 players in baseball's exclusive 3,000-hit club. Renowned for his ability to stretch singles into doubles, the four-time Gold Glove winner is fifth all-time in doubles (first among right-handed hitters) with 668.
The Astros, who have already blocked a set of rooms in Cooperstown for induction weekend, plan to celebrate Biggio's Hall of Fame induction throughout the 2015 season. First up will be a public celebration Friday at Minute Maid Park, then the club will offer fans a seven-game ticket plan centered on games in which Biggio will be honored.
"It's very, very exciting and it's something that our organization can build a lot of momentum around and bring a lot of excitement for the 2015 season," said Astros president Reid Ryan, the eldest son of Nolan. "To me, he exemplifies everything you want in a Hall of Famer."
The Cape League thanks Houston writer Jose de Jesus Ortiz for his significant contributions to this story.