News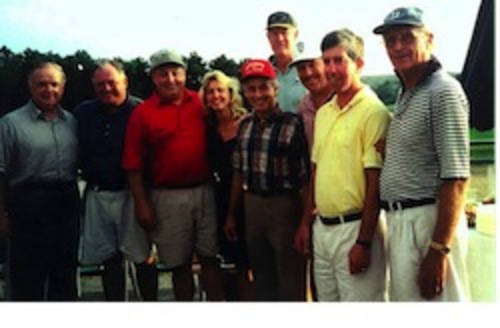 01/13/2015 4:29 PM
Article By:
BARNSTABLE, Mass. – For a few weeks I have been thinking what could I possibly say about Dick Bresciani and Bill Enos to honor them that has not been said before. How could I pay tribute to them in a unique way? Certainly the Cape Cod Baseball League's Joe Sherman, Bill Higgins of the Cape Cod Times, Debbie Matson at the Red Sox and Marvin Pave from The Boston Globe wrote outstanding pieces full of information and anecdotes.
We lost both Bresh and Bill Enos within 10 days of each other starting in late November, truly a blow to the Cape League, the Red Sox and the Major League Baseball community.
I had met both Bill and Bresh in 1968 when I began working as a scorekeeper and baseball writer at UConn. I got to know them better with each subsequent baseball season. But it was in 1970 when I got the phone call that changed my life.
In April of my junior year at UConn, Bresh called to invite me to the Cape League to become an official scorekeeper for the league and also write as a stringer for the Cape Cod Times. Without even checking with my mom, I jumped at the chance and said yes. What an opportunity! Although my mom took a lot more convincing as to how this was related to my bio-chem major.
After that phone call, I found a house to rent with some UConn roommates and a job as a luncheon waitress at the Yankee Clipper in Sandwich – and, as they say, the rest is history.
I stayed with the Cape League, eventually moved here, married here and have settled into the year-round life here on Cape Cod for the past 40 years. Had it not been for Bresh I would not be living on the Cape, I would not have moved right after college to Boston, where I worked briefly as a scorer for the Harvard baseball team (1972) and I surely would not have met my husband, Peter.
And that meant I would not have gone on to Mass College of Pharmacy. The list goes on and on. But how to summarize this special and unique friendship of 46 1/2 years, now cut short by the insidious acute leukemia and subsequent infections … I simply don't know.
Bresh had his thumbprint on almost everything the Cape League is today, from scoring and stats to our expanded public relations department, to our All-Star game, and our Hall of Fame. He was always there for advice and assistance.
In January 1995, shortly after the MLB strike and subsequent loss of MLB funding to summer baseball leagues, I called Bresh to pick his brain. I remember it so clearly. I was at Logan Airport waiting for my flight to the American Baseball Coaches Association convention and I made the call from a payphone. I told him about my conversation with George Pfister from MLB and how our funding of $80,000 was now cut to zero – all because of the strike. I asked Bresh if he had any ideas where we might find some funding. His reply was simply: "I'd like you to come to the Boston Baseball Writers Dinner at the end of the month and I'll introduce you to Bill Gutfarb. He is a trustee of the Yawkey Foundation." Again, the rest is history.
So by coincidence or planetary and star alignment, this month actually marks the 20th anniversary of the Cape League's support from the Yawkey Foundation, which more than 20 years has totaled in excess of $2.5 million. And it is a straight line to that common thread and the name that keeps coming up: Dick Bresciani.
Bresh moved up from the Cape League to the Red Sox in 1972, and there he stayed until his last days. What an illustrious career had had for 42 1/2 years with the Sox, holding so many positions – from PR director to vice president and finally historian. But he never cut his ties with the Cape League. He stayed on our board, became an important and insightful member of our Hall of Fame Committee and helped behind the scenes on things such as the All-Star game returning to Fenway after a 20-year hiatus and contacts at MLB. He was never more than a phone call away or a visit to Fenway or his home in Wellesley or Harwich.
The funeral in Wellesley in early December was packed with sports figures. It was clearly a "Who's Who" in the Boston sports community, be it sports writer or baseball star. During the homily and remarks, the Cape League was mentioned so many times I lost count. I smiled to myself. Bresh would be pleased. Heck, I thought, he probably wrote this!
There were just a handful of us at the cemetery on that cold, cloudy Monday. I was honored to be there for a final goodbye. Bresh was interned with the ashes of his beloved dog, Duffy, and two Cape League baseballs. As I looked in for one last time and I swear the Cape League logo was facing right up to heaven. It started to rain lightly as things concluded and all I could think of was Bresh up there, at some historic ballpark in heaven, notifying the press it was an official rain delay and asking for the tarp to be rolled out over the infield.
And I was sure Bill Enos, Major League Baseball scout for nearly 30 years (mostly for the Red Sox) was sitting behind home plate with a cigar and telling some wonderful stories.
As I was relaying the sad news about Bresh's passing to Anne Enos, one of Bill's daughters, she brought me up to speed on Bill - he had gone into the hospital on Thanksgiving Day and was now in a rehab facility, hoping to beat the pneumonia and get stronger.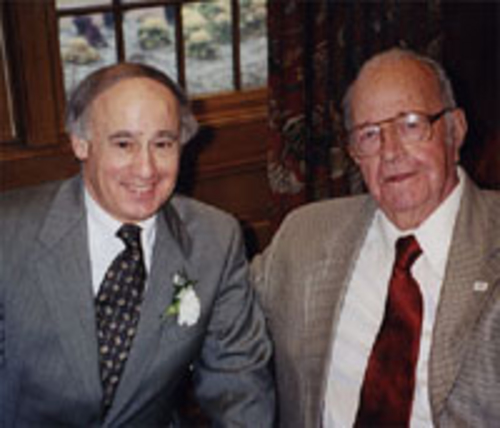 Because Bresh had technically died of pneumonia, some red flags went up. I stayed in touch with Anne several times over the next seven days as I headed to San Diego for the Winter Meetings. I spoke to Bill every day and he was still sharp and funny. For 94, he was amazing. Still had great baseball stories and still made me laugh.
Bill and his wife Grace had lived in Cohasset for decades, and that is where they raised two daughters, Anne and Karyl. Ten years ago, they all decided to sell the house in which Bill was actually born and move to warmer, drier weather. Scottsdale was the place.
Peter and I had made it an annual pilgrimage to go to Arizona in March and visit Bill and the girls, see some baseball games and tour a bit of Red Rock country. The highlight of the trip was always our dinner with Bill and Anne.
Last March we went to see the Enos clan. This time we decided to go to dinner and then hit the local casino. Bill told us about the nickel slots and all I could think of was how long you could play with 200 nickels. We had a grand time, winning a few, losing a few and then hitting it big for a $100 win! All four of us agreed to walk away with the $100 and head for the car.
Back at the house, we talked more and listened to Bill's classic baseball stories. For a man who has a photo of his dad and Babe Ruth standing together, you have to believe he has some unique old-time tales. And even if once in a while he repeated a story, he told it in such a way that you thought it was different.
The night before I left the Winter Meetings, I called Bill and told him I would be traveling all Tuesday and I would not call him till Wednesday. His voice was a little weak but he was upbeat, and we looked forward to talking again on Wednesday.
But Wednesday morning, Anne called me to say Bill has passed around 3 a.m. I was absolutely stunned. How could this be? The end may have been around the corner, but not in 36 hours. I thought about our last conversation. We had been a little more sentimental than usual. Reflecting back, was Bill saying goodbye?
I spoke to Anne several times in December and understood the plan was that Bill would be interned next to Grace in Cohasset in the spring. We talked a lot about loss, loss of a parent, loss of a dear friend and that new hole in our hearts.
Finally, after attending four funerals in December and enduring so many losses in the Cape League in December (Dave Weidner and Art Quirk), I was never happier to see New Year's Day arrive than I was this year.
Peter and I spent the evening of Jan. 1, 2015, with the Merullos, listening to Lennie and his son, Dave, talk about baseball. We watched the video of Lennie's recognition in Chicago in June and just enjoyed all being together. We sat by the a roaring (real) fire in the fireplace and ate pizza from a local pizzeria in Reading. We laughed, took photos and just had a terrific time. This was a wonderful, positive way to ring in 2015!
The next morning as I was heading to the ABCA convention in Orlando, I got an early email from Joe Sherman. Bill Kearns, a longtime scout whom I also had known since 1968, had died suddenly of a ruptured aorta on New Year's Day. He was 93, but when I last saw Bill at Lou Gorman's funeral, he looked 55. Bill always looked 55.
Bill Kearns was a handsome, debonair gentleman who had scouted most of his career with Seattle. He was soft-spoken and a genuinely smart man. He was different from the other scouts, just a bit more reserved. But he had some entertaining stories too. He and Buzz Bowers were the best of friends, as Lennie and Bill Enos had been. But also, this foursome was very close.
I dreaded sending a text to Linda Bowers with the news, but it is important to try to break it softly, if that is even possible. She was on a train and I was boarding at Logan – a text was the only way.
People say death comes in threes, but we are way past that with our CCBL losses in that six-week period. We have lost five people very close to the league and who had long-standing ties.
So to Bresh, Bill and Bill, I tip my hat, bow my head and thank you for all you taught me about this great game and the tremendous impact you have had on my life. Your contributions and support of the Cape League have been long-standing and will not be forgotten.
Thank you, my friends, for being you.