News
11/10/2009 3:35 PM
Article By:
for immediate release: 10 November 2009
Sol Yas to Receive Sullivan Executive of the Year Award
Ceremony Scheduled Saturday, Nov. 14, at Chatham Bars Inn

CHATHAM, Mass. – Sol Yas, Deputy Commissioner & Director of Officiating of the Cape Cod Baseball League, will receive the 2009 Richard "Dick" Sullivan Executive of the Year Award at the 10th Cape Cod Baseball League Hall of Fame Induction Ceremony, scheduled for Saturday (Nov. 14), at the Chatham Bars Inn.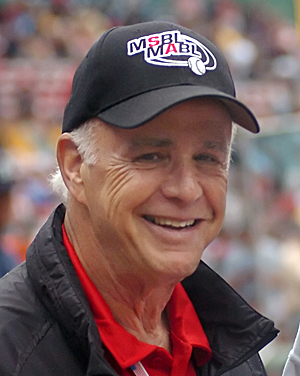 Sol Yas
Tickets are priced at $75 each and may be purchased by mailing a check to CCBL Hall of Fame Tickets, P.O. Box 266, Harwich Port, MA 02646 or by calling Mary Henderson at 508-432-2000.

Created in 2006, the Sullivan Executive award honors distinguished service, which includes franchise and/or league management participation, outstanding leadership qualities enhancing the franchise and/or league reputation and success, professional behavior, timeliness of required reporting mechanisms, proactive guidance for student-athletes and overall performance that exceeds expectations by going above and beyond the call of duty.

Previous recipients are CCBL treasurer Steve Wilson (2008), John Wylde of Wareham (2007) and Chuck Sturtevant of Falmouth (2006).

Sol was a unanimous choice, according to league Commissioner Paul Galop, who is also a member of the award selection committee. Due to inclement weather, the CCBL postponed over 60 regular season games and Yas was the main contact between the teams and umpires.

Yas has served as Deputy Commissioner for the CCBL for nearly ten years. He has also been the Director of Officiating for over seven years.

Sol's dedication to his areas of responsibility and loyalty to the CCBL have reached a level second to none. His ability to manage and enhance the CCBL's relationship with the College Baseball Umpires Assigning Organization (CBUAO) has been exemplary and has had extraordinary results.

His uncompromising dedication to the success of the Cape Cod Baseball League has unanimously earned him the recipient of the 2009 Dick Sullivan Executive of the Year Award, according to league commissioner Paul Galop.

The Hall of Fame ceremony will also include a new video presentation featuring the incoming class and several congratulatory letters from notable individuals.

This year's brunch buffet will be the "Thurman Munson Commemorative Brunch", recognizing the late New York Yankee captain and former Cape League MVP's contributions to the League. It begins at 10:00 a.m., preceding the induction ceremony.