News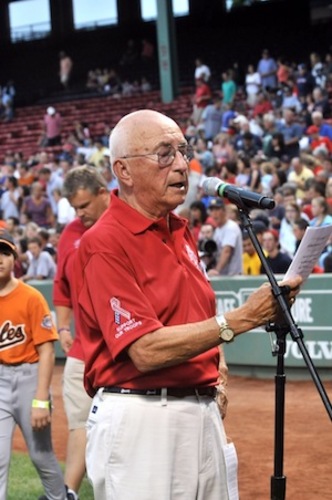 05/13/2015 5:25 PM
Article By:
Dick and I first met in 1975 when he became commissioner of the Cape Cod Baseball League. We then worked closely together for the next 40 years. He quickly became my mentor and my best friend.
It is a great honor to be asked to speak today. But I confess, this is a challenge … I have been instructed to be brief. Hmm, how can anyone be brief when talking about Dick Sullivan? Actually I think that is an oxymoron.
In preparing for this, I pulled out one of Dick's resumes this past weekend and reviewed all 11 pages of it – and those were just the highlights!

If ever there were a Major of Cape Cod, it would have been Richard Sullivan. He knew everyone, was loved by everyone and was involved in so many organizations in the community he treasured.
In addition to the organizations, he touched the lives of so many individuals: students, elderly, infirmed and physically challenged. I think of the hundreds of college students he helped get back on track and made sure they graduated from Cape Cod Community College. He was a shoulder to lean on and a person who would go to battle for the right cause.
Dick was compassionate, giving and dedicated to every cause he took on. Each organization he joined with was for the long haul – the College for 30 years, the Cape League for 40, the March of Dimes for nearly 50.
His boundless energy was the envy of all of us. And his creativity and intuitiveness were unmatched. But his greatest gift was speaking.
Whether a commencement speech, speaking up for one who had no voice, comforting a friend over a recent loss, or an impromptu skit at a fundraiser … whatever he did, wherever he went, his words were so important.
We all learned so much from Dick in the Cape League. He challenged many of us to strive to reach the next level of volunteering and giving back to the community. Dick was very pleased the way the league supported the March of Dimes, the other non profits. That was the ultimate gift of volunteering we all learned from Dick.
There is only one thing Dick loved more than his volunteer work and that was his family. He was devoted to Letti, Richie and Lisa and his granddaughters, Kayla Rose and Allie.
So in closing, I just want to say a special thank you to this special family for sharing Dick with all of us for so many decades. We are better people for having known and loved Richard Sullivan.

JWS